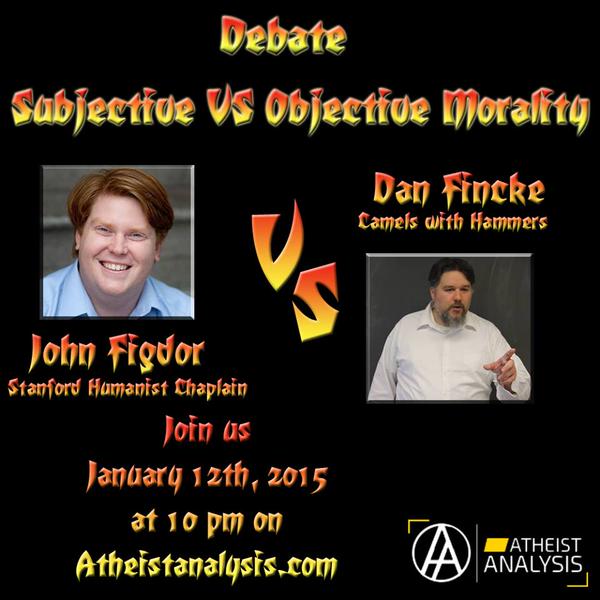 Tonight I squared off with John Figdor, author of Atheist Mind, Humanist Heart: Rewriting the Ten Commandments for the Twenty-first Century
on the topic of whether morality should best be conceived of as an objective or a subjective matter. Atheist Analysis hosted the debate.
The debate is now available below. Many thanks to John for participating and Max for hosting!
To see John and me appearing previously on the show, for separate interviews on the same night, see here.
For an overview of my views on ethics, check out my regularly updated permanent post on Empowerment Ethics.
For three main, orienting posts overviewing my views I defended tonight, see the following:
My Systematic, Naturalistic Empowerment Ethics, With Applications To Tyrants, the Differently Abled, and LGBT People
Paths To Moral Objectivity: Pragmatics
A Map With A Few of My Paths to Objective Morality
For answers to common objections and questions put to my moral philosophy, use the titles of the posts below to guide you to the link for you:
What is Empowerment Ethics?
Who Is Anyone To Tell Others What To Do?
How Can We Find External Criteria To Assess Morality's Truth and Authority?
Is Empowerment Ethics Atheistic?
Can Morality Mean Something Other Than Absolutist Morality?
Is Morality Just Subjective?
Are Individuals' Moralities Merely Personal?
Is Morality Relative?
Does Everyone Mean Something Different By The Word 'Good'?
Are Moral Issues Too Subjective To Argue Over?
Can Atheists Condemn Rape Without Theistic Moral Absolutism?
Is Morality Just Culturally Relative?
Can There Be Objective Morality When So Many People Disagree About Morality?
Objective Human Flourishing: A First Response To Jerry Coyne About Ethics
Your Thoughts?