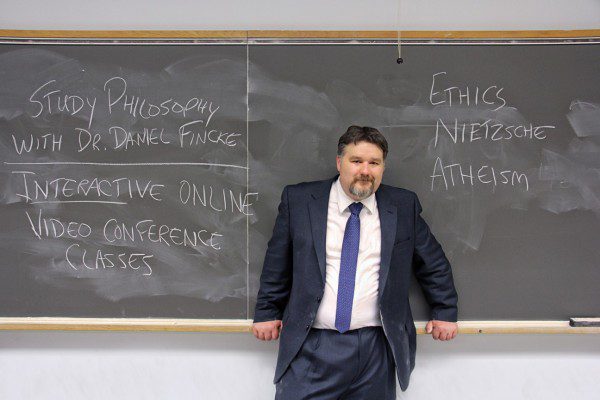 As you probably know by now if you read this blog, I have my PhD in philosophy and I moved on from 11 years of university teaching to start teaching people around the world via Google's simple to use video conference app called Google Hangout. These classes have been growing strong for two years now and an exciting community of regular students has developed who stay on season after season or come back after a short time away. Throughout these couple years I have been proactive about constantly trying new experiments and making new adjustments to better serve the needs of my students and potential students. In late 2014 and now in 2015 I have made seven new improvements that I hope will make it easier or more rewarding for you to join us in our probing and far ranging weekly philosophical discussions. Below are the seven key things I want to emphasize to you. Click on any of them to jump to where they are explained in the post or read the whole post:
1. First Time Participants May Now Attend My Classes Free
From now on, if you're a first time participant in my classes, you can attend for free! You can join in with one of my existing classes that's already running to see what it's like or you can join one of the special new live open discussions on philosophical topics I will be regularly scheduling and announcing on the blog.
2. I Am Leading Live Interactive Online Discussions On Philosophical Topics, Open To The Public and Free for First Time Attendees
Starting this month in addition to my regularly running classes, I'm inviting everyone who would like to attend to join open discussions of philosophical topics that I will be leading. These discussions will be free to first time participants and be geared as an ideal way to get the experience of being in one of my philosophy classes. People who would like to attend more than one of these sessions can do so by just paying the price of one of my regular class sessions each time they attend after the first.
I'm kicking these classes off the next two weeks with the following three offerings:
An Overview of Nietzsche (Friday 2/13/15, 8pm-10pm ET)
Philosophy of Love (Saturday, 2/14/15, 11am-1pm ET)
Philosophy and Suicide (Sunday 2/22/15, 8pm-10pm ET)
Reserve your spot before these sessions fill by writing me at camelswithhammers@gmail.com. Descriptions of what we'll be discussing in these classes is here.
3. You Can Now Help Me Write My Class Schedule Each Month Around Your Schedule And Interests
The new way that I am scheduling classes is that at the beginning of each month, I am going to put out a call for requests for classes due to start the following month. You can write me and let me know what class or classes you want me to teach. These classes would be usually chosen from my menu of existing options but if you have something more specific you want to dive into you can propose that too and I'll let you know what I would be able to do or not. When you write me I would just need you to spell out all the possible times you would be flexible enough to take the class in order to accommodate other participants.
Then about midway through the month, I will publicize any student-proposed classes and others can sign up knowing that they will have at least one fellow participant. Classes will then start the next month. All students who have never participated in my classes or in my live open discussions for the public will be welcome to attend the first session free.
4. Pay Per Session With No More Commitment And With No Charge For Missed Weeks

I used to require upfront payment for an entire class at a time. Now my new system involves students subscribing to classes and paying week to week as they attend. This means that in order to enroll in a class after your free session, you self-subscribe yourself to the class via PayPal using links available atop the page at danielfincke.com for your preferred class. Then PayPal automatically charges you once a week for class. Then whenever you're absent, I immediately refund your week's payment, with no questions asked. Classes don't run for an arbitrarily fixed amount of time. You participate in a given class for as many weeks as you want, on whatever weeks you can make it and only pay for sessions as you attend. You can switch to a new class as soon as you want. And you can cancel your subscription with no hassles at any time. You can attend once, twice, or year round on the same subscription, as you desire and find convenient.
5. You Can Be Absent With No Negative Consequences
Busy students do not need to worry about frequent absences. The year is long and there are plenty of weeks to do philosophy and you're immediately refunded your weekly subscription payment on weeks you can't make it.  It's not at all vital that you join us every single week if you can't. I want these classes to slot into people's lives like a book club or a class at the gym that you can attend whenever it fits into your life but also miss class without any anxiety when it simply doesn't fit your schedule. I am more interested in my classes becoming a part of your routine season after season than that you prioritize them every week for 16 straight weeks but then promptly stop after those 16 weeks. (Though, of course, you're welcome to do exactly that too if that's what you want.)
6. I Am Offering New Advanced "Close Reading" Classes
I have so many students who have taken multiple of my classes that last summer I doubled my menu of course options to keep classes fresh for continuing students. Now I'm going to the next level and offering special new advanced "close reading" classes for returning students and for students who want to closely read articles and book chapters with me. In these classes, I will usually be developing my lecture on philosophical material that I have not directly taught to students before. I may often even be reading texts with you that I've never read before. Basically, you will have the experience of joining me in my philosophical research and/or my development of new philosophy lectures as I do it. I will bring to bear all my background in the subject matter of the text we're looking at together in order to help us deal with the fresh insights that it generates as we go.
These advanced close reading classes are going to be developed based on student requests. So start sending them in. Sometimes an existing class on a general philosophical topic will turn into a close reading class once I have done my many lectures overviewing the numerous aspects of the class's basic topic and students want to start digging in deeper into it rather than moving on to another class. Already the Nietzsche class has always been run as a close reading class as its main structure even in the beginning (though in the case of Nietzsche, we are working with texts I am deeply familiar with already) and has been an overwhelmingly positive experience despite students often beginning as novices to Nietzsche. So, it is even possible that students may find they benefit from a close reading approach to topics that they've never studied before and might choose that instead of my regular classes. I pride myself on teaching regular classes on their wide scope and depth. The close reading classes will be about depth, specificity, technical detail, and many less commonly explored philosophical side-paths. And interested students could wind up exploring numerous articles and books with me in a topic over the course of many months and develop a highly literate grasp of that topic. The close reading classes will typically involve literal reading and/or skimming of texts together during class time, analyzing them directly.
There are already two of these close reading classes that have very recently launched that you should feel comfortable joining without worrying you missed anything: Philosophy of Religion Close Reading Saturdays 2pm-4pm ET and Social and Political Philosophy Close Reading Saturdays 10am-12pm ET.
And the Nietzsche 4pm-6pm Saturdays ET, which just started last week and which you can hop into this week having missed little, will be close reading as all my Nietzsche classes are.
Two students have expressed interest in a close reading class on the Philosophy of Science as well. Let me know if you too would like to be informed about any updates related to that possibility.
Write me at camelswithhammers@gmail.com to help me schedule more close reading classes, to join any of the existing ones, or ask questions.
7. There Are More Regular Scholarships Available Now
Through a combination of generous lump sum donations and my recently announced voluntary subscription system, people who are passionate about education and about supporting my efforts are now making scholarship money regularly available. If you cannot afford my classes but want to be considered for a scholarship, please write me at camelswithhammers@gmail.com. Periodically I inquire with prospective scholarship recipients who have reached out to me about whether a class that another prospective student is interested in will meet their needs as well. If there's a match between a class that another prospective paying student wants and a potential scholarship recipient is available to join, then we are further on our way to a class with lively multiple person discussions. So please be in touch. And if you have the means to donate either once or regularly, please go here for information about how you can help me teach more deserving people. I give a lot of free philosophical education away free for readers on this blog and I am willing to teach students who cannot themselves pay. But I need to make a living somewhere and so need to be compensated for my teaching time. If you have the means to help me do that and still make it so people can get free face-to-face, in-depth teaching, I would be extremely grateful.
For information on how my regular classes are run please visit DanielFincke.com.
For details on the topics covered in my classes, click the banners with the topics you are interested in below: