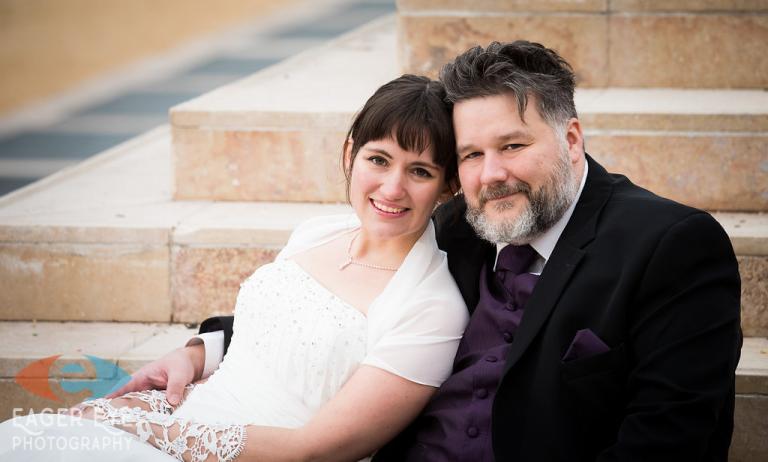 On October 29, 2016 I married my wife, Lex. She found me by reading this very blog and I had the life changing privilege of getting to know her personally thanks to the independent online philosophy classes that spun out of this blog. So I'm really delighted to be able to come back here to Camels With Hammers and share this brief video of the wedding that it made possible. The video was made by our talented friends Sylvia Broeckx and Niels Puttemans at Ever After Video Productions. The musical score is "The Rain" by Isaac Joel, licensed via Soundstripe.com.
Since I lived all my life in America before 2015 but we got married in France, very few of the important people in my life were able to make it to the wedding so that people who couldn't be there could vicariously feel like they were. So it was really important to me that we have fantastic video and photography of the wedding and we could not have done any better than Sylvia and Niels for the video and (Friendly Atheist contributing blogger) Rogier van Bakel. These are hugely talented people, we were blown away by all the results. I met Sylvia and Niels when they included me in their terrific documentary Hug an Atheist which you should also check out.
And we could not have done any better than Richard Wade for a celebrant. Richard is not only one of my favorite bloggers (his "Ask Richard" column at Friendly Atheist is one of the best resources our community has) but also a close friend, one of my most trusted advisers, and, for a year now, a loyal participant in my philosophy classes. It was a huge honor that he flew himself all the way over from California to join us. And he did a fantastic job. Not only did he officiate the wedding but he did whatever we needed to help set everything up.
Everyone who came out meant so much to us. I was really worried that having a small wedding, with hardly any of my friends or family there, might feel underwhelming but everyone was so supportive that it turned out to be no less the wonderful. The intimacy of having a small coterie of people that we could actively engage with all day felt a lot nicer and less exhausting than big weddings with hundreds of guests to barely interact with seem. And Lex was lucky enough to have each of her closest friends, including at least one from each era of her adult life there, so she was incredibly happy. I'm delighted that between Richard, Mike Bennett, and Lex herself I actually managed to have three of the participants of my online philosophy classes attend. That was really special.
Finally, it matters to me quite a bit that humanists develop traditions and resources for the many secular people who currently struggle to be able to put together solemn ceremonies that reflect our views and values adequately. I was very honored to be able to perform a humanist ceremony for a couple of friends a few years back and help make sure they had the kind of wedding that they wanted. And it was quite important to me that we could put together and share with others a wedding that we really believed in. And it mattered to me to be able to find a way to share my wedding with both my loved ones back in America and my virtual community around the world. So, there's a wonderful longer video of the wedding that we can't publish publicly for copyright reasons that we'd be happy to share with our friends who request to see it and other humanists who are looking for ideas for their own ceremonies.
Some day, hopefully soon, I need to write a post about the whirlwind three years that led to that wedding day and about some of what has happened since. Suffice it to say for now, it took me a long, long time to find Lex, and it was well, well worth it. I had grown up an Evangelical Christian expecting to fairly straightforwardly find someone who shared my perspective on the world and my values and who would be able to completely click with me accordingly. Having a basic outlook on things that was widely shared in the community I was looking for a partner in made it easy to assume that that basic concord would be easy to find. Becoming an atheist threw a monkey wrench into the plan. Entering the secular dating pool I despaired for a long time of ever finding anyone who would understand my peculiar religious formation and the lifelong intensity that it left me with when it came to philosophical and religious matters. I didn't expect to be able to find someone who would understand both where I came from intellectually, emotionally, and experientially and where I had arrived at. But in Lex, I found that person. It is, in many ways, as though we grew up together. And as though we matured together. And that's provided an incredible foundation of common understanding.
You really know you've found the right spouse when you are living with her on a foreign continent in a country where you don't know the language and it's the most at home you've ever felt in your life.
Your Thoughts?