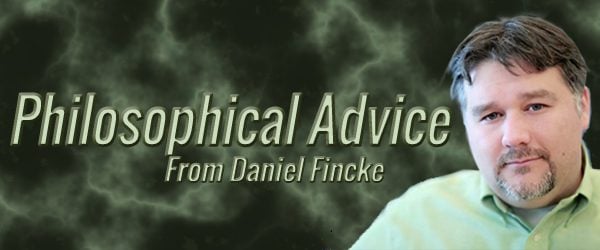 Do you have any questions or ideas that you would like to run by a philosopher in a one-on-one conversation?
I have a PhD in Philosophy and more than fifteen years' teaching experience, both in universities and in my private classes, and I am willing to sit down with you for a free 75 minute session where you can pick my brain on any philosophical topic that you would like. I will be available the rest of the year on Sundays and Mondays during time slots where I am not already scheduled to be with my existing students or my infant daughter. I should be able to meet with up to four or five people a week on these days. If this experiment goes well, I hope to continue doing this next year and beyond.
For a while now I have offered prospective student a free, no-commitment, trial session in one of my group philosophy classes. But I have realized that a lot of people coming into my classes already have a specific set of concerns that they would like to get off their chest or a set of issues they need clarity about before they can get on to other things. I think sitting down one-on-one in advance of group classes could be great for meeting this need. It also would help people who are eventually going to join my group classes if I could orient them to some of the basics of philosophy.
But I am also quite happy to meet with people who have no intention of joining my regular classes. There is no further commitment or expectation implied if you take me up on this offer. I am quite happy to help you out, or simply to entertain you, for free for 75 minutes if that's all you would like.
You can use the time however you want, as long as your purpose is broadly philosophical in nature and as long as you keep the conversation confidential so we can both be as honest as possible in our search for the truth. You can put your burning philosophical questions to me. You can run your pet philosophical theories by me. You can try to change my mind about some opinion I have expressed publicly. You can confidentially pose me a practical question you are wrestling with in your personal life and solicit my philosophical advice about it. You can seek help sorting through an ethical dilemma that is bothering you from your personal life or your philosophical reading, or as raised by current events. You can try to convert me to your religion or your political philosophy. You can confidentially run your doubts about your religion or political philosophy by me. You can seek my help in working out philosophical or personal issues that have arisen since your deconversion. You can discuss the philosophical ruminations that some film or TV show have sparked in you–as long as in doing so you do not spoil anything I haven't seen! You can ask me to explore the meaning of life, the foundations of morality, the nature of knowledge, or any other philosophical topic of interest to you.
I must stress though that I am not at all qualified to treat mental illness. If you struggle with depression or anxiety, I can supplement your discussions with your therapist to help you think through the philosophical aspects of your problems, but if you are dealing with suicidal thoughts, I absolutely must insist you consult appropriate professionals instead of me for that problem.
Finally, if you are one of my subscribers who has been chipping in to support me for all or part of the last four years, you will get priority in booking sessions and for every $42 you have paid in with your subscription you will be entitled to one 75 minute one-on-one session for no extra charge above what you have already paid in your subscription.
Since my weekly slots are limited in number, message me as soon as possible on Facebook or at camelswithhammers@gmail.com to book your free one-on-one philosophical conversation.
Your Thoughts?