UPS just delivered my copy of the new Flannery O'Connor prayer book, published by Paraclete Press. I'm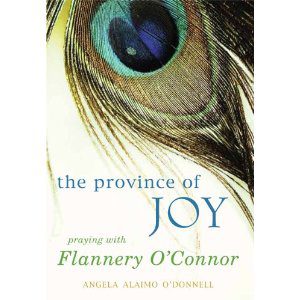 looking forward to spending the next week praying through it. There are morning and evening liturgies for each day.
The choice to include only morning and evening prayer comes from a letter O'Connor wrote about her personal spiritual practice that was collected in The Habit of Being: Letters of Flannery O'Connor: "I say Prime in the morning and sometimes I say Compline at night" (159-160). She is referring to two of the eight traditional daily prayer times in the "Liturgy of the Hours." Her habit seems to have been praying both the third and the final office each day: (1) Prime or "Early Morning Prayer" at dawn and (2) Compline or "Night Prayer" before going to bed.
I've never been able to get into either of O'Connor's two novels, but her short stories take my breath away every time I read them. They're mesmerizing, perfectly crafted gems with deep theological resonance.
The official title of the new book is The Province of Joy: Praying with Flannery O'Connor. It's compiled by Angela Alaimo O'Donnell, a poet and professor at Fordham University in New York City where she teaches English, Creative Writing, and American Catholic Studies. The title is taken from "The Prayer of St. Raphael," which O'Connor prayed daily. The prayer includes a petition to St. Raphael, "The Angel of Happy Meeting," to "guide us to the province of joy." This prayer is significant, especially considering her extended struggles with lupus, which led to his tragic death at the young age of 39 (a disease which also claimed her father when she was fifteen).
The book weaves together the liturgies that O'Connor used herself along with thematically-linked excerpts from O'Connor's letters and from her fiction.
If you have insights about this book, especially if you have the opportunity to read or pray through it, I welcome your feedback in the comments section.
The Rev. Carl Gregg is a trained spiritual director, a D.Min. candidate at San Francisco Theological Seminary, and the pastor of Broadview Church in Chesapeake Beach, Maryland. Follow him onFacebook (facebook.com/carlgregg) and Twitter (@carlgregg).