Dr. Cornel West (1953-), the provocative activist, public intellectual, and professor at Union Theological Seminary in New York City, will deliver the Ware Lecture at the 2015 Unitarian Universalist General Assembly.
This occasion prompted me to finish reading The Cornel West Reader (1999), which weighs in at more than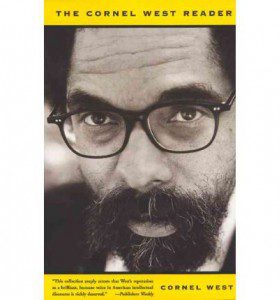 600 pages. The following are highlights for me from this anthology of West's prolific publications:
1.  West draws from an immense variety of sources. The two epigraphs at the beginning, which set the trajectory for this tome, are from the Russian playwright Anton Chekhov (1860-1904) and John Coltrane (1926-1967). West's repeated references to these artists inspires me to re-read Chekov's play The Three Sisters and re-listen to Coltrane's classic album A Love Supreme. West describes Chekhov's work as
the best singular body by a modern artist — to be the wisest and deepest interpretations of what human beings confront in their daily struggles…. His magisterial depiction of the cold Cosmos, indifferent Nature, crushing Fate and the cruel histories that circumscribe desperate, bored, confused. and anxiety-ridden yet love-hungry people…. (xv-xvi)
West describes Three Sisters as "the greatest of the twentieth-century plays" (555) and A Love Supreme as "the masterpiece of the greatest musical artist of our time and grand exemplar of twentieth-century Black spirituality." Agree or disagree, those are strong endorsements worth consideration.
2.  West relatedly describes himself as a "Chekhovian Christian" by which he means that:
I am obsessed with confronting the pervasive evil of unjustified suffering and unnecessary social misery in our world. And I am determined to explore the intellectual sources and existential resources that feed our courage to be, courage to love and courage to fight for democracy. (xv)
3. I also came away from The Cornel West Reader wanting to read more from and about the brilliant W.E.B. Du Bois (1868-1963). And in the wake of the recent racist killings in Charleston, I am struck anew by Du Bois's devastating words upon choosing to leave the U.S.: "I just cannot take any more of this country's treatment. We leave for Ghana October 5th and I set no date for return…. Chin up, and fight on, but realize that American Negroes can't win" (117).
4. It should be clear at this point that West has read widely and is a gifted synthesizer. He himself is described well in his call for more "bricoleurs with improvisational and flexible sensibilities" (139). May such jazz-inspired, pluralistic writers increase!
5. I have been strongly influenced by the late American Pragmatist philosopher Richard Rorty (1931 – 2007), as has West. Accordingly West writes, "I'm a prophetic thinker without a thick metaphysics…. I am fairly historicist in my own formulations about how we go about understanding the Real and the Truth, and hence I talk more in terms of tradition and community than I do of truths and facts" (216).
6. I have personally found convicting the challenge that we must consider not only the so-called 'Bottom Line' of profit alone, but also the 'Triple-Bottom Line' of "People, Planet, and Profit." Relatedly, regarding Progressive Marxist Theory, West writes, "There must be countervailing forces that defend people's needs against the brutality of profit-driven capitalism….. A progressive Marxist theory is still necessary, though not sufficient, for radical democrats" (211).
7. Although I'm glad I went to seminary, part of me has always wanted to go to Law School — and in particular to take a Constitutional Law class. Recent rulings from the Supreme Court raise again the power of the law to shape our society. And West's text introduced me to two books that can serve as a starting points: (a) The Politics Of Law: A Progressive Critique, Third Edition by David Kairys and (b) Narrative, Violence, and the Law: The Essays of Robert Cover (270).
8. Another author West's book left me intrigued to read is the African-American economist, commentator, and businesswoman Julianne Malveaux (539).
9. Returning to The Cornel West Reader also reminded me of Michael Eric Dyson's recent controversial critique of West published in The New Republic.
10. In researching the reactions to that article, two posts that stood out to give a fuller picture of the situation were "Cornel West Is Not Mike Tyson" from The Nation and "Decline of the West II: The Dysoning" from Inside Higher Ed.
Dr. West's Ware Lecture will be available via a free live stream on Saturday, June 27 at 11:00 p.m. Eastern (8:00 p.m. Pacific).
The theme of this year's UUAGA is  "Building a New Way." Along those lines, I will give Dr. West the final words: "I'm just trying to make sense of the world and love folks before I die" (562). May the same increasingly be said of us all.
The Rev. Dr. Carl Gregg is a trained spiritual director, a D.Min. graduate of San Francisco Theological Seminary, and the minister of the Unitarian Universalist Congregation of Frederick, Maryland. Follow him on Facebook (facebook.com/carlgregg) and Twitter (@carlgregg).
Learn more about Unitarian Universalism:
http://www.uua.org/beliefs/principles