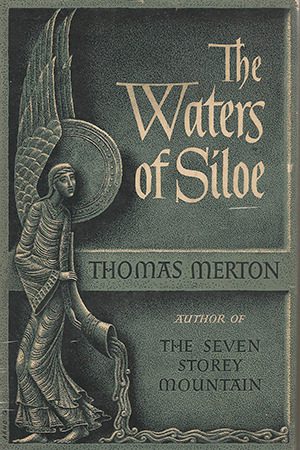 I've been re-reading Thomas Merton's The Waters of Siloe for a class I'm teaching at the monastery. It's basically Merton's history of the Cistercian order, but it's also full of his insights into Cistercian spirituality (and monastic spirituality in general). I especially love the book because it devotes several pages to the founding of the monastery in Georgia, including a wonderful photograph of the monks sitting in front of the old barn where they lived when they first came to the south.
Anyway, while reading it I ran across these words today. This quote is too long for Twitter, so it gets a spot on my blog. I think the words are pretty self-explanatory; Merton is commenting on the main point of Cistercian monastic life. But of course, one could just as easily argue that this is the main point of the Gospel — for all Christians.
Congregavit nos in unum Christi amor. It is Christ's love that has brought us here together in this house. The sanctity of each one is somehow bound up, in the inscrutable designs of God, with the sanctity of the others. We did not come here for the scenery, the architecture, the fresh air, the music, the country life, or for human friendship. We were brought here to be sanctified by the Holy Ghost—first, no doubt, as individuals but also together as a community. We were brought here that God's love might live in us: that God's grace and the constant daily contact with one another might ground us in a deep, experimental knowledge of what we ourselves are and what all men are, that we might learn patience and unselfish, gentle obedience and be filled with the humility and mutual forbearance without which it is impossible to ascend to the higher reaches of contemplation.
— Thomas Merton, The Waters of Siloe
---
Disclosure: If you follow the link of the book mentioned in this post and purchase it or other items from Amazon.com, I receive a small commission from Amazon. Thank you for doing so — your support keeps this blog going
---
Enjoy reading this blog?
Click here to become a patron.

---
.