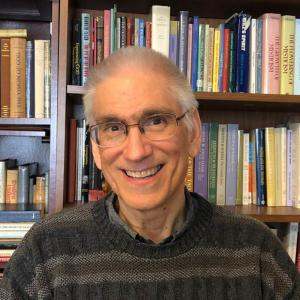 Hi, I'm Carl McColman.
I blog about contemplative spirituality. I am a Roman Catholic so my writing is grounded in Christian spirituality and mysticism, but I also have a strong interest in all the great contemplative traditions of the world — from Sufism to Buddhism, from Vedanta to Kabbalah, so I would describe my writing as both Christian and interfaith-friendly.
I am the author of a number of books, including:
I have been blogging since 2003, and have had a column with Patheos since 2012. I love Patheos's mission — to "host the conversation on faith." As you can see, Patheos hosts blogs from all types of religious and spiritual perspectives. I am honored that my blog was one of the first blogs designated as a contemplative blog on Patheos.
What is contemplation? Different religions and spiritualities will understand that c0ncept in different ways. I see contemplation very much as a way of seeing and a dimension of consciousness — to be contemplative means to be someone who seeks wisdom, who is willing to explore new ideas and new perspectives, is comfortable with ambiguity and paradox and not-always-having-the-answers, and — perhaps most important of all — is committed to a spiritual grounded in compassion, mercy, and wonder.
I draw most of my inspiration out of the Christian tradition, but I try to frame my message in as universal a way as I can. In my work, I strive to be respectful of all Christian denominations and world religious traditions. That's because I believe God loves everybody and wants the entire world to find the happiness and meaning that comes from a life lived in response to divine love — a contemplative life.
Here are a few of my more popular posts:
If you don't know about Carl McColman and his work, you should.

— Brian D. McLaren
Author of A Generous Orthodoxy
Here's a little bit more about me. I am a life-professed Lay Cistercian — a layperson under formal spiritual guidance at a Trappist monastery. Like I said, I am not a monk, but monks are my spiritual teachers and guides. As a Lay Cistercian, I bring the wisdom of the monastery that has been passed down through the centuries, and make it available to the public at large.
Before I entered formation as a Lay Cistercian, I first learned the practice of contemplation with the Shalem Institute for Spiritual Formation, and received training as a spiritual director from the Institute for Pastoral Studies.
I'm a podcaster — with my colleagues Cassidy Hall and Kevin Johnson, I co-host a podcast called Encountering Silence. I hope you'll check it out.
In addition to this blog, my writing has appeared in websites like The Huffington Post, Patheos, and Contemplative Journal.
I work part-time for my parish, where my wife and I co-direct the RCIA program: a faith-formation journey for adults wishing to enter the Catholic Church.
I frequently speak about the spiritual life at retreat centers, churches, and academic institutions. An important part of my ministry is helping individuals and communities reclaim the heritage of Christian contemplative spirituality — by celebrating the lives and teachings of the Christian mystics, the practice of silent prayer, and the revival of ancient practices like lectio divina, the liturgy of the hours, and spiritual accompaniment.
I love to interact with wisdom seekers of all faiths. I find that my faith in Christ is nurtured by a positive engagement with the contemplative teachings of the world's great wisdom traditions. My interfaith work has included the study of Buddhist meditation, co-leading an interfaith contemplative group in Atlanta for several years, and authoring several books about Celtic and nature-based spirituality.
I'm married to Fran, an amazing woman who is a photographer and artist. Our wonderful daughter, Rhiannon, passed away in 2014 after a lifelong battle with kidney and liver disease. So now our earthly "family" consists of several very well-pampered cats!
---
Disclaimer: this is a personal blog and represents my writing, opinions, and ideas. I am not speaking for any organization or party other than myself. The opinions and views expressed here represent my own and not those of any organization with which I am affiliated, including the parish where I am employed and the monastery where I am a Lay Cistercian. In short: whatever happens on this blog is my responsibility and my responsibility alone. Direct all kudos or complaints to me.
---
Enjoy reading this blog?
Click here to become a patron.

---
Stay in touch! Connect with Carl McColman on Facebook: