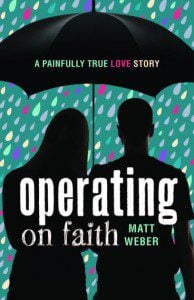 As part of the Patheos Book Club, I've recently read Operating on Faith: A Painfully True Love Story by Matt Weber. Weber is the author of Fearing the Stigmata, about his search as a young Catholic for a "culturally relevant faith;" he also hosts a CatholicTV show and plenty of his videos can be found on Youtube. Like other young Catholic authors, Weber is known for using humor and whimsy to illustrate how the timeless truths of Catholicism still matter in our postmodern society.
But Operating on Faith is not a work of apologetics or evangelisation; it's much more personal than that. In essence it's an illness memoir, recounting the story of a gastrointestinal disease that resulted in emergency surgery and a lengthy period of convalescence — followed almost immediately by a nasty break of his foot, resulting in further pain, healing, and life lessons learned.
But even the author's medical journey isn't the real star of this tale. As the subtitle indicates, this book is a "love story." And that's because Weber's year of living convalescently also happened to be the first year of his marriage. So his memoir is woven together with an appreciative discussion of marital love. The real star of the story is Nell, his wife who faithfully accompanied him from the eating-antacids-like-candy beginnings of his illness through to the moment of triumph when he is able to let go of his crutches and truly give thanks for his health (and his wife).
While Weber occasionally acknowledges the kind of fighting and conflict that even a good marriage endures, for the most part this book is filled with a sunny sense of  hope. It's definitely the story of a young couple blissfully in love — only its a young couple, blissfully in love, who get to face real challenges to their common life almost from the get-go.
This book is not going to change the world and I doubt it will inspire any dramatic conversions to the Catholic faith. But it was a delight to read, and its message — that sacramental marriage really is about sacrifice and self-giving, and being in such a union is truly a lovely and wonderful privilege — is a message that I think we all can stand to hear again and again.
Weber maintains, at least for my taste, just the right balance of reverence and mischievousness (the chapter on flatulence is certainly unique among the Catholic books I've read!), writing in a breezy, lighthearted voice that is humorous but never cutting or mean-spirited. I'm glad the hole in Weber's tummy got sewn up, because I for one am looking for more treasures to come from his pen in the future.
---
---
Enjoy reading this blog?
Click here to become a patron.

---