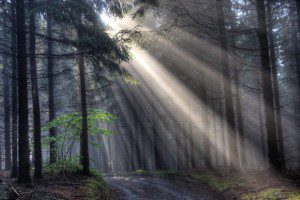 Today's Mass Readings (Hebrews 2:14–18, Psalm 105:1–9, and Mark 1:29–39) offer an interesting insight into the role of prayer in the life of faith.
The Gospel reading, from the first chapter of Mark, gives us several stories of healing and exorcism in rapid succession. But there is a sentence right in the middle of the reading, that is very humble and unassuming, but I think it is so important for us to reflect on.
Rising very early before dawn, he left and went off to a deserted place, where he prayed. (Mark 1:35)
This is not an isolated event in the Gospels. Jesus withdraws to pray again and again. Jesus immerses his life in prayer. His miracles, his healing ministry, his signs — all make sense only because of how deeply he is a man of prayer.
And Jesus calls us to be people of prayer as well. Indeed, today's Psalm instructs us to "constantly seek his face" (Psalm 105:4). Constantly! And Saint Paul also tells us to pray without ceasing (I Thessalonians 5:17).
This mandate, to pray constantly, may seem like quite a challenge — perhaps even a trial — for many of us. Thankfully, the Letter to the Hebrews assures us, "Because Christ himself was tested through what he suffered, he is able to help those who are being tested" (Hebrews 2:18).
This is tremendously good news. We know that Jesus himself was a man of regular, sustained prayer. Prayer was a regular part of his life. He recited the Psalms, and it's reasonable to think that he had many of the Psalms memorized; after all, he quoted from Psalm 22 as he was dying on the Cross.
He knew the scriptures, and was comfortable enough to interpret them in the synagogue. But he also knew how to step out from the text, from the book, from the written word and to present himself alone before God, and pray in solitude and silence.
I believe we are called to imitate Christ in all these ways.
We are called to read the Bible, and to become familiar with the wisdom it contains.
But we are also called to avail ourselves of the treasury of prayer that the Church gives us, prayer found in the liturgy, in the Mass and in the Daily Office, as well as the countless devotions available to us, from the Rosary to devotions like the Angelus to the prayers of the saints and the mystics.
But in addition to scripture and written prayer, Jesus calls us to live prayerful lives, which means to be willing to set aside time, on a regular basis, time for solitude, and silence, and stillness. Maybe we don't have a deserted place where we can withdraw to — if you're like me, you live a very hectic life in an urban area — but each one of us has a silent place in our own hearts, where we can take refuge in the still small voice of God.
The most renowned and widely-read book of Christian spiritual teaching, aside from the Bible itself, of course, is The Imitation of Christ by St. Thomas à Kempis. Truly, the word Christian means "little Christ." So we are all called to imitate Christ: to walk in his footsteps, to love and forgive as he loves and forgives.
For many people, imitating Christ sounds very serious, for it means being willing to take up our cross and follow Him. And indeed, that is something each of us must be prepared to do. But sometimes we are asked to carry our cross in very humble and down-to-earth ways, too. Taking time to pray every day can be difficult in the midst of a busy life.
So it's a challenge, to be willing to stop whatever we're doing, and retreat into silence and solitude to be with Christ. But "he is able to help those who are being tested." So if it is difficult for you to set aside time on a daily basis for silent prayer, ask Christ for his grace to help you to be more disciplined in your prayer life. His help is promised to us, by no less an authority than scripture itself.
Ask Jesus to help you to be a person of prayer. And make that request every day. And then find that deserted spot in your own heart, where you can be still, and know the He is God.
---
Enjoy reading this blog?
Click here to become a patron.

---