Here is a video filmed about a year and a half ago in which I talk about Julian of Norwich, one of the greatest of Christian mystics and the first woman to write a book in the English language, Revelations of Divine Love.
Julian lived from late 1342 to probably around 1412. We know very little about her — indeed, we don't even know her real name, for "Julian of Norwich" refers to her parish church, St. Julian's Church in the English town of Norwich. Julian lived as an anchoress — a woman who gave her life to prayer and solitude, enclosed in a small cell adjacent to the church, where she spent her day in prayer, manual labor, and providing spiritual direction and counsel to visitors. Indeed, one of her visitors was a woman named Margery Kempe, who wrote the first autobiography of a woman in English, and who recounts visiting Julian in her autobiography.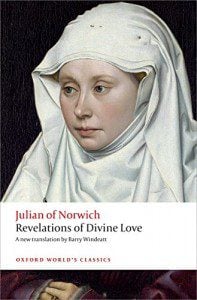 When Julian was 30 years old she experienced a severe illness, that left her bedridden and sick enough for the priest to administer Last Rites. But instead of dying, she entered an altered state of consciousness where, for about a twenty-four hour period, she received a series of sixteen visions (or "showings" as she called them) of mostly religious, but some natural, imagery — her visions included Christ suffering on the Cross, the Blessed Mother, the Heavenly Banquet, and even "the fiend" (Julian's name for Satan).
But what makes Julian's visionary experience so remarkable is their 
theological
content — for in these visions Julian engaged in dialogue with Christ, discussing matters such as sin, salvation, grace, prayer, and trust — but most of all, her visionary writing soars with lyrical and insightful reflections on the nature and transforming power of Divine Love.
"All shall be well, and all shall be well, and all manner of things shall be well." This is the most quoted sentence from Julian's book (it shows up, among other places in T. S. Eliot's Four Quartets), and it encapsulates Julian's splendid optimism. But she is also known — quite remarkably, for a medieval mystic — for her insistence that God is "Mother" as well as "Father." As truly as God is our Father, so too is God our Mother," she wrote.
Her spirituality — steeped in nature, overflowing with grace and love, and insistent that God cannot be limited by the categories of human gender — is both thoroughly orthodox and yet bracingly inclusive and egalitarian. So it's no surprise to find Julian embraced by Catholics and other Christians across a variety of theological and philosophical perspectives.
But Julian is first and foremost a mystic — someone profoundly in love with God, whose life is suffused with God's immediate presence — and so, to my mind, her most lasting contribution is as a teacher of prayer. While not systematic in any sense, Julian affirms all types of prayer, from loving moments of felt or embodied intimacy, to the all-too-human struggle to persevere when God seems absent or far away.
Julian invites us to pray and to trust, "and to be generous in both." When we give ourselves fully to God, in trust and in prayer, we open ourselves to receive the gift of contemplation. Then, truly enough, all shall be well.
---
Enjoy reading this blog?
Click here to become a patron.

---