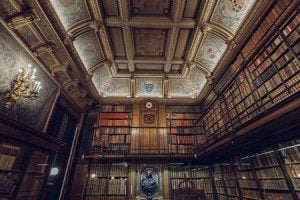 I'll admit — I love lists of books. I find browsing someone's list of recommended titles is a great way to find a new treasure. So with that in mind, here is an admittedly idiosyncratic list of books that I recommend for your consideration. Obviously I lead off with books on contemplation/mysticism, since that's the main focus of this blog. But I wander a bit off topic as the list goes on… browse on, you'll see for yourself. It's an eclectic, ecumenical, and interfaith-friendly assortment.
Books are like people — none are perfect. I've included each title on this list because I believe it has something to offer the general reader; I am not suggesting that these works are above criticism; nor am I implying that every book listed here is equal to all the others in its merits or its relevance to any particular reader. Use discernment and common sense when reading a book and/or evaluating whether or not it is useful for your spiritual practice. When in doubt, consult with a trusted friend or spiritual companion.
Update 7-28-18: I have updated, and substantially revised this list; which I decided to publish as a new post. Please see the new list by clicking here: A Miscellaneous List of Books I Like (And Recommend)
The Christian Mystics: Introduction, History, Theology
The Christian Mystics: Primary Texts for Study and Devotion
Contemporary Spirituality & Contemplative Prayer
Cistercian Monasticism and Lay Cistercian Spirituality
Celtic Christianity
Narnia and C. S. Lewis
Miscellaneous Titles I Recommend
Living the Christian Faith Today
The Bible and Lectio Divina
New Jerusalem Bible: Saints Devotional Edition — my favorite Bible; not a study Bible but a beautifully designed edition of the New Jerusalem Bible, with devotional writings from a variety of Catholic saints interspersed throughout the text.
Michael Casey, Sacred Reading: The Ancient Art of Lectio Divina — certainly the best exploration of lectio divina written by a Cistercian author and maybe the best treatment of the subject, period. Casey understands the rich contemplative quality that meditative scripture reading entails, and invites the reader into that kind of graced, unhurried relationship with the text.
Marcus J. Borg, Reading the Bible Again For the First Time: Taking the Bible Seriously But Not Literally — Borg writes for the average layperson but from a position fully informed by Biblical scholarship. He advocates a faithful and honest approach to scripture that is informed by science, history, and criticism.
Walter Brueggemann, The Bible Makes Sense — Brueggemann recognizes that for most Christians the Bible is read not as a scholarly discipline but a spiritual practice; he advocates entering the text with an appreciation of the spirituality at its heart, and seeking to make its wisdom relevant to life today.
Christine Valters Paintner, Lectio Divina: The Sacred Art — as much as I love Casey's Sacred Reading, Paintner's book about lectio has plenty of offer in its own right. She is both a Benedictine oblate and an artist, so she offers a richly inclusive approach to lectio, where images and well as words can be read as a form of prayer.
Richard Rohr, Things Hidden: Scripture as Spirituality — a down-to-earth, accessible survey of the Bible as a doorway to meaningful spirituality; Rohr is honest about the challenges in reading scripture, yet hopeful in presenting the key themes of the Bible as invitations to inner growth and personal transformation.
Alexander Ryrie, Silent Waiting: The Biblical Roots of Contemplative Spirituality — believe it or not, Christian contemplation is deeply rooted in scripture, and this survey by a Scottish Anglican priest considers how themes in the Bible inspired the earliest Christian contemplatives, the desert fathers and mothers.
Embodied Faith: Spirituality and Nature
The Wisdom of the World
Literary Treasures
---
Enjoy reading this blog?
Click here to become a patron.

---