Five hundred years ago this coming October, Martin Luther nailed his 95 theses on a church door in the University town of Wittenberg. He was just an academic interested in having a debate, but his unlikely act was the flashpoint in what we now call the Protestant Reformation. For centuries, bitterness, acrimony, mutual suspicion, and at times even violence enforced the line of separation between Catholic and Protestant. Within the last century, however, ecumenism — an effort to at least improve relations between the factions of western Christianity — has gained traction, thanks to Catholic efforts such as Vatican II and Protestant efforts such as regional or global councils of churches. But now, as we approach the quincentennial mark of this great wound in the Body of Christ, a new book asks, can beauty — art — help us to be more ecumenical?
Previously in this blog I have mentioned Timothy Verdon's beautiful book Art & Prayer: The Beauty of Turning To God (Paraclete Press/Mount Tabor Books, 2014). Monsignor Verdon is a respected art historian based in Italy.
As a priest as well as a lover of art, Verdon recognizes that prayer and art are natural allies — that spirituality, at heart, is not merely a quest for truth and goodness, but also for authentic beauty as well.
Christians in the east, with their rich tradition of icons, have done a better job at retaining beauty as an integral part of the faith experience. So I truly admire Msgr. Verdon's efforts to reclaim a rich and authentic spirituality of art. It's a truly gorgeous book, filled with full color illustrations, that is as much a feast for the eyes as for the mind.
Now there's a new book from Msgr. Verdon that serves as a kind of companion volume to Art & Prayer. The Ecumenism of Beauty is a slender volume (120 pages) of essays touching on topics such as the relationship between art and contemplation, liturgy, and architecture. It's a companion volume to a symposium called "The Arts and Ecumenism: What Theology Risks in Artistic Creation" that will be taking place in several American and European cities this year, in observance of the Reformation quincentennial.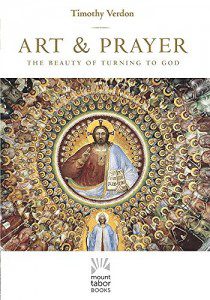 Like Art & Prayer, The Ecumenism of Beauty is an attractive cloth-bound book, printed on heavy paper and filled with illustrations. Its ecumenical focus is apparent in how both Catholic and Protestant topics and contributors are included, with at least three of the seven essays touching on an ecumenical religious order, the Community of Jesus (the order which owns Paraclete Press and sponsors the Mount Tabor Ecumenical Centre for Art and Spirituality). In fact, one of my chief complaints about the book is that it feels too focussed on that one Community, significantly narrowing its appeal to the general reader.
Naturally, I'm most interested in the essays on contemplation and the liturgy, so let me focus on those two.
"The Artist as Contemplative," is by Filippo Rossi, an Italian Catholic artist who reflects on how prayer and contemplation have shaped several of his own works, including a "Magnificat" triptych which is now on display at the Community of Jesus's Church, and several other works which have been displayed at the Basilica of St. Francis in Assisi. Unfortunately it reads more like an artist's statement than a particularly perceptive consideration of the relationship between contemplation and art. Probably its most interesting insight comes from a talk given by Pope Benedict XVI in the Sistine Chapel. "Beauty," said the Pope, "from that which we see in nature to that which is expressed in works of art, precisely because it broadens the horizon of human consciousness, because it pushes it beyond itself, because it brings consciousness to the abyss of infinity, can become a way leading to Transcendence, to the final Mystery, to God." In other words, a contemplative approach to art — whether we approach as artists or as viewers — invites us into that place of mystery where image ultimately falls away, leaving only mystery. In other words, the place where apophatic and kataphatic mystery converge. Art may be grounded in image, but in a contemplative engagement with art, even image yields to mystery.
"Art and the Liturgy," by Monsignor Verdon, begins by acknowledging the religious roots of art, suggesting (like Rossi did in his essay) that liturgical art represents a "vizualization of the mystery." Seeing liturgy as both itself a work of art and also a means by which new art is generated, Verdon walks us through the aesthetics of Christian liturgy and sacraments, pointing out the almost symbiotic relationship between liturgy and images, suggesting that art created in service of liturgy functions as a kind of nonverbal "school of contemplation."
Especially given how short this book is, I wish the editor and publishers had cast a wider net and included more essays without explicit ties to the Community of Jesus. Why not include essays about the Saint John's Bible (one of the great projects of Christian art in our time) or contemporary Orthodox iconography?  And since "beauty" encompasses more than just two-dimensional art, essays on music (shape-note singing), or even design (Shaker furniture), would have made this an even more truly ecumenical celebration of art.
I also wish that the book offered a more nuanced or complete view of the role art has played in the divisions within Christianity. All it takes is an afternoon visiting the murals of Belfast to understand that art has divided us as much as it can unite us. Much of the Protestant heritage has, in fact, been a reaction against the art and architecture that is associated with Catholicism. While Verdon optimistically muses that today "the sixteenth-century refusal of the visual arts in Protestant houses of prayer… is no longer considered a significant divisive element," this book still seems to leave too many questions unasked, let alone unanswered. This would have been a much richer book had it been willing to ask some hard questions about the history of art in western Christianity, as well as considering what role art can (and, perhaps, cannot) play as the churches seek to heal the wounds of the Reformation in our time.
---
Enjoy reading this blog?
Click here to become a patron.

---