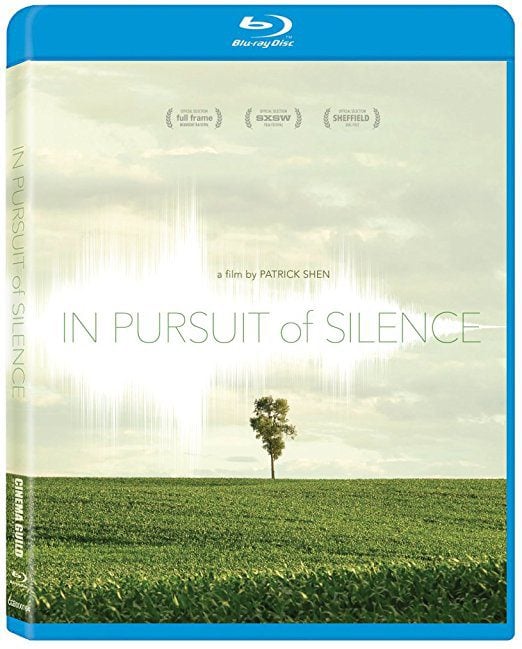 One of my favorite movies is finally becoming available on blu-ray and DVD: In Pursuit of Silence.
If you have been following this blog for a while, you know that I'm in love with this film. If you're new to my blog, you can read my review of the movie from back in the spring of 2016, when it was making the film festival circuit:
In Pursuit of Silence: A Quiet Movie With Much to Say
Basically, this movie matters because it is a documentary that explores the beauty and power and importance of silence in our lives — not just from a religious or spiritual perspective (although it does look at that angle), but also considering the relationship between silence and health, silence and psychology, silence and education, and of course the relationship between silence and nature.
And like all good documentaries, it's more than just a nice little celebration of how wonderful silence is — it takes a look at how silence has become an exile in our world, crowded out by the noise of technology, the relentless thrum of commerce, the cacophony of what passes for entertainment in our world.
So not only is silence something really beautiful and precious, it's also endangered. While the movie does not offer any kind of quick fixes or political postures to suggest a formula for restoring silence, it offers something maybe much more precious: the space to think, to allow each of us the opportunity, if only while watching this film, to reflect on our own relationship with silence and on how we can best preserve or restore it, in our lives.
You might also enjoy watching the trailer…
I became passionate about In Pursuit of Silence when it was still in production — as an independent film, much of its financing came through two Kickstarter campaigns, and I participated in the second of those. Like many independent films, it's not something that likely showed up at your neighborhood Mondo-Megaplex cinema, trying to get your attention between the latest superhero and gun battle flicks. It made the film festival circuit and won some accolades along the way, and then got distribution to the Art House circuit.
But I suspect that for many people, seeing it at home on DVD or Blu-Ray may be their first exposure to the film.
Needless to say, I'm excited. I want as many people as possible to enjoy this documentary.
Loaded with Features
The Blu-Ray/DVD release of this film has been lovingly prepared for silence-lovers (and film buffs) to enjoy. The special attention to detail becomes apparent as soon as you insert the disc into your player. The first screen you will see includes a brief paragraph inviting you to silence your cell phone and other devices so you won't be distracted while watching the film — and also suggests you go ahead and adjust the volume on your system for optimal listening pleasure. From there, you'll have the option to view the complete 81 minute documentary, or  watch a generous selection of deleted and/or extended scenes, three featurettes, and the film's trailer. If you are hearing impaired or truly want to watch the film in silence, you can turn on English subtitles.
Sure, these may sound like "normal" features on a home movie release, but remember, this is an independent film produced on a limited budget. Kudos to the production folks at Transcendental Media and the Cinema Guild for releasing such a wonderful release of this film.
Buy it. Give it as gifts this holiday season. Share it with people. It's important — and not just for contemplatives. In fact, I think this movie shines some light on why there are so few contemplatives in the world today.
Indeed, I would go so far as to say I think sharing this film with people could help more people to explore contemplative spirituality and, by the grace of God, become contemplatives. The film is not an explicitly religious film, and someone could watch and enjoy it from a purely secular viewpoint. But it does connect the dots between the beauty of silence and the splendor of contemplative spirituality — something seasoned contemplatives will find inspiring, and newcomers to our spiritual path might find deeply inviting.
Okay, I suppose a disclaimer is in order: I am good friends with the film's co-producer, Cassidy Hall (indeed, Cassidy and I are working together with our friend Kevin Johnson to develop a podcast called Encountering Silence). But our friendship grew after I had already fallen in love with this film, so I'm not just doing a friend a favor here. And while I was one of the film's Kickstarter backers, I have no financial stake in the film (the only benefit for me: if you buy the film on Amazon following the links on this site, I get a small commission, but that's true of any product I review on this blog).
Here are the links: get In Pursuit of Silence on DVD or on Blu-Ray. And if you prefer, you could also download it from iTunes. Whatever format you choose, I give this movie my highest endorsement. It joins movies like Into Great Silence and Of Gods and Men as a contemplative film you'll want to watch repeatedly. In other words: it's a keeper.
---
Enjoy reading this blog?
Click here to become a patron.

---
Stay in touch! Connect with Carl McColman on Facebook: