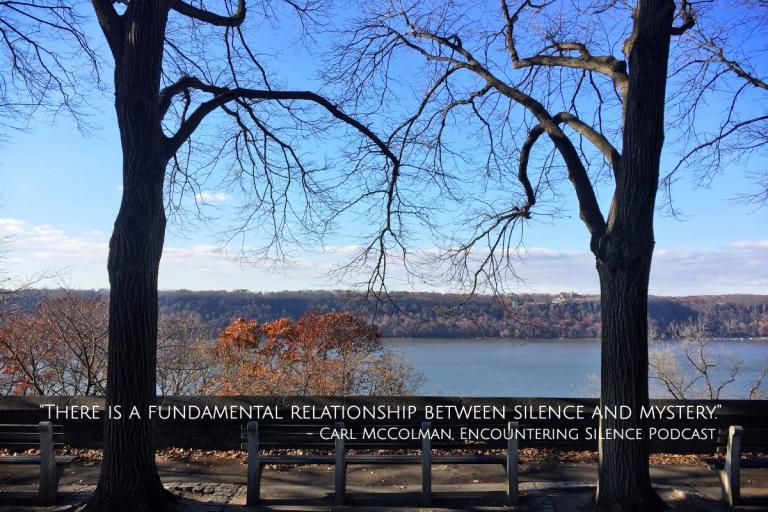 What is the relationship between silence and mystery?
Why is silence such an essential part of spirituality (not just Catholic or Christian spirituality, but indeed all of the great spiritual traditions of the world religions)?
Why are so many people uncomfortable with silence? And why is it that the world we live in keeps getting noisier and noisier?
What can we do to find more silence in our lives, or to appreciate the silence when we do encounter it?
And what about all the noise inside ourselves: from distracting thoughts, to nagging fears and anxieties, obsessive worries, and the like?
These are just a few of the questions that my good friends Cassidy Hall, Kevin Johnson, and I are (and will be) exploring in our new podcast, Encountering Silence. The three of us met through the work Cassidy did as co-producer of the documentary film In Pursuit of Silence, and began to build a meaningful circle of friendship based on our shared conviction that silence is beautiful, necessary, deeply spiritual, and also endangered in our modern noisy world.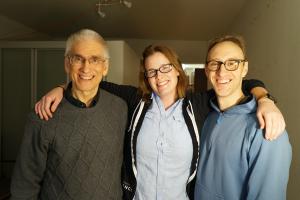 We are all persons of faith, so naturally we approach silence through the lens of creative spiritual teachers like Maggie Ross or Thomas Merton. But we are also each committed to encountering silence in more than just explicitly religious ways. We share a love for the arts, ranging from photography and film to poetry and fiction. We geek out on anything and everything from Mary Oliver to medieval iconography to Monty Python.
Likewise, we all share a strong commitment to social justice and trying to live by the wisdom of the Beatitudes and other radical teachings of the New Testament and the Christian tradition. Our heroes include Dorothy Day, Martin Luther King Jr., Joan Chittister, Sr. Simone Campbell, Fr. Gregory Boyle, and of course Pope Francis.
We often talk about how silence without action is narcissistic, but action without silence leads to burnout or to entrenched conflict and self-righteousness. So we talk a lot about how to approach silence with an eye to working hard to make the world we live in a better place.
The first few episodes of our podcast consist of the three of us reflecting together on why silence matters to each of us. But in the future, we will be including guest voices on our podcast. We've already recorded a couple of episodes featuring monastic voices (including Brother Elias Marechal, author of Tears of an Innocent God) and we already have one "big name" guest star who has agreed to appear on our podcast (I won't give it away just yet, but stay tuned!), with more interesting and insightful guests to follow.
We're called Encountering Silence. Whether you are interested in silence for spiritual or religious reasons, artistic or psychological reasons, or because you love nature and want to help build a better world, we hope you'll join our conversation, first of all by listening to and subscribing to our podcast. There are several subscription options, all available through our website, www.encounteringsilence.com.
We just released our "Pilot Episode" yesterday but we'll have more episodes released soon. So check it out! Click here to download and listen to the Pilot Episode.

Want to support this podcast?


Click here to become a patron.

---