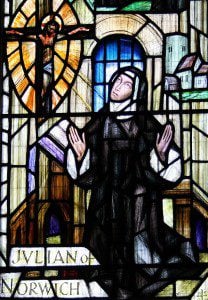 One of the my favorite Christian writers is a woman who lived in fourteenth century England. We don't even know her name. But we know her by the name of her church, which was St. Julian's Church in Norwich, England. So she is forever known as Julian of Norwich.
Julian lived from about 1342 to about 1416. We don't know a lot about her life, but we do know that when she was thirty years old, she became ill, so sick that the priest was called to administer her Last Rites. But instead of dying, Julian experienced a series of spiritual visions that filled her with a sense of God's love, mercy, and compassion.
After that momentous night, she recuperated from her illness, and eventually wrote a book called Revelations of Divine Love. It was the first book written by a woman in the English language. 
Revelations of Divine Love tells the story of Julian's remarkable experience of God, but it also is filled with rich reflection and insight into what Julian came to know and believe about her God, who is all-loving and all-kind.
Remember, Julian lived in the heart of the late middle ages — a time marked by outbreaks of the Bubonic plague, by the burning of heretics at the stake, by bloody peasant uprisings and near constant war between England and France. When you think of it, maybe her time was not all that different from our own!
But it was a time when the popular image of God was harsh, wrathful, and punitive. Life, as they say, was nasty, brutish and short, and so for many people, God was little more than an autocratic king who ruled with an iron first — not only over England, but over all the universe. This was a god to be feared, not to be loved.
But thanks to Julian's visions, she recognized that our God — the God of Jesus Christ — is in fact a God of love, a God of endless mercy and compassion. Very few people had access to the Bible in her day, so the privilege that we take for granted — the ability to go straight to the Bible and look something up for ourselves — was simply not widely available in her day.
The Bible bluntly tells us that God is love, but the average peasant in the middle ages probably never got the memo. 
And yet, Julian did! And nowhere does the radical impact of Julian's visionary insight into Divine Love become clearer than in this bold statement that Julian makes, in the 35th chapter of her book. She says, "For the fullness of joy is to behold God in all."
Let me repeat that one for you! The fullness of joy is to behold God in all.
To Find Joy in God, We Need a Healthy Image of God
Julian suggests that God is a source of joy — not fear, not terror, not anxiety. I'm reminded of the well-worn phrase from Proverbs, "The fear of the Lord is the beginning of wisdom." What I think we often forget is that the end of wisdom — and by "end" I mean not only "completion," but also "goal" — the end of wisdom is love.
Scripture, you see, is very clear: perfect love casts out fear, as the 1st Epistle of St. John boldly proclaims. The fear of the Lord may be where wisdom begins, but the love of God wants to replace fear in our hearts. As Julian points out, to behold God, ultimately, is not a cause for alarm, but an invitation into joy.
Notice also that Julian invites us to recognize that the fullness of joy is behold God in all. Some modern editions of Julian's book translate the middle English as "the fullness of joy is to behold God in everything," but the original middle English very specifically says the fullness of joy is to behold God in all. I like the word "all" because it implies not just all things but also, and perhaps more importantly, all people.
Julian seems to be suggesting that we need to look for God in each other — which only stands to reason, since it is a principle of the Christian faith that God is present in our hearts, thanks to the Holy Spirit who has been given to us — in our hearts. If the Holy Spirit is in our hearts, than our job is to discover the Holy Spirit, present in each and every person we encounter.
But, you may be wondering, can we truly find God in all people? What about someone who is violent, or abusive? What about people whose lives have been trapped by the horrors of addiction, and who act out their illness in ways that cause harm to others? How do we find God in those hearts?
An English writer named Caryll Houselander eloquently answered this question in her book called The Reed of God. In this book, she suggests that Christ is present in all people, but not necessarily alive in all people. Some of us carry Christ in our hearts like God in the Temple, but others carry the crucified Christ in our hearts like his body, lying in the tomb on Holy Saturday.
We know how the story ends. The Christ who died is the Christ who rose again. But for that one awful day, that Saturday after the crucifixion, his body lay in repose. What is interesting is that every year, Christians from all over the world travel to Israel to visit the Church of the Holy Sepulchre, built on the site traditionally believed to be the location of Christ's tomb.
Caryll Houselander thought this was ironic. "We should never come to a sinner without the reverence that we would take to the Holy Sepulchre," she wrote. "Pilgrims have travelled on foot for years to kiss the Holy Sepulchre, which is empty. In sinners we can kneel at the tomb in which the dead Christ lies."
So God is in all of us, and some of us we easily discern the Divine presence, and for others the Holy Spirit seems hidden, like Christ in repose in the tomb — but awaiting resurrection. That's the key. There is no one beyond the grace of God. And the sooner we recognize this in our hearts, the sooner we are invited into the fullness of joy.
---
Enjoy reading this blog?
Click here to become a patron.

---
A Recurring Theme
Julian of Norwich is not the only Christian thinker to have counseled us to find God in all. Saint Ignatius of Loyola, who was founder of the Society of Jesus, counseled his students to make a practcice of "finding God in all things." A thousand years earlier, Saint Benedict, who did so much to establish the monastic way of life in the church, instructed his monks that they should receive all guests as if they were receiving Christ himself.
It's a bit of spiritual advice that I think all of us would do well to heed, even if we have nothing to do with a monastery.
But how do we do this? How do we find God in all things? How do we behold God in all? How do we, in the words of the Episcopal Book of Common Prayer, "seek and serve Christ in all persons?"
One way to answer this question is to reflect on the wisdom found in Psalm 139. It begins with a humble recognition that God knows us inside out. Saint Paul says that God searches the heart, but here the Psalmist seems to suggest that God's knowledge of us is even more comprehensive. God knows us, body and soul. God knows all that we do and even all that we think. God is acquainted with all our ways.
The logic here is breathtaking in its simplicity. To find God, inquire within.
Now, many well-meaning believers would hasten to insist that we should be careful, we should not trust ourselves, our egos are prone to pride and inflation, and that we are always capable of deceiving ourselves. And I suppose such warnings may have their place. But these caveats take us back to the fear which is the beginning, not the end, of wisdom.
We need to balance our capacity for fear with our trust in God.
You, and me, and every human being who has ever walked the earth, are all finite creatures. We can no more comprehend the fullness of God than a drop of water can contain the ocean. But even the tiniest drop of water can know the ocean, and can be contained within it. Likewise, every one of our hearts is a like a drop of water in the oceanic heart of God.
Once we begin to discover that God is truly present in our lives, the possibility of finding God in all things opens up dramatically. Like the Psalmist assures us, we soon realize that we cannot be apart from the presence of God! 
Where can I go from your spirit?
Or where can I flee from your presence?
If I ascend to heaven, you are there;
if I make my bed in Sheol, you are there.
If I take the wings of the morning
and settle at the farthest limits of the sea,
even there your hand shall lead me,
and your right hand shall hold me fast.
Death cannot separate us from the presence of God. Sin cannot separate us from the presence of God. If we dedicate our lives to running away, we will sooner or later discover that we have simply run straight into the arms that love us, but that will never force us to love in return.
Putting the "All" in "All Things"
Somebody — I think it might have been Frank Lloyd Wright — once said, "I believe in God, only I spell it Nature." He actually wasn't that far off the mark. Granted, every Christian proclaims that God is infinitely more than the splendors of nature, but one of the reasons why we love the natural world so much is because it's a place where discerning the presence of God seems easier.
The ancient Celts even referred to places where God's presence seemed especially close as "thin places." More often than not, the thin places where places of tremendous natural beauty.
It's easy to find God in a majestic sunset, or a beautiful lake, or an awe-inspiring mountain range. For that matter, God seems to sparkle in the laughter of a newborn baby, the glowing faces of a young couple in love, or the quiet wisdom of a beloved grandmother.
Our job, as followers of Jesus Christ, is to learn to discern the presence of God in all the places where it may be harder to find: in the midst of suffering, in dangerous neighborhoods, in the politics of someone who doesn't vote the same way we do. Yes, I have it on good authority that God loves both Democrats and Republicans.
It takes practice to become a proficient musician, or a professional artist, or a competitive athlete. Likewise, I believe it takes practice to find God in all things and in all people. Our job is to seek God's presence out. After all, beholding God in all is the fullness of joy.
I once saw a postcard that asked a very simple question: "If God is everywhere, then where are we?" To find God in all things is to find all things in God. This is not pantheism, for God remains greater than all things and the source of all goodness, all truth, and all beauty.
May we be open to discovering God's truth, God's goodness, God's beauty — and most of all, God's love — in our own hearts and in the hearts of all. And in doing so, may we find fullness of joy!
N.B. The above homily was delivered on Tuesday, June 26, 2018 during Vespers at the Lakeside Chautauqua, Lakeside, OH. The text for this homily is Psalm 139.
---
Enjoy reading this blog?
Click here to become a patron.

---