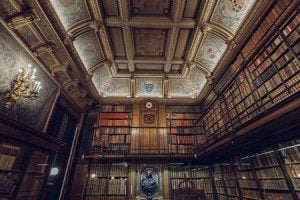 I love booklists. I find browsing someone's list of recommended titles is a great way to find a new treasure. This is an admittedly idiosyncratic list of books that I recommend for your consideration. Obviously I lead off with books on contemplation/mysticism, since that's the main focus of this blog. But I wander a bit off topic as the list goes on… browse on, you'll see for yourself. It's an eclectic, ecumenical, and interfaith-friendly assortment.
Books are like people — none are perfect. I've included each title on this list because I believe it has something to offer the general reader; I am not suggesting that these works are above criticism; nor am I implying that every book listed here is equal to all the others in its merits or its relevance to any particular reader. Use discernment and common sense when reading a book and/or evaluating whether or not it is useful for your spiritual practice. When in doubt, consult with a trusted friend or spiritual companion.
N.B. I know it's rather hucksterish to include my own books on a list like this, so please forgive me for yielding to the demands of marketing. I humbly hope you will find my writings worthy to be included among the fine books noted here.
The Christian Mystics: Introduction, History, Theology
The Christian Mystics: Primary Texts for Study and Devotion
The Heart of Silence
Cassidy Hall and Patrick Shen, Notes on Silence — this book, a companion volume to be beautiful documentary In Pursuit of Silence, examines how silence is an essential feature of human life, touching not only spirituality but creativity, health, psychology, and education. Beautifully illustrated with the authors' photographs, the book is truly a meditation on the beauty and necessity of silence.
Sara Maitland, A Book of Silence — the single most beautiful book I've ever read about silence. Deeply spiritual (and religious in the best sense of the word), this book combines memoir and general nonfiction to celebrate the beauty of soundlessness.
Martin Laird, Into the Silent Land: A Guide to the Christian Practice of Contemplation — one of the best and clearest introductory books on contemplative (silent) prayer. Grounded in the writings of the saints and mystics, and inspiring in its invitation into ever-deeper silence.
Thomas Merton, Dialogues with Silence — a short book which pulls together prayers and drawings from the renowned Trappist author to invite the reader into the silence which informs Merton's thought and spirituality. It's a wonderful, and devotional, introduction to his work.
Anne D. LeClaire, Listening Below the Noise — the author calls this book "a meditation on the practice of silence" — it recounts how she was drawn to devote two days to silence each month, and how her journey into silence gave her insight and inspired her creativity.
Maggie Ross, Silence: A User's Guide (Volume 1: Process) — surveys the history of how contemplation became marginalized in western Christianity, and critically assesses how contemporary spirituality is often trammelled by narcissism, solipsism or psycho-babble.
Maggie Ross, Silence: A User's Guide (Volume 2: Application) — following up on the first book, this shorter volume offers insight in learning how to read with a contemplative heart, teasing for the treasures of silent wisdom encoded in the Bible and other sacred texts.
Contemporary Spirituality & Contemplative Prayer
Cistercian Monasticism and Lay Cistercian Spirituality
Celtic Spirituality
Narnia and C. S. Lewis, and Related Topics
Miscellaneous Titles I Recommend
Living the Christian Faith Today
Spirituality, Social Justice, and Current Events
Embodied Faith: Spirituality, Earth, Nature
Interspirituality and World Mysticism
Literary Treasures
---
Enjoy reading this blog?
Click here to become a patron.

---