Today's guest post is by Mark S. Burrows, translator of Rilke's Prayers of a Young Poet.
My life is not this steep hour
in which you see me hurrying so.
I am the tree standing before what I once was;
I am only one of my many mouths,
and, at that, the first to close.

I am the stillness between two notes
that don't easily harmonize,
because the note Death wants to lift itself up. . .

But in the dark interval both come,
trembling, to join as one. . .
and the song sings on, beautiful.[1]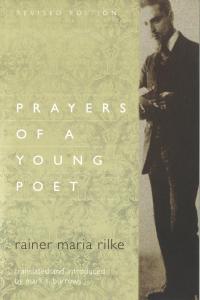 Many of us could claim these lines, taken from one of Rainer Maria Rilke's poems, as a true confession.  We live hurried lives, caught in the pressures of a culture—a "hurried society," as it were—that seems overwhelmed by speed and accessibility.
The advent of the smartphone, with its wireless connection to the internet, has meant we are rarely out of range; indeed, the expression 24/7 was birthed as a gesture to this new-found accessibility, which is both instantaneous and constant.
This surely has some advantages. But the burdens it brings are considerable, and probably require no explanation. How to retreat from this, how to create islands of quiet, are crucial questions for those who value sanity.
We know that the pressures of this speed-addicted society can leave us feeling depleted, empty, and alone.  Our accessibility via social media might increase our communications with others, but it is questionable whether this has done anything but diminish the quality of such interactions.
They surely do not bring us closer to the places of our deepest longing, and rarely do they make us vulnerable to the sacred and transforming reality within us that Rilke simply calls "the Open."
The work of stepping aside from this hurry, even when we know it to be the right thing to do, is rarely easy.  There are too many external pressures that make this seem untenable, and then there are those "inner demons" that cry out to us with their needy ways.
We've probably heard someone quote the line from one of Rilke's poems, "You must change your life," but we know that agreeing with this is a far remove from the doing.
A Guide to a Saner Pace
Rainer Maria Rilke is one of the surest guides in this journey into what Gerald May, in The Wisdom of Wilderness, described quite simply as "the slowing."  Rilke's poems and letters are openings into that a saner pace, guides to the deeper dimension of soul that is always present within us even when we have no awareness of it.
As he once put it in one of his Letters to a Young Poet:  "To let every impression and every seed of a feeling realize itself on its own, in the dark, in the unconveyable, the unconscious, beyond the reach of your understanding, and to await with deep humility and patience the hour when a new clarity is born:  this alone is to live artistically, in understanding as in creation."
The journey to reach this deep place within us, "beyond the reach of [our] understanding," can be demanding. It will require silence, time, and attention.
We cannot read a poem "multi-tasking." For this reason, strong poems require what I call "slow reading" if we would hope to receive the witness they bring.  They lead us slowly, if at all, into this "dark" and creative center we carry within us at all times.
If we open ourselves to their often quiet voice, they might well open us to live into the change we desire—luring from us a more patient heart, helping us to live more generously, more attentively, until such a "new clarity" takes shape in our lives.
They guide us in learning to live authentically. Or, artistically, as Rilke put it.
Poems of the sort Rilke wrote remind us, as he put it later in the poem cited above, that we are, somehow, what he describes as "the stillness between two notes that don't easily harmonize."[2]
They slow us down, and center us, refusing to be "consumed" quickly.  They urge us to go deep, to find our way into that place of "the Open," as he calls it, which waits in our heart.
They teach us to find the place of deep and slow and life-giving breath that can help to loosen the stronghold of speed in our lives.
"Let your judgments follow their quiet, undisturbed evolution," Rilke reminds us, "for this, like all progress, must come from deep within and cannot be pressured or hurried in any way."
About today's guest contributor: Mark Burrows is a poet, editor, medievalist, and professor of religion and literature at the Protestant University of Applied Sciences in Bochum, Germany. His poems and translations have appeared in numerous journals. His works include translations of Rainer Maria Rilke's Prayers of a Young Poet, the German-Iranian poet SAID's 99 Psalms, and Meister Eckhart's Book of the Heart (with Jon M. Sweeney). His poetry is collected in The Chance of Home.
[1]See Rainer Maria Rilke, Prayers of a Young Poet, translated by Mark S. Burrows (Brewster, MA: Paraclete Press, 2016), p. 28.
[2]Ibid.
---
Enjoy reading this blog?
Click here to become a patron.

---