Here's a trailer for a forthcoming short film about Thomas Merton and the hermitage he lived in at the end of his life. Take a few moments and watch this. It's a treat. And be sure to watch it to the end.
"Most human speech is devised to evade being, and simply to keep on a stream of sound and noise and apparent meanings." — Thomas Merton
Like most indie films, the producer and director of this film are relying on financial support of donors and fans (i.e., folks like you and me) to complete the production. Visit the "Day of a Stranger" website to learn more and to donate.
The film's director is Cassidy Hall, who of course is one of the co-hosts of the Encountering Silence podcast. Cassidy took a few moments to answer a few questions I had about the film.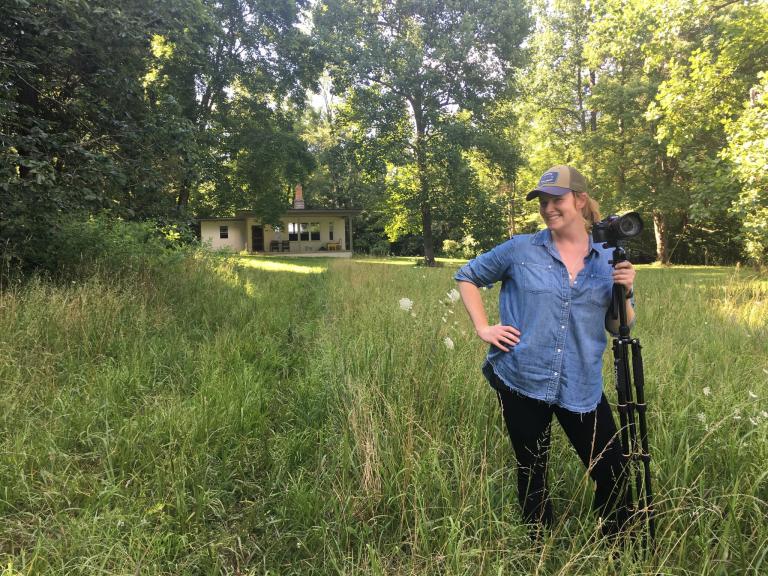 How did you get inspired to create a film about Thomas Merton and his hermitage?
"We live in an age where men manufacture their own truth." — Thomas Merton, Sermon on The Feast of the Immaculate Conception (Recorded 12/8/1962)
Even aside from politics, our days host an array of their own problems. Many have viewed the life of a monk or hermit to be a departure from the world and its many problems. But I've come to see this going away from the world as a way to love it—and its humans—more deeply.
I began reading Thomas Merton's New Seeds of Contemplation sometime back in 2011. This evolved into a Gethsemani Abbey pilgrimage which led to me traveling to the seventeen Trappist/Cistercian monasteries of the US to talk to monks and nuns about silence, solitude, and contemplative life. Somewhere along the way I became more and more interested in Thomas Merton's work and hermitage years—why would such a brilliant person who has so much to offer the world go away from the world. The joke was on me until I began to read further into his desires for solitude and how this tension and paradox was another way of expression, another way of showing solidarity with the suffering of the world. 
There's a tension in the contemplative life—a tension that holds a paradox. This tension is intertwined with the pain of the world while meeting said pain in the silence and solitudes of our everyday lives (a paradox to many). This doesn't make sense to everyone and the contemplative path is certainly not for everyone, but I do sincerely believe aspects of it can benefit the whole world. 
Day of a Stranger is a title taken from one of Thomas Merton's most beloved essays (May 1965). The essay was published in Latin America as a response to a journalist's question about what a typical day in the life was like for Merton in his new hermitage home. Unbeknownst to Merton or the journalist that this would be his final home and "Dia de un Extrano," (Day of a Stranger) was published in Papeles, a journal from Caracas, Venezuela in July of 1966 (also published in The Hudson Review in the summer of 1967).
What has surprised you the most about listening to Merton's old tape recordings?
"The community needs a hermit… People need a real evidence that it is possible to go further than just the convoy routine… it is very necessary today to feel there is some leeway… The monastic life is not a mass produced thing." — Thomas Merton's final address as novice master before his permanent move to the hermitage. 9/20/1965
The most poignant thing for me is being able to immediately discern whether Merton is alone or speaking to a group. Like most of us, there is a facade or more gregarious voice when speaking to others and it kind of makes me chuckle. There's also lots of laughter when he's speaking to a group and he seemed to never shy away from a chance to entangle the group in joy. Those I've spoken with who knew Merton (Jim Forest, Br. Paul Quenon, James Finley, and others) have all mentioned this sense of humor as well.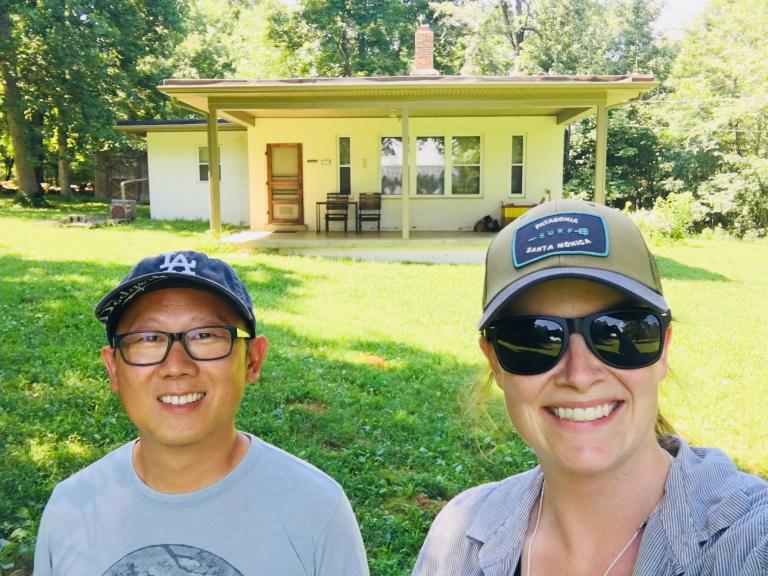 You were a co-producer of In Pursuit of Silence. How did working on that film help to shape your creative process for Day of a Stranger?
"The purpose of the solitary life is to be free… Not to live against the divine grain so to speak. Hence the danger of simply speaking as if one knew and if the tape is moving you have to keep talking, you have to keep saying something, you have to keep pretending you know something… You hide… The danger of speaking constantly from the top of one's head instead of speaking from the heart."  — Thomas Merton April 24, 1967 
I cannot overstate how important it was to work with director Patrick Shen on In Pursuit of Silence. I was dramatically shaped as an artist in that time and continue to learn so much from his mentorship on this film. It seems to me this kind of deep contemplative work will not reveal itself to you if you are not honest with yourself and those most intimately intertwined with it. Patrick has become a brother, but even this has happened by way of recognition as opposed to a succession of events or experiences. 
Day of a Stranger is undoubtedly a result of a desire to speak more further into the importance of silence, solitude, and contemplative life — via the voice of Thomas Merton. I was particularly inspired by his move to the hermitage on the monastic property where he lived out his final years. In October 1964 Merton received permission to begin sleeping overnight at the hermitage, he permanently moved there in August 1965, and died in December of 1968 while in Thailand. From here he wrote some of his most influential work, dove further into interfaith dialogue, and continued to speak into the peace movement and various social justice issues. 
Why, a half century after he died, does Thomas Merton remain so popular? What do you think is at the heart of his appeal?
Or maybe another way to ask: as a queer woman, why would I chase a Trappist/Cistercian (one of the most strict orders of monks in the Catholic-Benedictine realm) monk into the woods? It's laughable really. But if you know Merton, you know that common thread of humanity he taps into within all of our lives. Whether you're a Catholic and a Seven Storey Mountain fan, a New Seeds of Contemplation type, a social justice advocate reading Cold War Letters or Faith and Violence — there is something for everyone and Merton makes himself awfully approachable with his variety, candid nature, and even the humanness of contradicting himself (though one could argue that simply demonstrates his evolution into more of his true self).  
I create in order to be true to the artist I am, the human I am. I sincerely believe the truth of ourselves to be directly connected to the truth of others and ultimately the truth. Making a film about Thomas Merton is a merging of these truths, a pointing to the hermitage we all carry around within— a place of infinite possibility and unparalleled spaciousness. 
Archival audio transcriptions in this film (and quoted in this blog post): ©The Merton Legacy Trust. Used with permission of The Thomas Merton Center. Merton's final address as a novice master has been published by Now You Know Media.
---
Enjoy reading this blog?
Click here to become a patron.

---