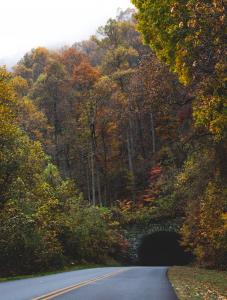 Asheville, NC is one of my favorite places in the world. Beautiful mountains, a thriving city with a vibrant arts scene (not to mention craft breweries and great restaurants), and home to some wonderful Christian communities, from the Wild Goose Festival which takes place every summer, to Haw Creek Commons — a young intentional community that is actively reinventing how to do "church" in our time.
I'm thrilled to report to Haw Creek Commons has invited me to present two contemplative programs the weekend after Easter: April 26 and April 27, 2019. If you live in Asheville or western North Carolina, I hope I'll see you at one or both of these. If not, please tell any friends or loved ones in your life who is in the greater Asheville area. The events focus on two passions of mine — storytelling and poetry — but, of course, anchored in a contemplative perspective.
Friday, April 26 will be a small intimate gathering exploring the theme of Storytelling as a Sacred (and "Subversive") Art. This will be an opportunity for us to explore how storytelling can shape a meaningful and life-changing spirituality. I'll tell a story (or a few), and reflect together with you on how stories and storytelling help us to find meaning, purpose, mission, and perhaps even a sense of communion with God. Depending on how the evening goes, we'll have time for shared prayer, silence, and conversation. We will gather from 7 to 9 PM. Space is very limited; registration is $25.
Saturday, April 27 we'll have a day of reflection on the theme of Poetry, Prayer and Protest. Poetry is where storytelling and contemplation meet one another. With this idea as our starting point, our day will weave together silence, reflection and prayer based on the themes of contemplation, social action, community building, and deep trust. We will take a closer look at the poetry and wisdom of several contemporary figures — poets like Thomas Merton and Mary Oliver, along with the insight of contemplative teachers like Martin Laird or Julian of Norwich. We'll combine generous time for prayer, meditation, personal reflection, and journaling with opportunities for small group sharing. The event runs from 9 AM to 1 PM and the registration is only $10.
There are limited guestroom facilities at Haw Creek Commons if anyone is coming from out of town or and/or wants to make this a true "retreat" experience.
Contact Haw Creek Commons for information
.
You can register for each program individually or attend both (subject to availability). Here are the registration links:
I hope to see you there! If you cannot attend (or even if you can!), please tell your friends about these events. But remember, space is limited (especially for the Friday evening program) so register soon!
---
Enjoy reading this blog?
Click here to become a patron.

---