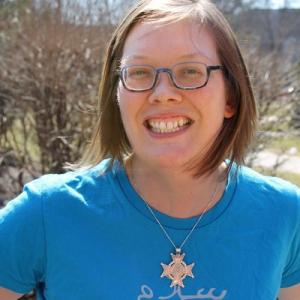 Today's Guest Post is by Sr. Julia Walsh, FSPA. Sr. Julia is a Franciscan Sister of Perpetual Adoration; she is a youth and retreat minister, writer and activist. Read more of her writing at www.messyjsesusbusiness.com or follow her on Twitter (like I do) at www.twitter.com/juliafspa.
On an ordinary morning, I kneel into The Now.
I am alone in my bedroom, sitting cross-legged on the floor. I have set my timer, so I know when I must move. But for now, this is all there is. I light the candle nearby, then close my eyes and move my mind — my focus — into the rhythm of my breathing. On the other side of my eyelids I sense the flicker of light, the glow of what is in front of me. I feel the subtle heat emanating from the flame. My body is barely still, yet I try to say yes to the chance to truly "be still and know that God is God" as God encourages me to do. I resituate my hips, straighten my spine. I hold my hands in my lap, and press my palms onto my knees. Slowly, eventually, stillness and silence seem to surround me. A sacred word makes its way into my mind — a word or phrase or traditional prayer, depending on the day.
Breath, light, heat, stillness, silence and words: these are my touchstones as my mind wanders, taking tours of the past or dreaming up the future. Each time a task on my to-do list interrupts me, I try to ignore the nudge. All those things can wait. This is the moment I am in. I return to touchstones and sink back into Christ. Breath, light, heat, stillness, silence and words.
In Christ, I visualize a monstrance on a high altar in an adoration chapel, the gold glimmering around the Blessed Sacrament. The Body of Christ stands strong and silent upon the white marble. In particular, I am visualizing my community's adoration chapel in La Crosse, Wisconsin, the heartbeat of my home and motherhouse, St. Rose Convent. Although I am hundreds of miles away from the holy ground where at least two adorers have prayed for many years, I am connected to them, to the place, to Christ. We are one.
After a while, I imagine I am a cavernous bowl, a wide-open space for the spirit to fill. I hope that God will fill me with Truth and Love. My hopes turn into prayers and I make my requests known to God. I ask for help. I ask for guidance. I ask that God will use me as a holy instrument, as a vessel for goodness and peace.
I feel my hands and heart tingle with energy and ideas, I am flooded with inspiration. I open my eyes and fumble to find my journal and pen. Words pour through my heart and into my mind, then onto the page. The words are becoming flesh with each "yes" I offer God. This is my fiat. Fed by contemplation, in communion with Christ, God and I co-create.
This is the pattern of my life: contemplation, communion and creativity. It is what being a Franciscan Sister allows. It is what being a child of God invites. We all are designed in a way wherein we work best if we open ourselves widely to God, connect with Christ in prayer, and offer ourselves as vessels for God to co-create through. This is a path that permits us to serve and build up the Body of Christ.
And, although the pattern is usually not as smooth as what I just described, it is some days. When it is, I am most in awe. In those moments the poetry and prose spilled onto the page seems too beautiful; it becomes tough for me to believe that I had anything to do with its formation. But that is the wonder of God, isn't it? We all are made to co-create. We all are made to be in union with God, at God's service.
I can identify when an experience of creativity first felt like a contemplation experience for me. I was on retreat in a Church basement along with other college students and we were casually creating collages in the quiet to reflect on what we were grateful for. I had clipped out all sorts of images, colors and words from magazines and had them on the table in front of me. Straring at my options, I felt overwhelmed and confused, like I needed to try to solve a puzzle and figure out how everything could fit on the page.
But then, I took a breath and said some sort of prayer. I decided to stop trying to figure out what I was going to create and instead to allow the Spirit to show me the way. I moved from my mind and into my heart. And I felt myself gain freedom as I delighted in the way the collage evolved, the way God worked through me and we made something beautiful together. Every image, color and word seemed to fall right into place. I don't remember how the collage looked, but I remember how happy I was to discover that creating art could be a prayerful experience. I remember that when we sat back in a circle all I could say was "I am in awe of how being creative can be such a spiritual experience."
That day, I learned how creativity, contemplation and communion all require submission to God's greater will. In each act we must say "yes" and open ourselves to God's work within us.
Since creating that collage in the Church basement, I have become a Franciscan Sister of Perpetual Adoration, a minister, and a creative writer. As a Franciscan Sister, I have found a home among a community of contemplatives who act to build God's reign daily united to God through the Eucharist — true communion. Put another way, we are instruments in union with God and each other. As St. Hildegard of Bingen described, "The marvels of God are not brought forth from one's self. Rather, it is like a chord, a sound that is played. The tone does not come out of the chord itself, but rather through the touch of the musician… I am, of course, the lyre and harp of God's kindness…. Divinity is aimed at humanity… we are exalted with vocation of creation."
Through each act and "yes" to God's love I experience it and know it: we all are called to contemplation, communion and creativity. You don't need to be a Franciscan Sister for these practices to be your path. Each of us can offer our "yes" open wider to God. As we do, we are likely to be awed with beauty and delight.
---
Enjoy reading this blog?
Click here to become a patron.

---