N.B. Today's guest post is by podcaster and physician Donna Chacko, author of Pilgrimage: A Doctor's Healing Journey. Some of the material in today's post is adapted from excerpts of that book.
For nearly forty years I practiced medicine and did my best to help my patients enjoy better health. I didn't realize I was missing a huge part of the healing package.
After retirement I started a program called Serenity and Health and began writing a self-help book to help others find their own path to health of body, mind, and spirit. As I dived into research for my book, however, I unexpectedly found myself on a personal path very different than the one I had started writing about.
This new path was better than the traditional type of self-care I had long espoused. Now I better understood the link between emotional and spiritual health and, critically, that my Christian faith was the foundation of my path to abundant health.
As I evolved, the book I was writing slowly changed from a self-help book to a spiritual memoir, Pilgrimage: A Doctor's Healing Journey. I saw a therapist. I prayed more than I ever had. During these years of personal exploration and growth, I embraced two prayer practices that proved to be transformative for me—first, Praying in the Moment, which I called God-Centered Mindfulness, and second, Centering Prayer. Here are some thoughts about these practices.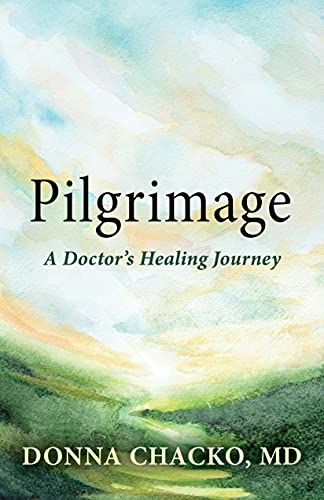 Praying in the Moment
My head was whirring with worries and upsets and I was often far from the present moment when I stumbled on the book, Sacrament of the Present Moment. The author, Jean-Pierre de Caussade, a French Jesuit priest during the early eighteenth century… describes the simple path to God, calling for an intention to be open to God's will and divine action each moment.
De Caussade gently and lovingly calls us to the simple practice of celebrating each moment with God, as we stay open to his will—knowing that he asks for nothing more…
The overlap of de Caussade's teaching with mindfulness gradually became obvious to me. Mindfulness, a moment-to-moment, nonjudgmental awareness, is a critical tool that can help us respond to stressors instead of mindlessly reacting to them. As a Christian, I used de Caussade's way to create for myself a God-centered mindfulness, and this helped me pray throughout the day.
We all spend a great deal of time up in our heads thinking, brooding, or worrying instead of paying attention to what we actually are "doing" at that moment, whether it be reading, playing with a child, listening, or even praying. During my burnout, while working in Washington, DC, I was full of anger and resentment and found it very difficult to stay in the moment. I know I'm not alone—I think at some time or another we all judge, resent, compare, regret, covet, worry…and more.
Learning to recognize and control or re-channel these negative thoughts can bring us back to the present moment, which also can be described as our center, the place of peace where God resides… I selected a specific, brief prayer that appealed to me, wrote it down, memorized it, and then said it often, adding it to my formal prayer. My words are "My Lord and My God," the words of the Apostle Thomas from John 20:28. I also tried to remember to say it during the day, like when I was grateful for avoiding a car accident or when I saw a breathtaking moon. Sometimes I would think of it after getting aggravated or losing my patience, but gradually I found myself remembering to say it more often and more quickly when I first started to be aware I was feeling stressed. Soon I was astonished to see how the prayer would just pop into my mind if I was starting to get upset, judgmental, anxious, or guilty about the past, present, or future—but also if I felt a surge of gratitude or compassion.
By saying this prayer often, it became a habit…I found myself saying "My Lord and My God" dozens, maybe even hundreds of times a day. I finally started to understand what St. Paul might have meant in Thessalonians 5:17 when he advised we pray without ceasing…
A bonus is that this type of on-the-go prayer reduces stress and, hence, improves health. If I start to notice signs of stress like anxiety, chest tightness, or emotional eating…I say in my head "My Lord and My God." This mindful pause with my Lord reminds me to take a few deep breaths and start over, thereby deflating the stress response in my body.
God-centered mindfulness and my praying in the moment have dramatically changed my relationship with God. I am not exaggerating when I say the experience has been transformative…
Centering Prayer
My study of stress, the relaxation response, and stress reduction led me headlong into the subject of meditation…I kept reading about seekers over the centuries who had relied on various meditation practices for peace and transformation. Then I read about the newer research and documented health benefits in books like Altered Traits: Science Reveals How Meditation Changes our Mind, Brain and Body. Though I was intrigued by meditation, it just didn't feel right. I couldn't connect it to my faith—and the health and peace-of-mind benefits were not enough to make me want to spend my precious time meditating. One day I shared this dilemma with my daughter, a seeker and meditator. She said, "Mom, why don't you try Centering Prayer?"
I started reading Thomas Keating's books about Christian meditation and Centering Prayer, such as Open Mind, Open Heart: The Contemplative Dimension of the Gospel. When I first practiced Centering Prayer, my mind wandered even faster and further than usual and initially it seemed like a waste of time.
 …But I kept at it, comforted by Keating's advice that one couldn't fail at this—as long as you sat there, you were doing it. I learned the key was to keep coming back to my sacred word and to God each time my mind wandered off—gently and without recrimination…
My Centering Prayer helped me to appreciate that trusting God with my precious time was key. When I surrendered twenty minutes of my time to God to pray, it meant I would have twenty minutes less to write this book, make the phone calls I needed to make, or exercise. By trusting God with this time and the tasks left undone on my list, I was exercising my trust muscle, so to speak, and building more trust in my God. I was saying "Yes" to God over and over and over again. Like reps in the gym.
Today
As I prioritized God's holy will above my own and trusted him with my time for these prayer practices, I began to feel closer to him and could feel his presence during the day.
I also experienced health benefits. Studies show that practices like I've described improve health by creating neurophysiological changes that reduce the injurious effects of chronic stress. I recognize that I am less reactive to stressors,  feel more at peace than before, and just feel better than I used to.
Other than a little time, you have nothing to lose and everything to gain by including prayer practices like I've described above in your routine.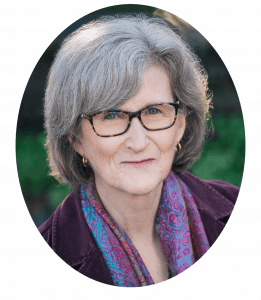 About the author: Dr. Donna Chacko practiced radiation oncology and later family medicine. She and her first husband raised three daughters in Florida. After his death she moved to Washington, DC, where she cared for the poor until 2013. Now retired, Donna lives in Maryland with her second husband and works in the ministry she founded, Serenity and Health. Feel free to contact Dr. Chacko at dc@serenityandhealth.com for questions or comments. You can download the first chapter of her book, Pilgrimage: A Doctor's Healing Journey, by clicking here, or you can order it from Amazon by clicking here.
Check out Dr. Chacko's interview with Carl McColman by clicking here.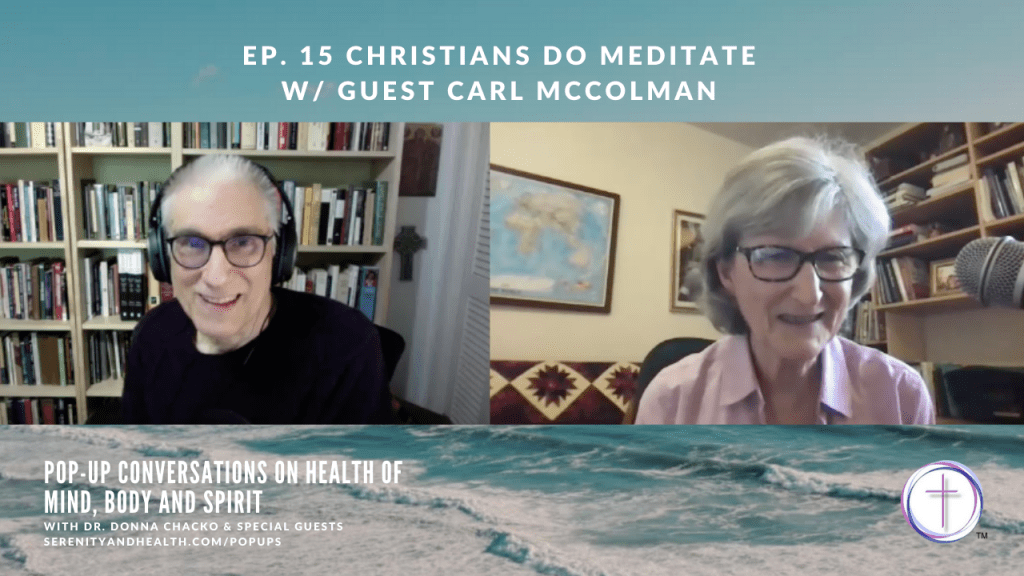 ---
Enjoy reading this blog?
Click here to become a patron.

---