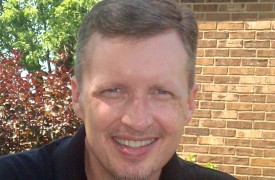 This week I had the pleasure of interviewing Kevin Lowry. Kevin is the author of the great book Faith at Work : Finding Purpose Beyond the Paycheck, as well Chief Operating Officer of The Coming Home Network.
Q: As a convert myself I always find conversion stories interesting. Could you share yours with my readers?
A: Well, the short version is that I grew up as the son of a Presbyterian minister and was bounced around several denominations as a kid. I had Catholic friends, but never took the Church seriously until I attended Franciscan University of Steubenville. My initial three semesters there were a dismal failure in every way with the exception of winning the billiard championship. In fact, the University invited me to take my non-academic pursuits elsewhere.
After a three year hiatus, I returned to Franciscan and this time around had to take Catholic theology courses. In particular, a course in Ethics studying Humanae Vitae really resonated. Thus began an inexorable journey towards the Church. After a new friend by the name of Scott Hahn gave me a rosary, I embraced the inevitable, along with my wife. My parents subsequently came into the Church too, and I was able to serve as my dad's sponsor!
The long version of the story is here: http://gratefulconvert.com/about/conversion-story/
Q: What was your inspiration behind writing Faith at Work?
A: In addition to being a minister, my dad earned his Ph.D. in business, so dinner table conversations often involved both workplace topics and theology. We would discuss the practical application of the faith in all sorts of different contexts – the board room, the workplace, our home life, you name it. When I began my own career, I was challenged to carry this forward and live a fully integrated life, particularly as a Catholic. So it's a natural fit – integration actually causes us to become better workers and better Catholics.
Q: When it comes to the New Evangelization what do you think is the simplest way for someone to carry the Faith to their co-workers?
A: One of the simplest ways is through imitating Christ – although simple doesn't mean easy. We need to act in accordance with our faith, and that means being a friend to others of all kinds. A good friend of mine, Dan Burke (Executive Director of the National Catholic Register) described it this way: "love is a bridge over which truth can pass." That's a terrific approach, although it requires humility and a real focus on others instead of ourselves.
Q: Your book deals with your experiences in the "white collar" arena. For those that might be in a "blue collar" job like in a factory of field work, how would you apply the points you lay out in this book?
A: I hope this book is applicable to anyone, regardless of the type of work they do. In fact, one of the greatest compliments I've received so far is from a stay at home mom who raved that there were a number of points in the book she could implement in her daily routine immediately. The themes of the book deal with universal truths of our faith, our particular job doesn't matter.
Q: You run the website Grateful Convert and work at The Coming Home Network. Would you like to share some info on both of these endeavors?
A: Sure, my website is http://gratefulconvert.com/ and has a smattering of reflections on faith, work, family, and books. Folks can order signed copies of my book there, or invite me to speak at an event. The Coming Home Network is my employer. We're a small Catholic apostolate founded by Marcus Grodi, another former Presbyterian minister. Many people know Marcus as the host of EWTN's The Journey Home TV show. The Coming Home Network does much more than that, however. We have a terrific monthly newsletter featuring a conversion story, a small publishing operation, and we basically exist to facilitate ongoing conversion to Jesus Christ and His Church. Our charism is one of walking alongside people during their journey, particularly non-Catholic clergy, for whom the process of coming into the Church can be fraught with tremendous trials. Please consider joining our work and receiving our newsletter here: http://chnetwork.org/join/
Q: Time for my signature ending question. This is a blog about books. What is currently on your bookshelf to read?
A: As a board member of Our Sunday Visitor, I have more books to read than time – but one I'm looking forward to is Cardinal Wuerl's New Evangelization: Passing On the Catholic Faith Today. I've heard great things about it!