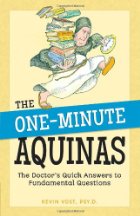 Do you find the writings of Thomas Aquinas to be intimidating? Not sure where to start reading in the nearly     3,000 pages of text that he wrote? You're not alone and Kevin Vost has done us all a service with his recent book,The One-Minute Aquinas: The Doctor's Quick Answers to Fundamental Questions.
The book is divided into three parts:  How Can We Be Happy – On Earth and in Heaven, God and Who is Christ? Each of these parts is broken down into relative chapters. These are each easily approachable and take only a few minutes read. This format sets the book up nicely for use as a daily meditation. Reading the book straight through is by no means a bad idea, I just found it easier to use it for daily reflection.
There are a wide variety of topics in this book here are a few of things you will learn as listed on the back cover:
– Why God permits evil
– Heaven: what it is (and is not)
– Five simple proofs that God exists
– The causes of lust
– The soul, free will, sin and damn action
– The Bible: why didn't Jesus just write it himself?
– The surprising qualities of our resurrected bodies
These are only a few examples of what you will find in the 42 chapters in the book. Each topic is significant to the understanding of our faith. Each is presented in a manner that the everyday reader will be able to grasp and understand. To aide in understanding and for more visual learners, sprinkled throughout are graphs and charts to illustrate and make the subject matter even clearer.
Kevin stated it well in the Preface. "There's no point in being smart unless you're wise….In other words, since none of us can know everything, the wise man will focus on the things that matter the most, and that is something St. Thomas did like few who lived before him or since."
In the words of Pope Pius X "in just one year, a man can derive more profit from the works of St. Thomas Aquinas than from a lifetime studying the works of others." You would do well to spend some time consuming the pages of this easily digestible book. The value of the writings of St. Thomas Aquinas cannot be over emphasized. To study this Doctor of the Church is something everyone should do as some point. Kevin Vost does an exceptional job making Aquinas accessible to all. Do yourself a favor and open this book and spend one minute or more for a deeper understanding of your faith.
_____________________________________________________________________________________________
I received a copy of the book for this review from publisher Sophia Institute Press.