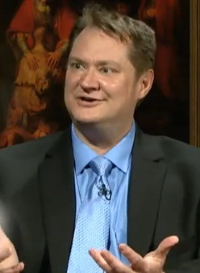 PETE: Your book Through, With and In Him: The Prayer Life of Jesus and How to Make It Our Own, brings into focus an often overlooked point, that Jesus was a practicing Jew. How does this influence us as Catholics?
SHANE KAPLER: I don't think it's possible to overstate its influence. So much of our liturgy flows directly from the synagogue and Temple liturgy participated in by Jesus and the Apostles.  Jesus was adamant that He did not come to abolish the Law (which mandated the sacrifices that were offered in the Temple) or the Prophets, but to bring them to fulfillment, completion (Mt. 5:17). It is impossible to fully understand the significance of Jesus's life, words, and actions apart from His Jewish background. Immediately after He rose from the dead, first on the road to Emmaus and then in the upper room, Jesus opened His disciples minds to understand "everything written about [Him] in the law of Moses and the prophets and the psalms" (Lk. 24:45). The Old Covenant and New explain one another. The Church shows us this at Mass, week after week, when it keys the reading from the Old Testament to that of the Gospel.
PETE: What prompted you to take up this subject matter and how did you develop it?
SHANE KAPLER: I was praying before Sunday Mass, asking the Lord what He wanted me to write about in my next article for Catholic Exchange, when all of these thoughts started to click together regarding Jesus's human prayer and our Catholic sacraments and devotions. It felt much more like a book than an article. When Mass began, both the Gospel and homily mentioned Jesus's prayer – it felt like a nice little "wink" from God. When I got home I jotted down the roughest of outlines and emailed it to my friend Kevin Vost, to get his opinion. He wrote back within the hour, adamant that I had found my next book project.
I realized that I would need to do a lot of preparation before I would be able to do the topic any kind of justice. First, I needed to re-read the four gospels, noting every passage that had to do with Jesus's prayer life, communal and private, as well as what St. Paul had written regarding Christ lifting us up into his heavenly life with the Father and Hebrews' explanation of Christ's priesthood after the manner of Melchizedek. I needed to study Section IV of the Catechism ; and, if prayer is ultimately an activity of the heart, then I would have to study devotion to Jesus's Sacred Heart in much more depth. I knew a fair amount about the Temple sacrifices from writing my first book, The God Who is Love, but I recognized that I would need to delve deeper as well as to discover what daily prayer would have consisted of for Jews living at a distance from Jerusalem (as the Holy Family did, living in Nazareth).
PETE: I found the book to be well researched with a multitude of references to Jewish practices as well other referenced material. How much work went into this book?
SHANE KAPLER: It was a good seven months of research before I began to put anything down on paper. I was surprised at how difficult it was to find resources on Jewish prayer in the first century. I found books that talked about Jesus's prayer in terms of what we find in the gospels; but it was incredibly difficult to track down works – at least works in English – that provided detailed information about Jewish daily prayer. I was fortunate to work in education (where I have my summers off) and live close to St. Louis University's Pius XII Library. Keyword searches got me started, and then I spent a lot of time following the footnotes and bibliography from one book to another.
PETE: What is your greatest hope for Through, With and In Him and who is your target audience?
SHANE KAPLER: My greatest hope would be for people to be in awe of the spiritual realities that unfold when they offer even the simplest prayer from the heart: God the Son is moving their hearts, through the Holy Spirit, to love, praise, and request help from the Father (Gal. 4:6; Rom. 8:26-27). In prayer we are inserted into the very life of the Trinity! I want everyone who reads this book, especially those who feel that their prayer lives aren't very deep, to recognize that prayer is something God wants to do in us, and that the sacraments, devotions, and practices the Holy Spirit has inspired within the Church are meant to be conduits for Jesus to pour his own human prayer into our hearts and lives.
I also hope that this book will have an apologetic value. In America today we seem to have an aversion to ritual and tradition. There is an unspoken assumption that "unless it is spontaneous, it's not truly from the heart;" and this carries over into how people view Mass and already-established devotions and prayers. What I want them to see is how traditional Catholic prayer actually flows from the prayer of Christ
himself
– both as the fulfillment of his Jewish liturgical prayer and the continuation of his personal prayer to the Father.
If I could mention yet another hope, it would be that the book increases our Christian appreciation of our Jewish roots and how much we continue to share with our Jewish brothers and sisters today (CCC 1096). As Pope St. John Paul reminded us, "it could be said that [they] are our elder brothers." I would absolutely love it if this book was read and discussed between Catholic and Jewish friends.
PETE: Do you have any projects in the works you can share with us?
SHANE KAPLER: I was honored to contribute a chapter to another book that was just published, Man Up! Becoming the New Catholic Renaissance Man. Jared Zimmerer is the lead author and driving force behind this work which looks at how men can relate all areas of their lives to Christ and our Catholic Faith. Other contributors are Dr. Kevin Vost, Deacon Harold Burke-Sivers, Dave DiNuzzo, Jesse Romero, Douglas Bushman, Fr. Steve Grunow, Gerard-Marie Anthony, Jim Burnham, Kevin Lowry, and Marlon De La Torre.
I would very much like to write a book that builds upon what I shared in chapter 11 of TWIH, regarding Mary's place in our spiritual lives. I want to show how devotion to the Immaculate Heart is both Christ-centered, and coalesces with Scripture. At present I am gathering materials and trying to develop an outline.
PETE: Time for my signature ending question. This is a blog about books. What is currently on your bookshelf to read?
SHANE KAPLER: At the moment I'm going back and forth between three books: St. Jean Eudes' The Admirable Heart of Mary, Cardinal Ratzinger and Hans Urs Von Balthasar's Mary: The Church at the Source, and Pope St. John XIII's autobiography, Journal of a Soul.
_________________________________________________________________________________________________________
You can read my review of Shane's latest book Through, With, and In Him: The Prayer Life of Jesus and How to Make It Our Own; here.

Other books by Shane Kapler:
The God Who is Love: Explaining Christianity From Its Center