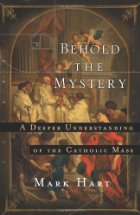 There is beauty and richness to the Mass that sometimes people forget. Cradle Catholics and converts alike all hit a dry spell at some point in their spiritual journey. One of the main reasons is that many have a lack of understanding or appreciation for what they are witnessing, and indeed, participating in, each time they attend Mass. Mark Hart delivers solid evidence and insight that will leave the reader with a much needed deeper understanding. This is accomplished in his latest book Behold the Mystery: A Deeper Understanding of the Catholic Mass..
The beginning of the book makes a statement about a truly sad reality. People will go to extremes such as braving "biting cold or intense rain for hours on end to cheer their favorite team to victory." Or they will "camp out in tents on concrete for days to be the first in line for movie or concert tickets." People say this is because the Mass is boring. The truth the Mass is not boring or lacking….we are. Mark does a first rate job in laying this truth out in front of us. Our lack of understanding is the problem. He uses the Early Church as a fine example of those who truly understood what they were partaking in. Not only were our forefathers in the Church passionate participants but they did so knowing that if caught they were going to die. Now there's a deep understanding of the Mass!
A key point made that should make you reflect is the fact that God did not create the Sabbath day because he needed it nor did Christ institute the Eucharistic sacrifice for himself. Both of these intertwined acts were done because God knew WE needed it. After accepting that fact Mark leads the reader on a step by step journey on what the Mass is all about. "Once we clearly see all the pieces and how (and when) they fit together, we start to grasp how the whole encounter in God's throne room takes shape. In understanding the "what" of the Mass, we'll more clearly see the "why" we do it."
If you have any questions or doubts about what is being done during Mass you must spend some serious time with Chapters Seven and Eight, "Wholly Holy: Understanding the Liturgy, Parts I and II." These chapters take the reader the whole way through the Mass item by item, step by step, explaining everything in detail. These two chapters begin with something we often miss….our own preparation before Mass. This includes prayerful reading and study of the Mass readings in advance. As Mark puts it, "The truth is that many times we don't get more out of Mass because we don't put much into it." In actuality that is the root cause for boredom at Mass to begin with. This book will help right your ship and arm you with the truth in an easy to understand format.
I would be remiss if I did not mention Chapter Five, "The Original Men in Black: Understanding the Priesthood." This thought provoking chapter really got my attention. The priest can be a person we overlook except on Sundays and when we need them in times of trouble and despair. They are for the most part under-appreciated. I can't think of a better way to relay this than to quote a specific paragraph Mark wrote in the section "A Good Priest Isn't Hard to Find":
"He's expected to be up early, on time and vested in the chapel daily for Mass even if he was called to the hospital in the middle of the night to administer the sacraments and anoint the sick. He's expected to be in the confessional when we decide to go and is held responsible if the line is too long for everyone to get in before Mass begins. He's supposed to remember every person's name, every fact about every saint, and the cross-reference for every major doctrinal teaching of the Church. He's also supposed to take care of himself, his own prayer life, his own rectory, and be responsible for any other brother priests in residence, seminarians who stay for the summer, and deacons who serve alongside him. Mind you, this is all before any of his responsibilities to the bishop on a diocesan level or for managing an often underpaid and overworked staff at the parish and parochial school."
Mark Hart's latest book Behold the Mystery does exactly what he set out to do. That is to "make the Mass come to life for us in a new and personal way." Certainly we all go through the Mass is "boring and I get nothing out of it" stages in life but honestly the problem lies with us not the Mass. To get past that hurdle we must take the initiative to understand and fully appreciate what is happening from the entrance hymn to the final blessing. This book is a key to that understanding and it's one I highly recommend every Catholic have in their personal library.
________________________________________________________________________________________________________
I received a copy of the book for this review from the publisher, Word Among Us Press.