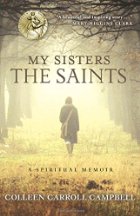 This week brings a unique review here at The Catholic Book Blogger. We were asked by Image Books to review My Sisters the Saints: A Spiritual Memoir by Colleen Carroll Campbell for its new release in paperback. I had reviewed this book early last year upon its initial release. This time my wife Laura provides her review and I have mine, a dual review of this book from a female perspective and a male perspective. Enjoy.
LAURA'S REVIEW:
Our struggles in life sometimes have us feeling that we are traveling the hard road of life all alone. My Sisters the Saints written by Colleen Carroll Campbell is a spiritual memoir of a young woman whose life is filled with troubling events and difficult decisions and how she overcame them – not alone – but with some much needed help from above. Drawing inspiration from the saints of old, Mrs. Campbell discovers heavenly friendships during some of the most stressful times in her life – finding consolation just when she needs it. This heart-wrenching story follows this independent, modern woman from her party days at college with her lukewarm faith to a loving daughter and wife, who deepened her faith through her triumphs over her suffering.
This book has six chapters that focus on six different points in Campbell's life. She struggled with her halfhearted faith, her dad's diagnosis with Alzheimer's, her major career move to the White House, her fertility problems, the care and death of her father, and finally waiting for an answer to a prayer that seemed would never be answered. She learned from six different female saints how to help her overcome her struggle in her life at that time. Each chapter Campbell cleverly works in details of each saint and how that saint became her guide at that time in her life. Best of all is how the reader can relate that saint to their own lives and struggles. The six saints include: Teresa of Avila, Therese of Lisieux, Faustina Kowalska, Edith Stein, Mother Teresa and Mary the Mother of Jesus Christ.
As a reader I can't say that I could relate to her specific struggles. I personally have never had to care for a terribly sick parent, had any infertility issues, or major career choices; however, I was able to connect with Campbell on a spiritual level. Just like Campbell, I have a yearning to make sense of all the events that are happening in my life and how God's wants me to carry them out. So as a reader, I was able to make that connection with this book in spite of my life playing out very differently than that of Campbell's. I was still drawn into the story and connected with Campbell as a fellow female searching for more. This book captivated me from the very beginning to the very end and more than once brought me to tears. It was inspiring and uplifting "watching" Campbell carry on with her many difficulties in her life and overcoming her many trials using six heavenly friends to guide her along her Christian journey of life. This book bears witness that we are never alone on our earthly journey. We are accompanied by the saints in heaven and in this case, our sisters the saints.
PETE'S REVIEW:
My Sisters the Saints: A Spiritual Memoir is clearly geared towards other women as author Colleen Carroll Campbell outlines the trials of her life and how the writings of various saints helped her overcome these. In saying that, I still, as a male, found the book to be a very good read. Colleen is an excellent writer and the book flows nicely and is a relatively easy read at 212 pages long.
This book is an autobiographical story of the trials and tribulations the author has faced starting with her college days and the realization that something was missing. Born and raised Catholic, Colleen had wandered of the path of faith when she hit the college years. This is certainly something many cradle Catholic men and women can relate to. From there you follow Colleen as she deals with her father's struggle with Alzheimer's, finding a husband, life as a Presidential speech writer and learning of infertility to name a few of her life's trials. To read about someone else's problems may seem a bit odd but it's what you learn in how she chose to deal with them that is the take away from this book. For her to put these to paper is a service to all her read this volume.
This book also serves as a very good introduction to the lives of Teresa of Avila, Therese of Lisieux, Faustina Kowalska, Edith Stein, Mother Teresa and Mary the Mother of Jesus Christ. Colleen gives brief overviews of different aspects of each these saints' lives. Colleen describes how each of their writings and example directly impacted her during her faith journey. Obviously in 212 pages it is difficult to go into many minute details on each of these great women saints but it does do a good job at painting broad brushstrokes of their lives and thoughts.
In conclusion I would recommend this book to anyone, male or female. It is an enlightening read for anyone that has any interest in a first-hand account of how the saints can impact your life.
_______________________________________________________________________________________________________
We received a copy of the book for this review from the publisher, Image Books.