This week the Pauline Books & Media Back to School Blog Tour continues with Britt Leigh. She is the author of Ten Commandments for Kissing Gloria Jean. Now I will bow out and leave the floor to Britt Leigh…….welcome Britt!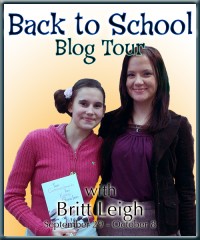 Greetings! A special thanks to my fellow kindred spirit, Pete, for hosting me. Like Pete, I have a desire to learn about my Catholic faith, and do so through reading books. It is my belief that by writing books, I can also introduce teens and children to the teachings and values of the Catholic faith. The book that has spoken the loudest to my heart and intellect so far is Karol Wojtyla's (Pope Saint John Paul II's) Love and Responsibility. His philosophical defense of the Church's moral teachings on personhood, marriage, and sex is in my contention, a touchstone work that should be appreciated and understood by everyone.
Adults are fortunate enough to have Edward Sri's Men, Women, and the Mystery of Love: Practical Insights from John Paul II's Love and Responsibility and Dr. Richard Spinello's Understanding Love and Responsibility: A Companion to Karol Wojtyla's Classic Work to help them unpack the sometimes dense language and interestingly constructed passages of the original. Unfortunately, our teens do not have such aids, and yet the formative adolescent years are when they need guidance on the above topics the most. What's more—if teens are not formed in this philosophical and logical framework, when they mature into adults, they will not be able to stem or by God's grace, reverse the cultural tide on sexuality, especially when society will not listen to you beyond 140 characters or a funny video scored to a hit song.
My novel for teens, Ten Commandments for Kissing Gloria Jean, uses a fictional construct to just scratch the surface for a faith filled understanding of personal dignity, use of persons, and making responsible, loving choices. While I am not an expert, I do believe we can—and should—introduce teens to two key principles.
Personalistic norm
"In its positive form the personalistic norm confirms this: the person is a good towards which the only proper and adequate attitude is love". Love and Responsibility (Ignatius Press, 1993) p. 41
We can translate this language into simpler, more-teen-like speak: We are all persons. All persons are good. Because they are good, the only way to interact with them is love. Understanding not just their own inherent dignity as persons, but also the inherent dignity of others as persons, is the foundational principle in which we can ground our choices. Teens are rightly taught about self-esteem and respect, but are rarely told the reason why and this is how we can move to philosophy to faith. We are created out of love to love.
Utilitarianism
"Utilitarianism is a civilization of production and of use, a civilization of things and not of persons, a civilization in which persons are used in the same way as things are used." (http://www.vatican.va/holy_father/john_paul_ii/letters/documents/hf_jp-ii_let_02021994_families_en.html)
Pope Saint John Paul II recognized that society and contemporary cultural thought viewed people as things, as objects—that we often end up using each other. Teens are actually very familiar with this concept. For example: ask them to reflect on whether they have ever "used" a friend to get something they wanted—to copy a friend's homework, provide a false alibi to one's parents, etc. Ask if being the "user" was a good way to treat a person. If they were the ones being used, ask how it made them feel. If use of another is not taught as something wrong and it is not explained why that is so, this hinders a young person's ability to make more loving choices or understand the Church's teachings on sex.
About the Author Britt Leigh is the author of the teen novel Ten Commandments for Kissing Gloria Jean and the foreword for Teens Share the Mission. Both books are published by Pauline Books & Media. Her writing has appeared in Chicken Soup for the Soul: Teens Talk Middle School, Chicken Soup for the Soul: Teens Talk Getting into College, and kidsfaithgarden.com. She holds a Certificate of Catechesis from the Theological Institute for the New Evangelization (Boston) and a certificate in chastity/abstinence training through the Center for Relationship Education. She blogs at brittleighbooks.com and for young women at proverbialgirlfriend.wordpress.com.