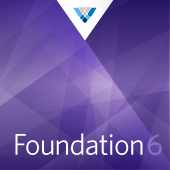 If you have any desire to enter into deep study of scripture than look no further than the line of products offered by Verbum. Haven't heard of Verbum? Than this review is for you. Verbum is the Catholic version of Logos Bible Study software. They have recently released version 6 and to sum it up in one word this software is powerful.
The core of the software begins with your library. This review will be based on the Verbum 6 Foundation library. When you first open Verbum you are greeted with the homepage. A number of things are available to you at this point. First and foremost are the readings of the day direct from the Catholic Lectionary. Click any of the days readings and you will be presented with the reading from the Catholic Bible version of your choice as well commentary on the reading. Want to go deeper still in the reading….you're in luck. Linked to each of verse of Scripture are writings of the Church Fathers, applicable selections from the Catechism, and any relevant Church documents. For further exploration there are events, people, places and things conveniently cross referenced and a click away. Another nice feature is by simply hovering over a word in the Revised Standard Version of the bible which I use the definition from the Strong's Greek reference pops up.
Let's take Sundays Gospel reading on 11/30/14 as an example. I have my commentary defaulted to A Catholic Commentary on Holy Scripture by Bernard Orchard and Edmund Sutcliffe. However there are eight other commentaries linked to this Gospel reading that you could switch to at anytime. There are two selections from the Catechism of the Catholic Church linked to this Gospel that you can read. Either click on the highlighted entry or hover your mouse over the title to see what CCC 672 and 2849 say. The Church Fathers have a number of things to say related to this Gospel reading. You are linked to the following volumes of writings: Anti-Nicence Fathers Catholic Edition Volumes 1, 2, 7 and 9; Nicene and Post-Nicene Fathers 1.6, 1.8 and 2.4. There are numerous other resources available to you on this reading as well. Media resources include topographical maps of Israel, charts explaining the related Creation story, and an article on the End of the Earth from The Bible and It's Story: Volume 7 by Charles Horne. Keep in mind these are the resources available to me in the Foundations 6 library. There are more or less resources available dependent upon the library you own.
Back to the home screen. Here you can also subscribe to a number of reading plans. These can be topical plans such as one of a number of Advent related reading plans or more broad such as Read the Bible or Catechism in a Year plans. Each day as you complete your reading you simply click the box to move ahead. You also have the option of "catching up" to the current days reading if you miss a few. You also have the ability of creating a daily Prayer list that will display on your home screen as a reminder of what you want to pray for daily. In addition any daily devotional books you have available to you in your library will be on the scoll down screen of the homepage. Mine include Co-Workers in the Truth: Meditations for Every Day of the Year by Cardinal Jospeh Ratzinger, Pictoral Lives of the Saints compiled from the popular Butler's Lives of the Saints and Connect the Testaments: A One-Year Daily Devotional with Bible Reading Plan. Additionally your home screen is rounded out with a multitude of images and texts lifted from your library. You could literally spend hours with the software just by clicking through the various resources available to you via your home page.
It gets better. Not only do you have the previously mentioned resources but an entire library right at your fingertips. In the Foundations 6 package there are modern books by Mike Aquilina, Dave Armstrong, Cardinal Ratzinger/Pope Benedict XVI, Raymond Brown, GK Chesterton, Thomas Dubay, Tim Gray, Scott Hahn, Saint Pope John Paul II, Peter Kreeft and Edward Sri to name a few. As far as classics go……they are all here. Thomas Aquina, Thomas Kempis, Catherine of Sienna, Teresa of Avila, John Newman and a multitude of writings of the Church Fathers. In each of the books if a scriptural reference is made you are linked to the Bible of your choice and the journey of research begins just as I described above for the daily readings. Outside of books there are maps, time lines, the very handy Word on Fire video library by Father Robert Barron and the Logos Hymnal Media Resource. The Logos Hymnal allows you to play any of hundreds of popular Hymns through MIDI.
The resources available vary based upon the base library you purchase. Basic comes with 205, Foundation (the package I used for this review) 335, Scripture Study 574, Scholar 775, Master 1028 and Capstone 1339. You can also purchase individual books to add to your library so if there is something in a more expensive library you are interested in you can always add that individual resource to your own library.
Verbum is the most powerful piece of software I have ever used for research and study of my Catholic faith. There are literally hundreds of books available through the Verbum store with more being added on a regular basis. This is one piece of book related software I am happy to endorse and will be gladly using for years to come. For more on Verbum visit their website at www.verbum.com/
_____________________________________________________________________________________________________
I received a copy of Foundation 6 for this review from the publisher, Verbum.