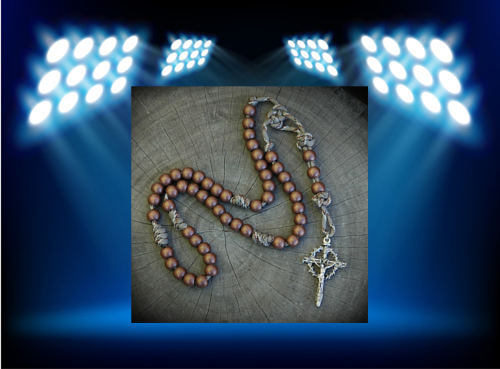 Recently I had an opportunity to check out a unique source for rosaries. You may have seen their advertisements on Facebook. I'm talking about CordBands LLC and their creation Rugged Rosaries. After having my hands on one of these, and using it, I can tell you these rosaries are impressive and a real conversation piece.
I was sent one of these for review, in particular the Rattlesnake version. They are called rugged for a reason. Each of these rosaries is made with military 550 paracord. This is the material popular in survival style wrist bands today and was originally used as the cords on parachutes. This stuff has incredible strength which means these rosaries are going to last a long, long time.
The beads are large and the crucifix included on the rattlesnake rosary was one of the neatest looking crucifixes I have ever seen. We prayed the family rosary shortly after I received this and I have to say it I could feel and see that this was a quality rosary. I must also mention that these rosaries, at least the one I used, are clearly geared towards men. The large beads felt great to me as with some rosaries I have used the beads seemed small. The entire rosary from the large beads, to the St. Michael medal, to the stunning crucifix and the tough paracord made this, for lack of a better term, a manly rosary. This will certainly be a rosary I use frequently.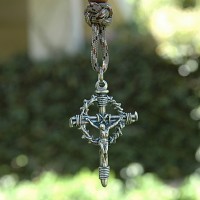 I was able to connect with Rugged Rosary owner Shannon Doty to discuss her product, how she got started, and what her overall vision for the future of Rugged Rosary is. Here is what she had to say.
__________________________________________________________________________________________
My son and I started out making paracord wrist bands and gear in late 2012, but one day, we saw the mission rosaries that are often sent to soldiers and immediately thought we could make something much better than the pony bead style with the little plastic crucifix. The first ones we made were so well liked that we decided to make a go of it as a business.
It took over a year to work out the materials and designs for the new rosaries.  We talked to veterans that we knew to see if they had ideas or specifications, like making the rosary beads sized better for men's larger hands, and spacing beads so they could be handled easily even with tactical gloves on.  We worked hard at finding crucifixes that were fairly unique and strong, had beads custom manufactured for us in military inspired colors, and found the best American made military 550 paracord.
Today, we are a profitable business in a 1000 square foot studio in Modesto, California. Besides myself, there are 7 employees. We all make rosaries, but there is plenty of other work related to running the business such as admin, marketing, shipping, inventory, materials management, and of course, customer service.
Our number one objective is to provide great customer service, and I think we do a pretty good job. We want every customer to get the rosary they want and need, and so we will do all types of custom work to achieve that.  We not only make traditional 5 decade rosaries, but we can do any of our styles in Anglican or specific chaplet configurations, and we do larger 20 decade rosaries as well.  And with all the many different paracord colors available today, we can do just about anything the customer desires.
We also try to serve our customers in other ways like shipping within 1 to 2 days, adding little extras into the shipping package like carabiners or holy prayer cards, and including a carry pouch for each rosary. In addition we engage with each customer that sends us a question on Facebook or email.
For myself, who hasn't been in the work force since my children were born in the 90's, it is a great joy to be productive. Not only that, I and all of our employees really love that we are making a product that is truly useful and meaningful to people. We all love our work. We have many testimonials from customers who never liked praying the rosary with the more delicate "jewelry style" so common today, and now have found the rugged style rosary which actually inspires them to pray.
Even though we started making Rugged Rosaries for military folk, we have been surprised at the broad spectrum of customers that buy from us today. We sell 70% to men, 30% to women, 10% to clergy, about 20% to military, and about 20% are to younger adults.  We hope to continue to introduce new designs in the future and continue to grow our little business, and continue to serve the Catholic community with a unique product that inspires.
__________________________________________________________________________________________
I encourage you to head on over to cordbands.com and check out their military inspired rosaries designed to handle the harshest conditions. They have many style and colors to choose from, you are sure to find one that suits your needs.