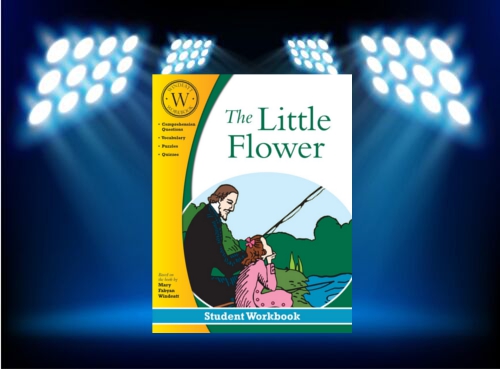 Review by Laura Socks
For years TAN Books has carried a great line of historical fiction novels for young readers about some of the greatest saints. The author of this series, Mary Fabyan Wideatt, is well known for her beloved books which help children grow in virtue while reading about the lives of these holy men and women. This year TAN has begun to create companion workbooks to accompany this wonderful book series. The first Windeatt Workbook companion is based on Mary Fabyan Windeatt's book The Little Flower: The Story of St. Therese of Lisieux. More workbooks are planned to be released soon.
Each Workbook is meant to test…reading comprehension, instruct them on matters of the Catholic faith, and bring them closer to each of these great saints. Through engaging and fun activities like crossword puzzles and word searches, as well as through essays and challenging multiple choice questions, they will come to better know the content and sanctity found in each story.
The workbook contains pages for each chapter of the book. Each chapter contains key terms which "are important people, places, and things you should remember from this chapter." Next is the Vocabulary section which takes about four sentences from the chapter and has the student define the bolded word based on its context. A page of comprehension questions will round out each chapter. Some chapters have additional activity pages that are meant to either help with comprehension through a word find, or it is a religious activity used to draw the student closer to God. Every five chapters there is a quiz which includes: a vocabulary crossword puzzle, key terms match, a reading comprehension multiple choice, and a narration exercise. These workbooks also have perforated pages so the pages can be torn out if need be. The teacher's manual, which merely contains the answers to the student workbook, needs to be purchased separately.
TAN Homeschool was launched last year "with the hopes of providing you with the products and resources you need to both educate your child and form their souls." This new addition to their expanding product line is certainly helping many parents meet that goal. As a homeschooling mom I would recommend you give this workbook a try. You won't be disappointed. I know I wasn't and I am looking forward to additional titles in the series.
______________________________________________________________________________________