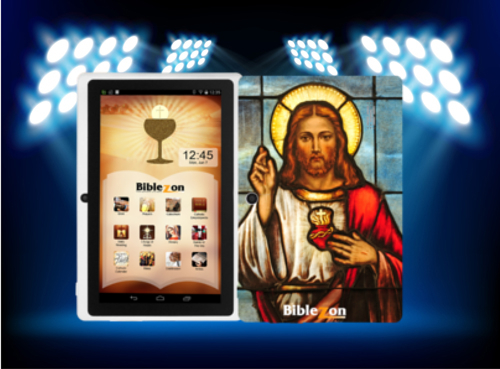 Two years ago I reviewed a technology gadget I immediately fell in love with. It was a 7" tablet, but not just any tablet. This one put Catholic faith right at your fingertips. In referring to the Biblezon Catholic Tablet. In the two years since that review a lot has changed with this versatile tablet and I wanted to bring you up to speed on it. First a disclaimer. I write for Biblezon. I provide Gospel reflections for kids, app description write-ups, saint stories, blog posts and a number of other behind-the-scene tasks that help with the daily content you will get on your Biblezon tablet. I write for their because I believe in their product and I admire CEO Mosongo Osong's mission . Now on to the review!
I refer to this as the second generation Biblezon tablet. This time around the screen resolution is noticeably higher. You will notice this particularly if you hold the tablet at any kind of angle when reading. The image simply put remains crisp. The tablet also has a faster processor. This allows for quicker app to app transitions and within app page loading. Onboard storage space has also been bumped up from 4GB to 8GB giving you ample room for app storage.
I'm sure a number of you have never heard of the Biblezon tablet so here is a brief overview. The tablet is a 7″ Android based tablet. It is Wi-Fi compatible however it is restricted in what it can access. The Biblezon tablet does not contain a conventional browser nor can it receive emails or text messages. Thus it is distraction free. The power of the tablet is in its apps and there are plenty to choose from. Apps are accessible for download via the Biblezon App store. Biblezon has created a number of their own apps including Daily Reading, a Confession app, a Prayers app, apps on the Divine Mercy and the Rosary, and Bible apps. There are also a number of familiar third party apps available including iBreviary, EWTN, Verbum, Laudate and Relevant Radio to name a few. Trust me there are plenty more to choose from. Visit Biblezon's app page to get a taste of everything available.
It also bears mentioning that there are two versions of the tablet available. One geared towards adults and the other for kids. Each have their own separate sections in the app store. Kids apps are geared toward their level with similar themed apes to the adults and additional apps as well such as read along bible stories, saint stories, a coloring activity app, a kid's catechism and faith-filled fun games.
I think one of the best ways to describe the tablet is to tell you how I use mine. In the morning before starting my day I'll open the Daily Activity app and read the day's scripture readings as well as the Saint of the Day. When time permits before heading out the door for work, l'll open iBreviary and say morning prayers. On the weekends and in the evenings I like to read a book from my Verbum library. Before bed there are a number of apps to choose from for prayers. IBreviary is often my go to when ending the day as well. However, I have been exploring the multitude of prayers included in the Biblezon prayer app as of late and have tagged a few favorites. I've also gotten into the habit of streaming EWTN through my Biblezon tablet while completing various writing assignments. I must tell you that I have not even scratched the surface with what the possible uses are with the Biblezon tablet.  I often take it with me to Mass for pre-Mass reflection and prayer. At some point it will be my companion during Eucharistic Adoration the next time I go. What is nice about the tablet in these settings are the printed images on the back of the tablet and the cases available which feature images of Jesus and Mary.
In closing I really like my Biblezon tablet. In fact, consider thi sthe official Catholic Book Blogger endorsement for this product. Unlike my smartphone I have access to modern technology without the worry of emails, texts and phone calls interrupting my attention. It is the perfect example of a modern tool, in modern times that allows us to explore the riches of our Catholic faith.
___________________________________________________________________________________________
Interested in purchasing your own Biblezon Catholic Tablet? Visit their store here to explore everything the tablet has to offer.