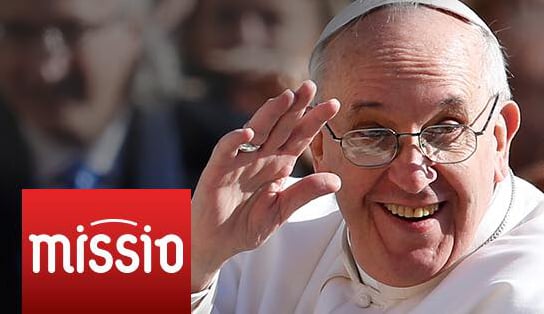 Have you heard of the new giving platform from the Pontifical Mission Societies? It provides a unique opportunity for you to help those around the world in the greatest of need.
Pope Francis continues to call upon us to serve the poor and those most in need of hope and healing.
Catholics have long expressed their solidarity with the poor through their support of the Pontifical Mission Societies. Now, thanks to a dynamic, new crowdfunding platform called MISSIO, people with a heart for helping those less fortunate can expand their impact around the world through technology. MISSIO offers unfiltered access to those in greatest need – and to those who are making the greatest difference in their lives. And, every MISSIO donation goes directly to the project you choose to support.
Pope Francis launched the initial version of MISSIO in 2013 as a mobile application offering news about the hope-filled work being done around the world by the Catholic Church.  The MISSIO platform now offers a direct connection to change-makers who work on the "frontlines" making a difference through direct, daily service to the poor and marginalized.
Check out this video to hear what MISSIO is all about.
Here is another video explaining in more detail how the MISSIO app works.
To make things interesting the Pontifical Mission Societies is running two very special contests. Join the over 20,000 who have already registered on MISSIO before February 2 and be entered to win two free tickets to Rome with the opportunity to meet Pope Francis! Winners will be announced the afternoon of February 2, 2017 on the Feast of the Presentation.
DISCOVER MISSIO and ENTER HERE
Also here's something special just for reading this post and for helping me help the Pontifical Mission Societies spread the word. Enter the Rafflecopter giveaway below to help. There are a number of ways to gain entry into this contest for some MISSIO swag. One lucky winner will receive a mug and a t-shirt for simply helping get the word out. Your mission begins today and a winner will be drawn February 2 as well.