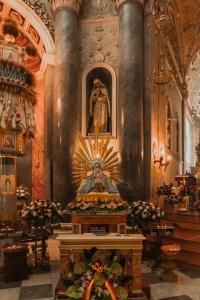 She is preparing for confirmation this year.
Thirteen years ago…She was born on Friday the 13th. We weren't expecting to have a daughter in our hands for another three weeks. But then, we weren't expecting an emergency c-section either. I didn't know I'd even had her until they whisked her by in a blanket, all cleaned up and capped. It all seemed so unreal. One minute we were hooked up to the IV and getting that drip that makes contractions come and the next, they flew out of the room with me because her heart rate had dropped to 25.
My husband was taken to a side room and given scrubs to change into, but no further instruction. He waited. It felt like forever. He worried for her. He worried for me. I'd been bleeding and bleeding and bleeding. How long would it take? How bad was it? Had we already lost her? After seven prior pregnancies, this was still uncharted and dangerous territory.
Searching both for comfort and something to take away the feeling of time, he took out the Saint Louis Marie de Montfort Total Consecration, a devotion he and I have participated in for the past eight years. (That's a whole other story). "Please let her be okay. Please let them be okay." and he asked Mary in particular for protection.
And the reading for the 19th day of this discipline was Jesus and the children.
"People even brought little children to him, for him to touch them; but when the disciples saw this they turned them away. But Jesus called the children to him and said, "Let the little children come to me and do not stop them; for it is to such as theese that the kingdom of God belongs. I tell you solemnly, anyone who does not welcome the kingdom of God like a little child will never enter it."
When he had finished reading, the nurse brought him to see me and together, we held and saw her and smelled her sweet new baby smell together for the first time, Regina. Regina Zaiga Rose.
Bonus: Her confirmation saint is Saint Gabriel…and she was good news then, and now.