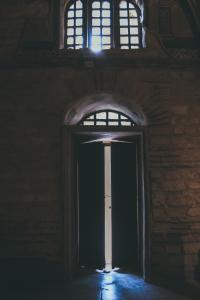 A few years ago, when my life felt awash with babies, I spent much of every mass in the narthex. At the time, the doors to the back part of the church weighed a million pounds. The speakers for the back area weren't great either. To hear the mass while holding onto a baby and one or two toddlers plus a stroller meant I wedged my foot in the door and peeked down at the priest celebrating.
At times, I caught only a sliver of the mass. The pastor at the time told me, the slivers count. They were what I could give. Like all gifts, that consolation got used and sometimes used as an excuse to only seek a sliver. God doesn't mind offering us whatever small pieces of His love we're willing to take. He just knows, whatever love we consume will expand us outward. We won't be able to contain His generosity, His gifts, His love. His love will embolden us to go out into the world, and share it with others. All He needs, is our willingness to participate, even if only signaled by a foot in the door.
These days, I'm awash in teenagers and older and I'm learning a lot about how God courts our souls, because I spend much of my parenting energies courting theirs. The image of the foot in the door keeps coming back. Little things like texts to them, "have a great day," get back "you too Mom," and that fills my heart more than they can know. I hold onto those slivers of affection, of engagement and am eager to give back dollops. It's very obvious. I can't miss it. This is how God loves me. He takes my half prayers, my distracted self at the mass, my grudging service and grumbling out and out rebellion, and offers dollops for my sliver.
The idea of God loving us and us responding as teens reminds me how far I have to go and how amazing patient God must be.
This whole past week tossed my life a curve ball I wasn't expecting. I've been diagosed with breast cancer. We don't yet know how severe or what stage or fully what type or the prescribed treatment. I only know the biopsy came back with indications of cancer. Navigating the next steps will take time. It's an odd thing. I've hurt, I've cried, I can feel that I'm in shock. I also know, cancer happens. It happens to many people, and it's not a case of me being singled out by the universe. Getting through this will be one day, one moment at a time. We've only to offer our slivers. However, when you're hit with something like cancer, you kind of want to offer more than the least. Slivers seem like too little. The reality is, God longs for our slivers, and all we can offer, is slivers. All our efforts, slivers.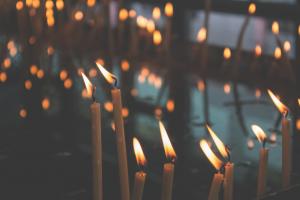 So I have cancer. It was an unknown cross made of the smallest of pieces. It's now a known cross to carry, but it's also revealed to me hundreds of people who have carried this cross. Friends are praying, some already brought dinner to me and my family, even though I know they carry burdens. Some brought holy water and sparkling water to help curb/not cut my diet coke/coke zero consumption. Some asked whole towns to pray and there are many on Facebook that have led the charge. I've felt overwhelmed and beyond blessed by the prayers, by the outreach. My sliver revealed dollops of grace, a multitude, a community of survivors, an ocean of God's love and God's grace that was always there if I'd had eyes to see.
There are all these great souls, wonderful souls, loving souls. The world is awash in these wonderful people, who reveal God's love and their love for God by their actions. Thank God for them. Thank God for them. Thank God for them. They give so much strength, their strength strengthens me. God allows each of us to take on our cross in slivers, in the moments, moment by moment, until we're willing to embrace it fully.