It's a running gag that most Catholics don't sing at mass. That's a job for the cantor or the choir or the brave souls that group together. The rest of us, we'll sing along with our favorites but we tend to leave the actual articulation of these prayers set to music to the professionals. Songs are when you drift through the homily, find yourself harassed by a thousand thoughts, and then get caught by a lyric that reminds you where you are and what you are trying to do –be present to the Lord. Sometimes God is not subtle about these things. There are songs that preclude my distraction, and hymns that aid and abet it.
I know I could shut off the internal and external critic and just sing…and should. I also know I don't always.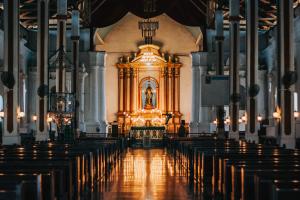 Singing makes you visible, and most of us know we'd get voted a solid "No" by anyone other than God for our voice. Now that's not an argument against singing, it's an explanation of why we don't. We should, we don't. We being fallen, I being fallen, search for distraction, because our innate disorder pushes us away.
Two weeks ago, a man at my parish who cantors, who stands in the choir and offers his voice as a witness to what we should be doing, died of complications from cancer. I knew him from years of seeing him work to help with the liturgy. He sang the responsorial psalms and the "Dona Nobis Pacem." We saw him at meetings for prayer, and pre-Covid after mass in the Parish Hall, getting coffee and donuts. I also remember getting his name wrong three times before it stuck in my head.
That Sunday after his passing, as I sat recovering from surgery to rid my body of cancer, I watched my parish Sunday mass. I could hear his voice. I couldn't not hear him as the choir sang. It is a good tribute to his soul, that his voice is embedded in the mass in my memory, and on celebration of the Feast of the Mary's Assumption into Heaven. I'm certain he's singing "Salve Regina" with everything he has as part of the Church Triumphant. As all masses are the uniting of Heaven and Earth, I don't doubt that I heard his voice.
Heaven is a place of joyful noise, of endless songs of praise.
Perhaps we Catholics need to change our tune and begin practice for the objective of life, and stop Simon Cowelling ourselves into silence. We aren't here to perform, we're here to pray. We come to mass, kneel, stand and sit and strike our breasts and make the sign of cross and genuflect in an attempt to attune the body to God. God knows we need physical contact and intimacy to be real, to really worship, and so He gives us His Body and Blood in the Eucharist. He knows we need all our senses to be provoked because we are infinitely distracted stupid sheep who often think we aren't lost. So He gives us the mass with the prayers, with the songs, with the stillness, with all that is contrary to the world and yet reveals the better reality God wills for us.
Let us learn to open our mouths and proclaim to the world, the goodness of the Lord, to be brave enough to be heard, even amongst our fellow parishioners. It would be a good tribute to everyone who now sings, including my friend, and hopefully, it would mean, when one day we are the ones who are not here but are at every mass, the Church Militant attending the mass, will hear our voices in the songs.