Recently, I served as a substitute teacher for an American Sign Language class to help provide coverage. Two former students I'd taught were on the roster. Both hold warm spots in my heart. They came to visit after the class. They hadn't known about my cancer and my bald head drew questions. When I joked about it speeding up my getting ready in the morning and never having any snarls when I combed my hair, one said, "You're so happy."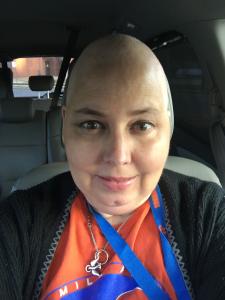 I look at it this way, I can laugh or cry, and cancer doesn't deserve the honor of my tears. Yes, I do sometimes cry, sometimes wince when I catch myself in the mirror. Mostly I forget that it even is, as long as I have a hat or a scarf on my noggin. I get to wear hats and that's always fun.
But I forget until I realize, someone else is seeing it.
Recently, I've been considering a veil for mass. It is a silent witness that speaks, like a bald head. It is a reminder to all, that we are tabernacles, holding Christ in our hearts.
Wearing a veil is an outward sign of an internal reality, provided we forget about the veil, and focus on being an internal and external witness of the Eucharist. We must be happy and about the business of doing whatever vocation we've received such that others see it, hear it, witness our witness, without us speaking about it. If it becomes a mark of piety, it becomes an idle or a fetish, something we use to separate ourselves from the rest of the smelly sheep to which we witness, and to which we belong. The veil, like holding a rosary, like every other devotion we might seek to practice, can become an idol, or it can be a sincere offering.
I can be detached about my head and its lack of hair, but I'm not sure I can about the veil. It's not required, so it's not a sin one way or another, but it can be an occasion if it is used to draw attention away from Christ and to the veil itself.
So I sit wondering, do I veil at this time? Is it a shout for attention, or is it an act of devotion?
For me, I am not sure yet, because I know I do like attention, so I'm not sure it's good for me to have it. For others, for whom attention is not a source of temptation, they can veil fearlessly, because they know before they begin, this is an act of prayer, of devotion, and nothing else.
To be an effective witness, it must speak without shouting, like sign language, and get the message across with no other one interfering. The students gave me a virtual hug, and I still hold that in my heart. It reminds to me to keep the brave happy face simply so they see, it's possible to weather such times without gnashing, without tears, simply because one must. And I think, there are all kinds of veils, and a joyful response to suffering is one of them. Whether we veil or don't, we are tabernacles. We long to be a monstrance to the world.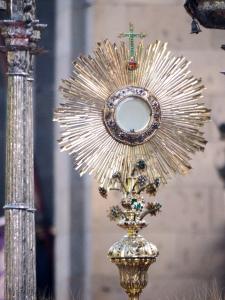 It's whether we remember that reality at all times that matters.