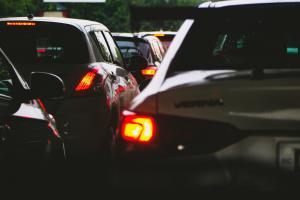 In the parking lot after the first Sunday of Advent,  my teen saw a car with a bumper sticker, "Blue lives matter."  He immediately announced he wouldn't want to know them.   Proposing that the person might love someone who is in law enforcement did not change his opinion about the bumper sticker or the unworthiness of those people –and this was right after mass.  Would we decide someone was unworthy of knowing for having a Pro-choice sticker?  For a politician we disliked?  Should we be in the business of dismissing people up front?    I thought of all the people who came up for communion.  Some wore shorts. Some wore spiky hair. Some wore things that others might deem inappropriate yet the Lord of Host let Himself be handed over and consumed. We were no different than the cars in the lot. We bore visible signs of our thoughts which in some cases, caused others to dismiss us without knowing anything more.
In a world without forgiveness, our sins make us unworthy of knowing.  This would be our broken fallen sinful world but for our God loving us enough to offer mercy, to offer forgiveness, to present to all of us the promise of an invitation to the table.  The moment we start looking around and expressing surprise that someone else was invited, we remove ourselves from the feast.  Everyone coming to receive, we should rejoice to see in the line.  Everyone who seeks, we should help find.  Everyone who knocks, we should throw open the door.  Everyone who asks, we should answer with gifts in abundance.
I can talk the poetry of this promise, but the living of it is hard.  I know it's hard, because it would be easy to simply dismiss people because of how they voted or what they promote, but that isn't what we're called to do.  We're called to come to the mass grateful to be invited and fully aware of our own unworthiness…so aware that we have no mental energy to spend on anyone else's.
The reality is, each of us is unworthy of the one we just visited in mass.
Advent is about recognizing we need to prepare our hearts for Christ's coming, to rend  our souls of sin, and to recognize we desperately need Christ's forgiveness in our daily lives.  We need the salvation that comes from Christ's offering of mercy to us for all our sins, all our faults, all our bumper sticker thinking, all our ways of failing to love others and see them as just as invited to the table.
The reality is, each of us are invited, no matter what bumper stickers we've slapped on the back of our car or our hearts.  The reality is, all of us are unworthy of knowing except for the reality we are more than our sins.  We are more than the reality of our sins because of the God who loves us, who made us in His image.   God offers us grace, He awaits our response.   It is hard to recognize how easily we fall into saying who should or should not be known, who should or should not receive.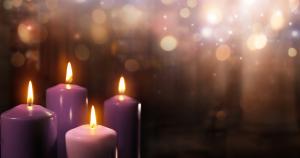 If we're honest, we would prefer Catholicism to sit easy on the heart and risk nothing, but that's not Catholicism, that's not Christianity, that's not how love works. Love always is willing to sacrifice. Love always involves inviting beyond what is comfortable, and being willing to discover that there is more to someone than we knew, more than we guessed, more that was surprise surprise, worthy of love.
Such risk burns away our presumptions, our expectations, and our quick write offs of others.
So this Advent burn away what is not of Christ, including the presumptions we have because of bumper stickers both visible and otherwise.
Prepare your heart so that if today you hear His voice, you will respond, "Speak Lord, your servant is listening."