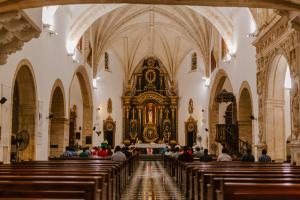 So yesterday, we celebrated the Feast of the Immaculate Conception.  In light of a mid week obligation in the evening after school for teenagers, I opted for the overt bribe of Five Guys afterwards…because sometimes donuts don't do it. However, I treated myself to a midday mass alone and felt the oddness of only having to quiet my own brain for the mass.  My brain both reveled and wrestled with the liturgy.
What struck me is, this week I've been wondering, what now, what next, what do you want from me God?  My words sometimes feel repetitive.  Years ago, I stopped drawing because I realized, I drew the same thing over and over again and it didn't inspire and didn't seem to ever develop.
Perhaps I should have persisted, but the need to draw had been a form of escape from loneliness and loneliness wasn't something that plagued me anymore.  Writing became a way to both express myself as only myself, and not merely as a role, but it also was a source of pride, revenue, and proof to me that I could think, that there was more to me than laundry, errands, the gym and reading stories to the kids.  Yes, all the inside of all those things were necessary, both as a form a love for my children and part of ordinary life, but writing like drawing for a time, was an escape from the world of only being Mom.
This past year, there's been so much, it's hard to write about it, because writing is no longer an escape, writing makes it inescapably real.   Cancer stinks.  Chemo isn't rough on the day, it's rough two days later.   Today at the infusion center, a new person came and she was talking to the nurse.  While talking, the nurse said to take an antihistamine in the evening to deal with the insomnia that sometimes comes day 2 or day 3 after the treatment and I sat there thinking, I remember this tip but I forgot it and I've been dealing with bad sleep on day 2 or 3 for a while.  So since the nurse and patient were next to me, I listened for more tips and got them.
The patient and I hit it off talking about the treatment and she asked about wigs.  I admitted I found them itchy and not helpful.  I liked scarves and hats that kept my head warm, and the hats gave style while the scarves kept my bare head warm.  Showers took 1/10th the time though I admitted to still lathering, washing and repeating, and using conditioner on my peach fuzz.   We laughed.
My answer to my meandering question in the mass lay in the mass as well.  "Behold I am the hand servant of the Lord. Let it be done to me according to God's will."   That is Mary's fiat.  That is also a prayer.  It is a prayer of surrender. It asks to do God's will without fully knowing all it will entail.  It trusts in God's plan being only good and only the only thing worth doing even if one does not fully know all of the details.  Mary did know but not know fully, but Mary did trust and trust fully.  That's what all of us are asked to do.
As a mother of ten children, all of whom have their own wrestling to do with God, I know much but not fully, and I'm working on the trust thing.   The prayer of Mary on the Feast of the Immaculate conception should be our daily prayer, "Help us know Lord, help us trust fully even when we do not know."  So what was the purpose of this post on Thursday almost Friday, to tell you my small break through in the mass and life for this week, to see the Fiat as a prayer for life, and to discover that living that simply meant being present wherever you are fully, so that you bring joy and light to others by your words, your actions, your silence and your stillness.
Blessed Advent to you all.