Having gone to confession today, I recognized that I needed to yell at God.   Not because God did anything wrong, but because He's the only One who can do anything about all that I am angry about.  I cannot cure my cancer or my husband's, though we can go to doctors, eat right and exercise and take our medications and undergo treatment.  I cannot bring back my children to the faith –though I can pray and witness. I cannot fix the rancor that exists in our nation's politics or society –though I can try not to add.   I cannot eliminate the corruption that allows people in power to prey on those who lack though I can provide support and prayer to those who lack and withhold support from those who do.  Each of these sufferings has a story behind it, but I am not at liberty to disclose them because they are not exclusively mine to tell.
What I discovered as I howled at the Blessed Sacrament is, God can take it.  He knows that howl, it is the cry of a soul when it feels overwhelmed by everything, by powerlessness.   My granddaddy said, "Sometimes, all you can do, is fall to your knees and bawl like a baby."  I did this. Except my soul howled.
The devil would have us despair at this seeming reality.   That would be like refusing to run the final mile of a marathon.  When we are most earnest, is when our prayer is most efficacious, most pleasing, because we're not trying to be efficacious or pleasing, we're reaching out to God in our deepest need, and we've dropped any pretense of being anything but needy.
My sadness at my children who are away, I can offer and know it is a fraction of the pain God feels at each of us in our distance, me in my howling for instance.   My frustration with both the cancers and the treatments, God can take this too, and I can hand it over as a prayer even if I haven't up to now.  Taking the medicine each day is a daily dying to self of what I want, in exchange for what I must.  A good priest told me, the very best prayer is that one when we simply show up, because that is all we have to give.  It is an offering of self and only self, because the self has recognized, it is spent.  My howl was just that, a recognition that I felt absolutely spent –spent with grief, with weariness over the constant changes in the past year that have rocked ordinary life, over the world.  I wanted something beautiful, something light, something better than and God sat on the cross saying back to me, "Me too, and that was always the plan."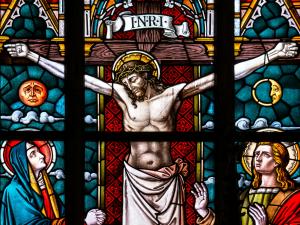 Looking at the crucifix, letting the words wash over me as I looked at my Lord pierced and pinned to the cross, this was love.  Love always, always, always involves the crucifixion of self.  Sometimes we know it, other times, we only recognize after the fact.  Every day we receive the grace and opportunity to accompany another if only we look.  Every day, every time we love, we play one or many of the roles found in the way of the cross, all the way to the tomb.   My brain kept jumping from one example to another, when we console a coworker who is struggling, even if only by listening, when we prepare a meal, when we run an errand for another, when we give because it is needed, we are serving, we are acting like the stewards we've been called to be.  It's why we love all the way to death do us part. It's why we love those who die by praying for their souls, by offering masses, by telling their stories, by grieving with those who hurt.  There is no moment in life we cannot be offering as a form of self denial, self death, self giving.  It is all in the willing to do God's will.
"That was always the plan."  The day blossomed with what had not yet been done, but all the opportunities to be light, to be sweetness, to bring Christ to others, and to comfort those who felt far, who were howling in the heart. Just to make sure I didn't miss the message, I checked today's readings.  As typical with the Holy Spirit who enjoys sending me messages in ALL CAPS WITH AN EXCLAMATION POINT  in my spiritual life,  they fit perfectly.
Reading 1
Brothers and sisters:
Whoever sows sparingly will also reap sparingly,
and whoever sows bountifully will also reap bountifully.
Each must do as already determined, without sadness or compulsion,
for God loves a cheerful giver.
Moreover, God is able to make every grace abundant for you,
so that in all things, always having all you need,
you may have an abundance for every good work.
As it is written:
He scatters abroad, he gives to the poor;
his righteousness endures forever.
The one who supplies seed to the sower and bread for food
will supply and multiply your seed
and increase the harvest of your righteousness.
AND
Gospel
Jesus said to his disciples:
"Amen, amen, I say to you,
unless a grain of wheat falls to the ground and dies,
it remains just a grain of wheat;
but if it dies, it produces much fruit.
Whoever loves his life loses it,
and whoever hates his life in this world
will preserve it for eternal life.
Whoever serves me must follow me,
and where I am, there also will my servant be.
The Father will honor whoever serves me."And I felt consoled because I know God is holding onto me forever.