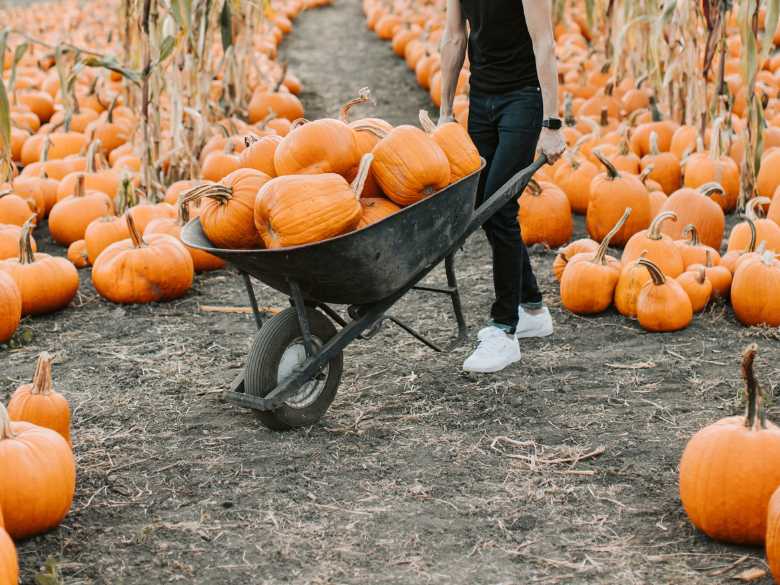 The popular Christian trend in the 1990's that coined the phrase "What would Jesus do?" rears its head every October in the form of Halloween. And here we are again. Different than the 90's trend of wearing bracelets and considering simple questions, this one seems to "haunt" us in an unsettling way each year.
So, what would Jesus do with Halloween? Would he dress up like John the Baptist and his camel hair and leather belt costume eating locusts and honey or would he stay home with the porch light off yelling at kids to "get off his lawn?"
Growing up as a pastor's kid, I remember fondly that my parents allowed me to go trick-or-treating on Halloween each year. These were special times for me mostly because I've never met a Reese's I did not like. But seriously, the end result was never demon possession or a departure away from faith in Jesus to worship satan.
The church I pastor, The Journey Church, has an annual outreach that we call Hullabaloo on Halloween that has become one of our more significant moments of ministry throughout the year. You can read more about that here.
But none of that adequately answers the question, What would Jesus do with Halloween?
To find the answer for that, we must turn to the Bible. Revolutionary, huh? Although the Bible doesn't mention Halloween specifically, I think it gives enough insight to help draw a conclusion about what Jesus would do had Halloween been present in his day.
Jesus Loved to Have Fun
Numerous times in the gospels, Jesus is seen in moments and occasions where fun is being had. Scripture doesn't paint Jesus as a stick-in-the-mud, stand-home-on-the-weekends kind of guy. He's seen at weddings, feasts/festivals, and dinners in the homes of questionable characters. (Hide your kids' eyes) There was even wine mentioned at some of the events! So scandalous!
John writes in his gospel, "Now while he (Jesus) was in Jerusalem at the Passover Festival, many people saw the signs he was performing and believed in his name."
Did Jesus party? I'm not sure. Did Jesus show up to places where a good time could be had? Definitely. Fun, even by the world's standards, was not a reason for him to stay home. He knew there would be people there and people were the very reason he came to earth.
Jesus Met People Where They Were, Not Where He Wanted Them To Be
Famously, Jesus was regularly seen with shady folks. Well, the Bible calls them "sinners." Regardless of any label, the Pharisees of the day urged their followers to avoid such people. Jesus saw sinners as people to be engaged and loved rather than avoided and cast away. Times when he could have judged, accused and preached at, Jesus chose instead to invite, accept and teach to.
The disciple named Mark recounts a particular dinner in his gospel:
While Jesus was having dinner at Levi's house, many tax collectors and sinners were eating with him and his disciples, for there were many who followed him.
The interesting part of this dinner is that the followers that Jesus was having dinner with were still labeled "sinners." This communicates that the people he invited into his circle were still a work in process and weren't completely sin-free. Jesus knew that following him takes time and that never prevented him from meeting people where they were rather than where he wanted them to be.
Jesus Did Not Avoid the Dark
Jesus describes himself in John's gospel the "light of the world." Lightbulbs work better in dark places. Taking a light bulb into a brightly lit room is counterproductive. The purpose of a light is to shine into the darkness. Jesus never avoided dark places. Sin, demon possession, disease, and the list goes on and on. Where there was darkness, Jesus was there to shine his bright, heavenly light.
In Matthew's gospel, Jesus says:
"You are the light of the world. A town built on a hill cannot be hidden. Neither do people light a lamp and put it under a bowl. Instead they put it on its stand, and it gives light to everyone in the house. In the same way, let your light shine before others, that they may see your good deeds and glorify your Father in heaven."
Wait. Are you saying that Jesus is the light of the world AND we are the light of the world? No.  The Bible says that!
We were never meant to stay in well-lit places and spaces (i.e. church, our Christian circle of friends, etc.). The light of Jesus in us compels us to the dark places. I'm not really sure if Halloween is considered a dark place, but many people are. And there are so many other examples Jesus walking confident toward the dark things of this world.
So, what do you think?  What would Jesus do…with Halloween? I sincerely think and believe the Biblical evidence points us toward an idea of Jesus who would view Halloween as an opportunity to have some fun with friends (maybe turn broccoli into a Reese's cup?), connect with folks who are somewhere on their spiritual journey, and find himself in the middle of a unique darkness that is screaming for a savior.
What are your thoughts?  Do you "do" Halloween?  Why or why not?  Let's keep the conversation going!