If you meditate on Job 12: 7-10, you'll immediately see the benefits of taking your Bible study to the great outdoors. The good book itself instructs people to look to the animals and the earth to recognize the glory the Lord has made.
However, you can do so much more to take advantage of this dynamic in your worship than pulling your folding chairs into the churchyard after services for in-depth reflection. Wilderness retreats and team-building activities help you deepen your faith and your bond with your spiritual community. Here are five tips for how to make outdoor Bible study more engaging for your participants.
1. Change Up the Scenery
Now that travel has reopened, why not take advantage of your new freedom to book a spiritual wilderness retreat? You can adopt a theme for your getaway. Some ministries prefer to focus their excursion around biblical events, while others embrace theological or intrapersonal principles.
You could book a campground or look for something even more remote. Please ensure that your vehicles have the appropriate suspension to handle rutted dirt fire routes and somewhat rocky terrain if traveling off-road. You don't want to spend the first night of your retreat wondering how on earth you're going to get back home with a broken axle on your church van.
2. Add Some Physical Challenges
Yoga enthusiasts have long recognized the connection between physical challenges and spiritual growth. The first asanas originated long after the meditative practice began. They were a way of harnessing the body's energy, balancing yin and yang to induce the proper state for deeper contemplation of esoteric truths.
Physical challenges invite your Bible study participants to test their wills and expand their comfort zones. They can also get people of all ages in a better mental state for reflection. Nearly every parent understands that tiring their child out a bit first with playtime makes them more receptive to doing their homework. The same principle applies to adults.
Physical challenges also force people to recognize their strengths — and inherent weaknesses as mortal humans. Participants strengthen their bond with the divine by digging deep and finding that spark inside themselves that lets them overcome the seemingly impossible with a little help from above.
3. Marry Nature and Scripture
The Bible is replete with passages about human being's relationship with the natural world and seeing God's hand in all creation. For example, Psalm 95:4-5 reminds us, "In His hand are the depths of the earth, and the mountain peaks belong to Him. The sea is His, for He made it, and His hands formed the dry land."
One activity you can do is have your participants identify Biblical passages that speak to them about nature. What does the Bible say, for instance, about humankind's duty to protect the natural world? What would Jesus do about climate change? Asking these questions can open the doors to volunteer ideas to further enrich your fellowship.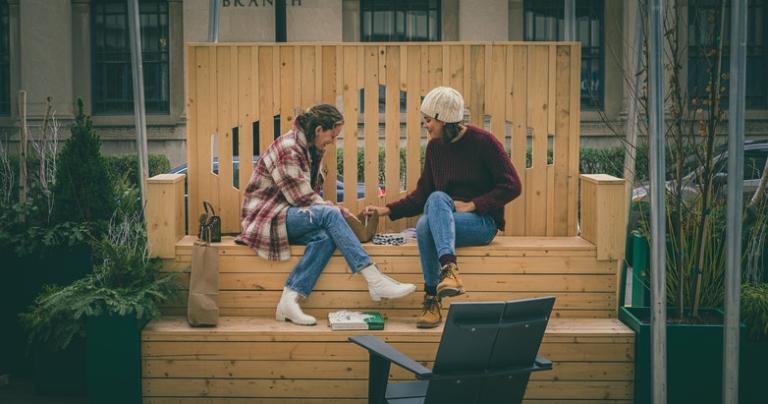 4. Emphasize Teamwork and Cooperation
One of the things Christianity teaches us is the importance of loving one another. It is, after all, how humankind survived in a harsh world without claws and fangs — by banding together and sharing in one another's strengths.
You can promote fellowship through team-building activities that help your participants know and appreciate one another on a deeper level. For example, you could have each member share a spiritual song that serves as the soundtrack for their lives. What makes it meaningful to them?
You can also incorporate various social activities. Cooking together on your retreat is one way to encourage fellowship. So is pitching in with communal activities like setting up and breaking down camp and gathering firewood.
5. Provide Time for Silent Reflection
Finally, your outdoor Bible study should allow room for participants to engage in silent reflection. How can you encourage this?
One way is to make contemplation more comfortable. Bring a variety of blankets, mats and pillows with you on your trek to make meditating on Biblical principles in the great outdoors possible. Include accommodations for those with mobility challenges so that they can likewise take part.
Make Outdoor Bible Study More Engaging With These 5 Tips
Nature can add a new dimension to your spiritual contemplation. Make outdoor Bible study more engaging with the five above tips.