Throughout the COVID-19 pandemic, millions have stopped attending church. Now, nearly one in ten don't plan to return. In light of mask mandates, the delta variant and tensions surrounding vaccines, it's really no surprise that church attendance will remain low.
If you've chosen to stay home on Sundays, you probably still miss sitting in a sanctuary with other believers. Where should you go to worship, pray and meditate on God's word? Create your own space and bring the church to you. Use this step-by-step guide to turn a garden shed into your own chapel. This way you have a peaceful place to connect with the Lord and reignite your spiritual fire.
1. Pick a Shed
Priority number one: get a shed. Choose from hundreds of pre-fab models in various shapes, sizes and styles. Remember to pick one that'll fit nicely in your backyard without looking too out of place. You can also customize your own shed if you'd prefer to mix and match different features. Already have a shed? You might want to upgrade a few things before setting up pews and communion tables.
2. Seal and Insulate
Whether your shed is brand new or decades old, it's important to check for drafts and seal up cracks. Winter is approaching and you don't want to cut your prayers short just because the chapel's too cold. Use smoke from an incense stick to determine areas where air might be infiltrating the shed. Then, caulk the cracks and apply weatherstripping to windows. Install insulation in the walls to keep the space comfortable year-round.
3. Add Windows
Many chapels have stained glass windows depicting Bible stories like Noah's ark or the crucifixion. However, the easiest way to let some light in is to install plain old window panes unless, of course, you're a master glazier. Knock a few holes in your shed's walls and install a few windows. Consider the chapel's orientation and pick walls that face east and west to illuminate the chapel in both the morning and evening.
4. Pick a Paint
Odds are your shed is unfinished on the inside. Even if it is, stains and dark paint colors may make the place feel dank and dim. Brighten it up by applying a fresh coat of paint to the walls and ceiling. Use The Home Depot's Project Color or a similar app to pick the perfect hue for your private little temple. Then, put on your grubbiest clothes and get painting! Invite a few friends and jam out to worship music while you work.
5. Convert the Floor
Most sheds come with wood or concrete flooring, which can be uncomfortable to stand or kneel on for long periods of time. These materials are poor insulators, too, so it wouldn't hurt to convert the flooring into something more suitable for your chapel. The most obvious option is vinyl flooring, which is durable and easy to maintain. However, carpet, laminate or tile may suit your style better. Rugs and meditation pillows will work in a pinch or while you're waiting to have new flooring installed.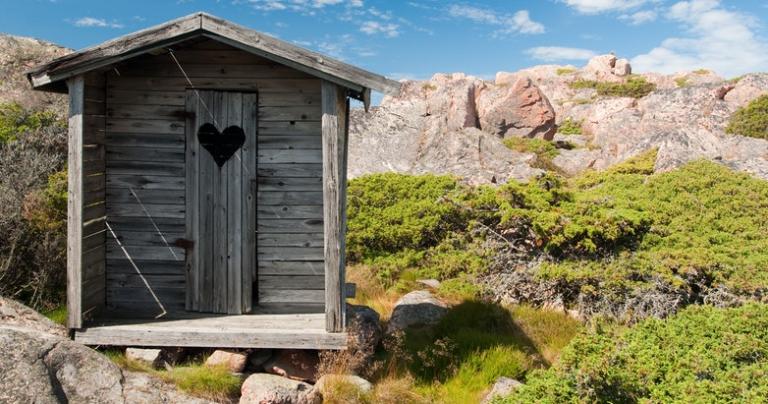 6. Install Climate Control
Obtain the proper permits to hook up electricity to your shed. Then, focus on installing climate control. Install a mini split system that heats, cools and dehumidifies to maintain the most comfortable environment possible. Choose one with an energy recovery unit to improve ventilation and ensure the indoor air is always fresh and clean. Remember to change the filter every few months to maintain good air quality.
7. Upgrade the Lighting
Windows will let in natural light during the day but if you plan on visiting your chapel when the sun's down, you must upgrade existing lighting. In most cases, a few recessed fixtures will do the trick. However, if your shed is rather large and you want to invite speakers, form a worship band and hold full services inside, you'll need wash lighting and a keylight at the very least. This way the audience can clearly see whoever's on stage.
Personalizing Your Chapel
Last, but certainly not least, you must decorate the chapel. Add pews, prayer benches and other seating to accommodate friends and family. Set up a few tables for ceremonies or sacraments and make your tiny church your own. Taking time to personalize your place of worship will make it much more meaningful to spend time in. Plus, you'll be more apt to wander out into the chapel whenever you have a spare moment.