Bible studies offer people the opportunity to build new friendships and grow in their understanding of God's character. As the world increasingly moves to online platforms, some Christians have started meeting online to have Bible study. This was especially prevalent last year when many people felt lonely for social interaction. 
While online platforms do pose some challenges, their advantages far outweigh any disadvantages. Virtual Bible studies aren't for everyone, but they can be incredibly impactful for those who choose to meet through an online platform. Here are five benefits of joining a virtual Bible study. 
1. It's Accessible
Unlike traditional Bible studies, virtual groups don't require transportation. Members don't have to plan time for a commute or carpool to ensure everyone has a ride. Online studies can also cross state and even international boundaries. If the leaders choose a strategic time, people can join from all over the world. 
Because of this flexibility, virtual Bible studies are more accessible than traditional in-person studies. They do require a working electronic device and reliable access to the internet. However, these are much more accessible requirements than owning a car or having lots of free time for a study group. 
2. It's Private
A virtual study can offer security for many people. Talking about personal convictions and internal struggles with others can be challenging. When people meet online, they have more control over what they share – down to choosing whether or not they turn their camera on. 
Instead of meeting at someone's house, members of an online Bible study can choose a location where they feel most comfortable. By using headphones, they can keep the conversation private even if they're in a busy place. Although there's a lot of merit in stepping outside your comfort zone, online studies lower the bar so people feel more comfortable joining a new group. 
3. It's Inexpensive
In addition to being accessible, virtual Bible studies are also inexpensive. For one thing, members don't have to use gas to meet with each other. The time they would spend commuting can be used for work and in some cases, members can even continue working on projects while they listen in. 
Usually, the most expensive thing about Bible studies is food. Many Bible studies meet in coffee shops, where people buy tea or coffee in exchange for using the space. With an online format, people can bring their own snacks and save that money for something else. As long as members have a computer or phone, they can connect inexpensively through an online format.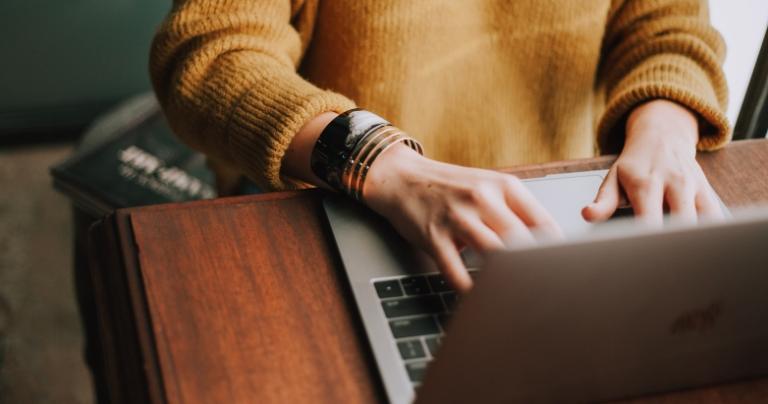 4. It's Relational
One of the primary flaws of doing anything online is that you lose the benefit of an in-person connection. There's just something about being in the same room with someone that's necessary for physical and mental wellness in human beings. Physical touch can also reduce feelings of loneliness or anxiety. 
There's really no way for an online Bible study to fulfill this need. However, virtual groups can be a great solution when in-person meetings aren't an option. In regards to people's need to connect mentally and emotionally, online meetings can be just as powerful as in-person Bible study groups. 
5. It's Empowering
Although virtual studies aren't identical to in-person meetings, technology does offer good options for almost every part of a typical Bible study. If members meet over a video platform like Zoom or Google meet, they can share their screens and audio to stream music and worship together. 
Praying together online can be just as powerful as when done in person. To make prayer time more personal and ensure it doesn't take too much time, leaders can create smaller groups on the virtual platform they're using. The flexibility and resources found on different platforms mean you have options for the tools you need to suit your group. 
Connect With an Online Study Session
Don't discount the blessing you can find through an online Bible study. The technology may take some getting used to, but the benefits will far outweigh any learning curve you have to take. They empower Christians to form meaningful relationships and seek God together even when members live far apart. 
Meeting online may be different from in-person Bible studies, but it's still Christians gathering together in spirit. Jesus said in Matthew 18:20, "For where two or three gather in my name, there am I with them." If Jesus is part of your online study, it can be just as fruitful as assembling a group in person.