Hi there! I trust you and yours had a splendid, restful time of Thanksgiving. Here's another sermon, this one following the lectionary readings of Daniel 7:9-10, 13-14, Psalm 93, Revelation 1:4b-8 and John 18:33-37, preached at St. Francis Episcopal Church in San Francisco.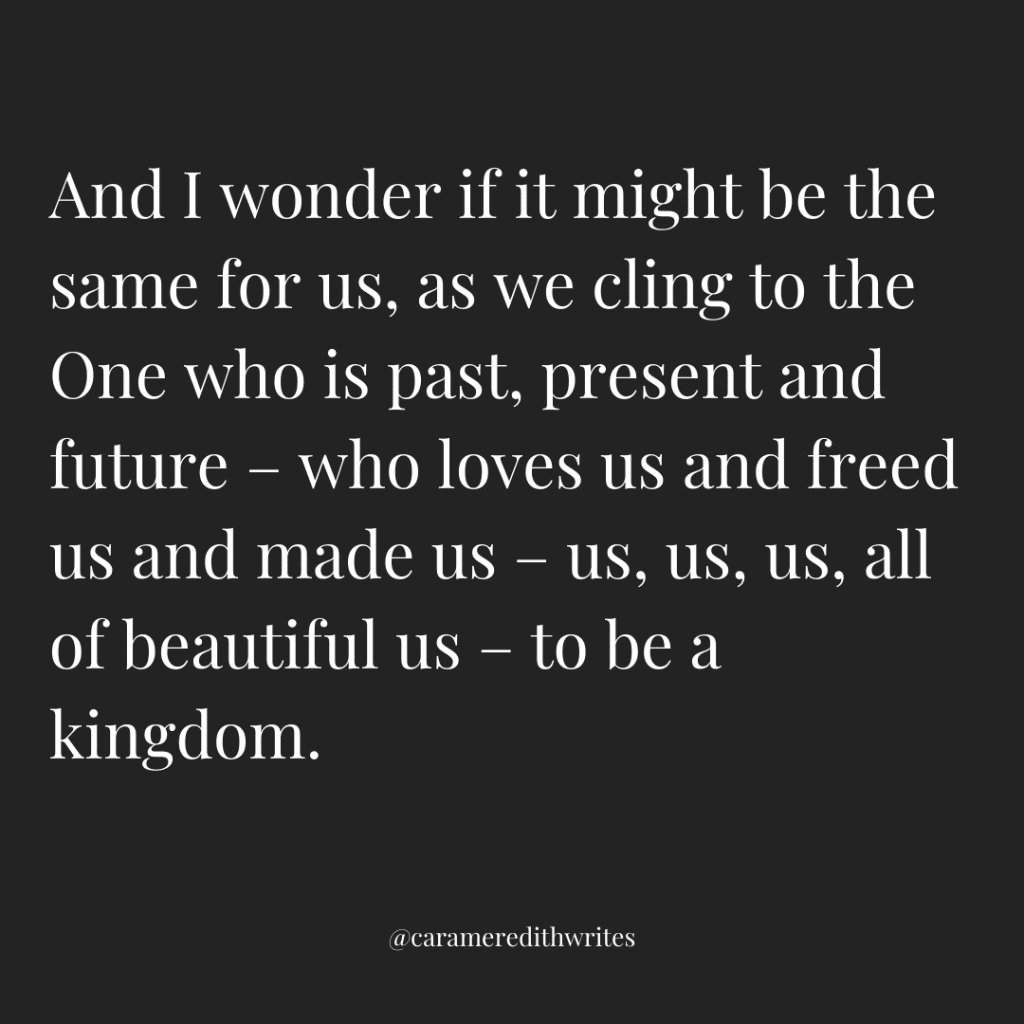 As I sat with the lectionary readings this last week, it's like the different authors – Daniel, David and John, the beloved disciple – stood on the wildest, loudest, windiest of cliffs with a megaphone in their hands, SHOUTING stories and attributes and truths about God.
And maybe it's just me, but when I imagine these scenes, I remember what it's like to stand on my own wildest, loudest, windiest of cliffs.
When my now-husband and I were dating, a couple of months into our relationship, I went down to Mexico for a week to speak to two hundred high school students. They were building myriad buildings on the property, while I was banned to the sidelines to hang out and "build relationships" instead (this, of course, was fine to my extroverted self, just as it was fine to my apparently get-covered-in-hives-if-I-try-and-mix-or-come-too-close-to-raw-cement self).
Because I was south of the border, though, I did not have Internet reception. I could not send my new boyfriend a text. I could not call him. I could not so much as communicate with him, but I could only think about him. Think about him I did …so much so that in the midst of dealing with gross and itchy hives, and getting to know teenagers, and talking about Jesus 'round the campfire at night, as soon as we crossed the border, his was the first number I called.
Two days later the two of us found ourselves huddled under a blanket on a beach down in Half Moon Bay. It was November, so the weather was rather inclement, to say the least. The wind was fierce. The rain was, well, wet. All the catching-up romance we'd dreamed of went straight out the window when the wind was going sideways and the sand was pelting us with a thousand needles and the rain would not relent. We couldn't hear a thing, let alone share a "missed you" smooch because the environs around us were just wicked.
"I just missed you so much!" I finally shouted.
"WHAT?" He replied.
"I MISSED YOU!!!"
"OH! ME TOO!!! READY TO GO?"
"YES!"
Our efforts of trying to be super duper romantic lasted approximately nine minutes before we got the hell out of Half Moon-Dodge.
But this picture of shouting at the top of your lungs and letting yourself be heard, despite the elements, despite the naysayers, despite the resistance present in the air all around you, was part of what I saw when I sat with the scriptures this last week.
As I watched,
thrones were set in place,
and an Ancient One took his throne…
This is how Daniel 7 opens. How many of us watched with bated breath the events of this last week?
On Tuesday, I interviewed a poet named Drew Jackson, a Black pastor from New York City whose poems in his book, God Speaks Through Wombs, follow the first half of the book of Luke.
At one point, we talked about the poem for which he is most proud, and that poem, called "The Waters of My Weeping" stemmed from what Jesus must have felt when he found out that his cousin, John the Baptist, had been arrested. It was so deeply personal, to Drew, for it spoke a truth about Black men in unjust systems of incarceration.
Black men in unjust systems built not for them, not for people who look like them.
Drew writes:
I'm sorry that it frightens you when we
fight for our humanity, but tonight, I cry.
These tears have become my food. I dip
myself in the pool of the waters of my
weeping. For my brother. For my cousin.
For all of us. Until they stop locking us up.
Minutes after I finished my conversation with Drew, I learned about Julius Jones, a Black man set for execution in the state of Oklahoma for a crime he did not commit.
We watched…
When already this felt so personal, for Drew, for my husband (who is Black), for my young, bi-racial sons (who identify as Black), and for all of our sons. For this is all of our problem.
We watched…
When on Thursday, the governor of Oklahoma granted last-minute clemency to Jones. He would live …life in prison.
We watched…
When on Friday, a jury found Kyle Rittenhouse not guilty on all accounts of the atrocious murder that happened in Kenosha, Wisconsin in August 2020 at a Black Lives Matter protest.
Y'all, pretty soon I couldn't watch anymore. I was so angry, so flipping, I'd-cuss-in-the-pulpit if I could, mad at the system.
Where was God in this place, in this system, in this injustice, especially when right there on the page the psalmist declared the words, "Ever since the world began, your throne has been established; you are from everlasting" (Psalm 93:3).
Where was God in this place when John reminds us in Revelation that "To him who loves us and freed us from our sins by his blood, and made us to be a kingdom, priests serving God and Father (and Mother too), to him be glory and dominion forever and ever. Amen."
Because I see in the three things of God's vision THREE WAYS THINGS ARE SUPPOSED TO BE: Because God loves us (1), and because God freed us (2), God made US to be a kingdom (3).
There's a beauty and an inclusivity of a kingdom made present in that verse – the reminder that everyone's in, that there's no who's in and who's out club, but all are called beloved children of God. All have a seat at the table.
This is the song we sing.
I am reminded of the old hymn, "This is my story, this is my song …praising my Savior, all the day long."
But has this story and this song been too much a song of my own? Has this story and this song not been one that's benefitted the ALL of the kingdom God speaks of?
Because in John, Jesus tells Pilate that his kingdom is not from this world. If his kingdom were from this world, his followers would not be fighting to keep HIM from being handed over to the Jews. But as it was, his kingdom is not from here.
Oh friends, how I long, how we long for the upside-down kingdom, the one we believe in – the kingdom that welcomes and honors and values and invites in EVERYONE – to be made real here on earth.
Like, really, actually, now. Finally. Please.
I wonder if the various writers of this week's passages felt the same way some of us felt this week as well.
I wonder if that's why they kept saying the same thing, over and over again.
I wonder if that's why it seemed like they were shouting.
And I wonder if it might be the same for us, as we cling to the One who is past, present and future – who loves us and freed us and made us – us, us, us, all of beautiful us – to be a kingdom.
Might we cling to this truth as we stand and shout and fight for God's kingdom here on earth, as it is in heaven.
Amen.
—
What say you? Is the shouting around you real? Is the shouting found in Scripture just as real to you as well?