Friends! It's been awhile …but it's good to be back with you, in this space again. Over the next couple of weeks, I'll post a string of recent sermons. This one stems from Hebrews 10:11-14 + 19-25, as was the lectionary passage last week. You can also watch the video on the St. Paul San Rafael Facebook page. Enjoy!
—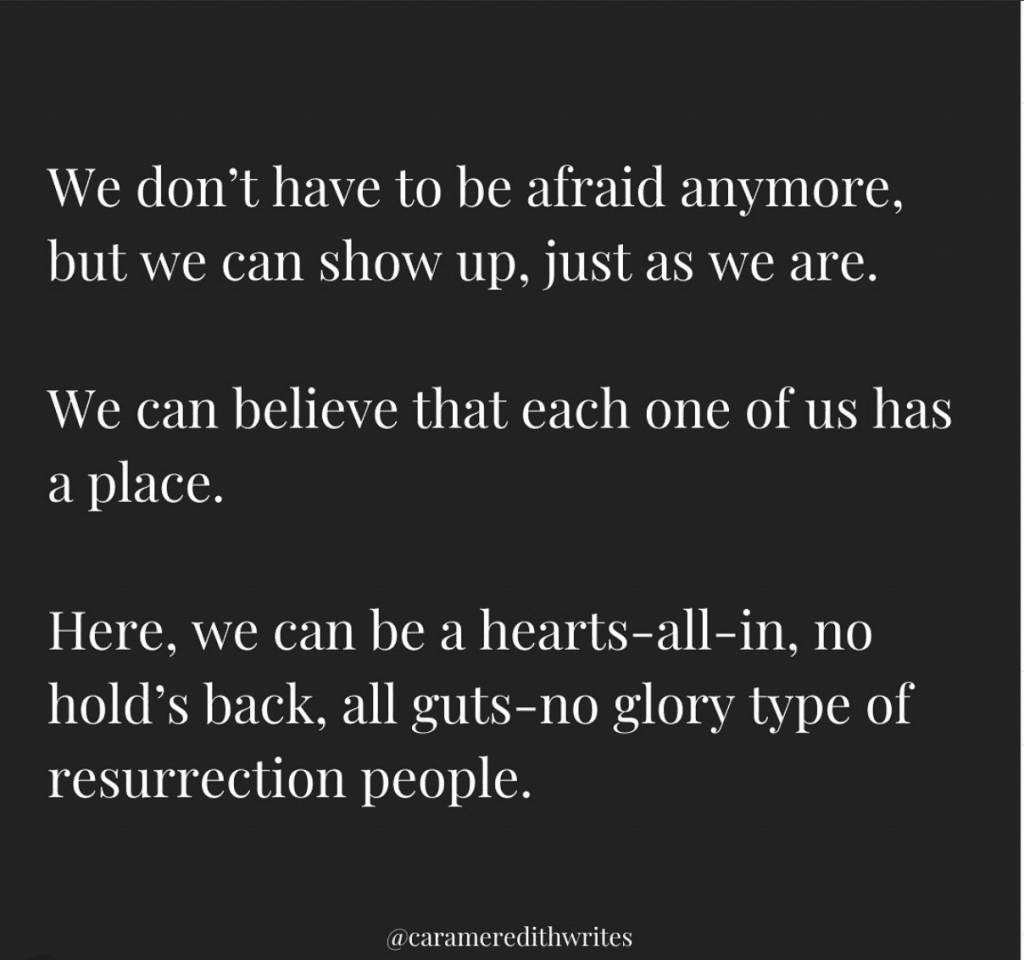 Good morning! It's good to be with you, friends.
For me, sermon prep often looks the same, every time I preach:
First, print out the lectionary passages. Read them. Sit. Wait. Sleep on it.
Grab a pen from the kitchen drawer, the one that's full of everything kitchen drawers aren't really supposed to have in them. Grab the print-out. Read through it with a pen in hand: what sticks out to me? What do I notice? What words or phrases are repeated? What do I not understand? What do I underline and put asterisks next to? What makes me mad? Where do I draw exclamation points in the margin? And so the wordy interaction continues.
Then, sit. Wait. Sleep on it.
By that point, a couple of themes usually emerge, like this last week, I noticed the repeated question word, "Why?" and the use of similes, and themes of the both/and – of opposite pairings made alive in the very same sentence – in the 1 Samuel passages. I saw repetitive declarations that started with the phrase, "Let us" in Hebrews, and wondered what led to the "let us." I laughed when Peter, James, John, and Andrew privately pulled Jesus aside and seemingly asked for insider trading information: Tell us, when will this be, and what will be the sign that all these things are about to be accomplished?
Words and phrases and themes start to build and well up in my soul.
They begin to take over my thoughts. It's like when you get a new car and all of the sudden you start seeing EVERYONE ELSE WITH THAT SAME CAR DRIVING DOWN THE ROAD. There's a camaraderie, a togetherness, a knowing that you can't escape. The car is all around you.
For me, the same thing happens with the lectionary passages, perhaps because I can be a nerdy, wordy, theological type, or perhaps because this is how and where the Spirit meets me. Because all of the sudden, I'm seeing and hearing and noticing those themes everywhere I go. I see them in the books I read and I notice them in conversation with my husband and our boys.
They're everywhere I turn.
By then, I know where I want to go with my words, even if the words haven't actually landed on the page yet.
"Theo," I said to my younger son the other night, because I kept thinking about a phrase in Hebrews, Since we have confidence to enter the sanctuary by the blood of Jesus… "Theo, what does confidence mean?"
"Bravery," he replied. "When you are confident, you are brave."
Yes, yes, yes! I pummeled my fists in the air. When we are confident, we are brave.
"And since we have confidence to enter the sanctuary by the blood of Jesus," the writer of Hebrews states, "by the new and living way that he opened for us through the curtain, and since we have a great priest over the house of God, THEN let us approach with a true heart in the full assurance of faith."
We come with confidence into this place, this place right here – for all are welcome at the table of grace. All are in. All are named as dearly beloved children of God.
We don't have to be afraid anymore, but we can show up, just as we are. We can believe that each one of us has a place. Here, we can be a hearts-all-in, no hold's back, all guts-no glory type of resurrection people.
Because this is what it means to approach the throne with confidence: it means to believe, God, you've got me. And God, your people – these messy, human, prone to needing a whole bunch of do-overs people – have got me, just as I've got them.
This is the confidence we hold when the writer of Hebrews urges the Jewish people to approach with a true heart.
As you may have noticed, by this point I am IN IT with the sermon: the homily and I (or perhaps I should say, the Spirit and I) are in it to win it, in a "I trust that the words of my mouth and the meditations of my heart will be pleasing in your sight, o Lord, my Rock and my redeemer" sort of way.
Because I don't know about you, but this full confidence we just talked about opens the door for three "let us" statements. This confidence allows us to approach with a true heart; this same bravery allows us to "hold fast to the confession of our hope without wavering, for he who has promised is faithful."
In other words, we hold onto hope like it's the only thing we've got left. Because, sometimes, it is.
Have you ever been in a place of deep crisis or pain? Most of us, I imagine, have. We've been there. And maybe it's just me, but when I am in that place, when bad news is all I receive, when I feel like I'm hanging on for dear life to a buoy in the middle of the ocean without so much as an island to rest on in sight, I become desperate for hope.
For hope is the only thing I've got left.
It's then – even if I don't understand, even if I don't agree, even if I shake my head in disbelief because it feels like I'm never going to get out of this place – I remember those lines of hope.
I cling to the promise of a doctor.
I think of the words of a friend whose wisdom just knows, for she is connected to God in ways that I am not, at least not right now.
I return to the songs of my youth, the ones that are written on my soul:
When peace, like a river, attendeth my way,

When sorrows like sea billows roll;

Whatever my lot, Thou has taught me to say,

It is well, it is well with my soul…
Even if I can't believe it in the moment, I can still sing it in the moment – and maybe this is hope. Maybe this is what we hold fast to, because it's the only thing we've got.
For with this confidence and these "let us" invitations, we grab onto the last "let us": "And let us consider how to provoke one another to love and good deeds, not neglecting to meet together, as is the habit of some, but encouraging one another, and all the more, as you see the Day approaching."
Years ago, I had a friend – who was admittedly rather zealous in his evangelism of God and God's ways – that would walk around asking anyone who would listen a single question: "What time is it?" he'd say, and we'd look at our watches (for we wore watches in those days).
"Uh, 2:33?"
"No, it's 10:24?"
"Huh? Uhhhhhhh."
"It's Hebrews 10:24, man. That's what time it is! Friend, it's time to consider how we might spur one another on toward love and good deeds!"
We'd roll our eyes in response …but 25 years later, I still think about this "time" he espoused.
We approach the throne with our heart. We cling to hope. And arms wide-open, hands-outstretched, we become known by the love we have for one another – and by the way this love changes us, and makes us show love to one another even more.
It's like a snowball that grows bigger and bigger as it bounces down the mountainside, becoming so powerful we can't help but watch and marvel at the enormity it accumulates in its path.
Are our love, our encouragement, our good deeds any different?
Because maybe that's a picture of who we're supposed to be together – our love for one another so big, so explosive, so careening, so in your face, so downright encouraging, so spur-one-another-on-toward-love-and-good-deeds that the rest of the world can't help but notice.
This is who we are as we consider how we might provoke one another on toward love and good deeds.
And that, my friends, is the path a sermon takes, as I prepare to share with you.
I sit with what sticks out to me, or with what God sticks out to me over the course of a week: and then together, in confidence, all of us approach with our hearts all in, holding onto hope, alongside one another.
Amen? Amen.
—
If we are confident, we are brave. Might you be confident as you approach the throne heart-first, arms wide open and become known by your love.