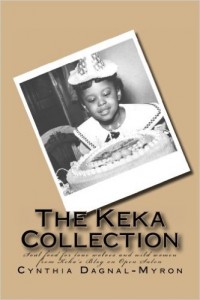 The Keka Collection
The Best of Keka's Blog on Open Salon
Copyright: February 2013
Publisher: CreateSpace Independent Publishing Platform
Summary:
Cynthia Dagnal-Myron is an award-winning former reporter for both the "Chicago Sun Times" and "Arizona Daily Star." She is also the first black woman to become a rock critic for a "major metropolitan daily," and her articles have appeared in "Rolling Stone" and "Creem"–the latter under the tutelage of legendary rock critic Lester Bangs. For five wild years she traveled with, interviewed and reviewed 70's and 80's legends like Kiss, Queen, the Who, Aerosmith, Led Zeppelin, Traffic Rod Stewart, Cheap Trick, Peter Frampton, Todd Rundgren and Brian Eno. She also interviewed stars like John Travolta, Kirk Douglas, Richard Pryor and the then unknown cast of "Star Wars–and dated Arnold Schwarzenegger. Once. And then one day…she walked away from all of it. And never looked back.
After moving to the Southwest in the early 80's, she became a public relations liaison for The Hopi Tribe, and moved to their reservation where she eventually returned to her first career, teaching. Three years later, she married a Hopi artist and became part of his proud—and very large—family. She continued to publish regularly in Working Mother and elsewhere, but only when spirit moved. With a daughter to raise, children to teach and the wide turquoise skies of the Hopi reservation to gaze upon, her spirit was otherwise occupied most of the time.
Over 20 years later, left free to "just be," having retired early to do precisely that, she started a blog on Open Salon to take stock of what had gone before and ponder what might come next. She wrote of the triumphs and challenges of midlife, celebrating family, friends and the Southwestern way of life she'd grown to love. But she gradually began to chronicle and comment upon the times she lived in–sometimes with deep affection, sometimes with righteous indignation. Salon editors took note, placing her blog posts on the covers of Open Salon and Salon itself.
A British magazine reprinted one of her most popular posts about her "rock and roll summers" in London. A controversial post about the Trayvon Martin shooting prompted the producers of the TV and radio show Democracy Now, to invite her discuss her own experiences "walking while black" and to celebrate her 5th grade teacher and beloved role model, Mamie Till Mobley, the mother of Emmett Till, the 16-year-old boy whose lynching was one of the watershed events leading to the Civil Rights Movement. Soon an old Sun Times colleague, Roger Ebert, discovered that the young woman with the infectious laugh with whom he'd sat "desk-to-desk" for five years was doing some of the best writing of her life. Supportive as ever, he began to Tweet and Facebook her articles regularly. And the "hits" catapulted her to the top of the Open Salon popularity charts each time. Week after week, readers urged her to "…make a book out of all this!" This…is their book. And the story of her life.