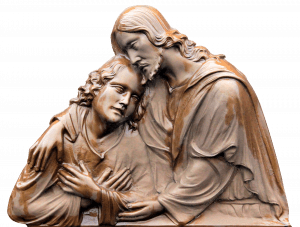 June means Father's Day here in the United States, a day to celebrate fathers and fatherhood and men. During this month, I always feel especially grateful for my Heavenly Father, for He is the only father I've known during my life.
When it was revealed to my earthly father that my mother was expecting a child, her first (and ultimately only), he left and hasn't been seen since. Without any place to turn, my mother contacted her parents, who were kind enough to let us stay with them and help support her as she raised her son. There I was loved and raised by my mother and grandparents.
When the missionaries arrived at our doorstep, my mother and I listened and believed their message. We were baptized a short time later.
Fatherly Influence
Growing up without a father has given me a unique perspective on many gospel principles. The doctrine of having a Father in Heaven has been such a comfort to me. Ironically, when Father's Day came, I always felt an added measure of love towards my Heavenly Father and never felt alienated on that special holiday.
As people spoke in church of the greatness of their fathers, I knew that my Father in Heaven was literally my Father, whom I praised on this day of fatherly reflection.
Along the way, I was blessed by a host of faithful ministering brothers (called "home teachers") and tremendous priesthood and scout leaders. Month after month, they visited my mother and me; I cannot recall too many months that they were not there in our home, sharing an inspiring gospel message. Moreover, our bishop often reached out to us to ensure that all was well. Scout leaders took me under their wing, assisted with scouting matters, and worked with me to earn various badges and awards.
I recall that at nearly all my priesthood ordinations, my bishop and my home teachers and a scout leader stood in the circles. They were often quick to offer priesthood blessings for me and my mother; they truly prepared me to serve as a full-time missionary and to become a father later in my life.
God Is Our Father
Thanks to the restoration, I see that I am not without a father in mortality. Alma taught, "And the Lord said unto me: Marvel not that all mankind, yea, men and women, all nations, kindreds, tongues and people, must be born again; yea, born of God, changed from their carnal and fallen state, to a state of righteousness, being redeemed of God, becoming his sons and daughters" (Mosiah 27:25).
King Benjamin reflected this doctrine of divine parentage when he taught, "And now, because of the covenant which ye have made ye shall be called the children of Christ, his sons, and his daughters" (Mosiah 5:7).
What a comforting doctrine to someone like me, who did not know his earthly father.
Elder Jeffrey R. Holland of the Quorum of the Twelve Apostles taught, "I bear personal witness this day of a personal, living God, who knows our names, hears and answers prayers, and cherishes us eternally as children of His spirit. I testify that amidst the wondrously complex tasks inherent in the universe, He seeks our individual happiness and safety above all other godly concerns."
Because of the Messiah and His redemptive love, and thanks to men who chose to serve full time missions and serve as faithful ministering brothers and wise priesthood leaders, and thanks to the scriptures, I know that I am not truly fatherless.
"A father of the fatherless, and a judge of the widows, is God" (Psalm 68:5). I can connect with Christ and with my Heavenly Father as I remember this truth.