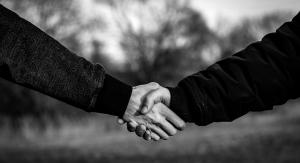 When I was three, I hit my grandfather in the head with a hammer. His reflex was to immediately take the hammer from me and give me a swat on the bottom. My response to his response was to say, "I thought you was my buddy!" Of course, he never could have expected that I would hit him in the head with a hammer.
I thought that's what buddies did to each other. At least, that's what I saw every day on The Three Stooges. Those guys hit each other in the head over and over again, and it was so funny. I guess I thought it would be funny if I did it to my grandfather too!
Apparently it wasn't, but it didn't take long before he was acting like my buddy again.
My Loving Grandfather
My grandfather was a simple man with a big heart! He and my grandmother had 13 kids and lived on a few acres of land near the airport in St. Louis, Missouri. He grew up in an era filled with racial struggles and inequalities.
His times make today look like a walk in the park, but through it all he was such a great example of living a Christlike life. I could see him serve others and treat others with a deep respect and love, regardless of their race or nationality.
He was always good for a scripture quote and often preached sermons during regular everyday discussions. He didn't care where you were from or what you believed, he would preach the gospel to you. Anyone who knew him knew that he loved God and loved people.
Once, while he was visiting relatives in California, he met a man from Poland who had just come to the United States and was looking to start a new life for himself. My grandfather, in true "Granddaddy" fashion, treated him with respect and love. He told the man if he was ever passing through the St. Louis area to look him up.
Before my grandfather returned from his trip, he received a concerned phone call from home. Apparently this man had shown up at the house asking for a place to stay. My grandfather immediately told the kids to fix up a place for the man.
Arrangements were made and the man lived with the family for over four years, working around the property to pay his way.
A Christlike Example
I'm am still shocked now, even as I write this story, at the amazing example of practical love and service displayed in this act. It must have been a sacrifice for my grandfather, my grandmother, and my mom and her siblings to have another person live at their home and to bring him into their family.
It is also difficult to hear this story without thinking of the impact it had on everyone in the family. My relatives are some of the most giving and loving people I know. They are a continuation of a legacy of living a sermon, and not just preaching it. As the saying goes, preach the gospel with faith, and when necessary use words.
This is just one of the many stories about my grandfather. I hope and pray that I can preach sermons by living them in the same way that he did. He definitely knew the scripture that is familiar to many:
"Then shall the righteous answer him, saying, Lord, when saw we thee an hungred, and fed thee? or thirsty, and gave thee drink? When saw we thee a stranger and took thee in? or naked, and clothed thee? . . . And the King shall answer and say unto them, Verily I say unto you, Inasmuch as ye have done it unto one of the least of these my brethren, ye have done it unto me" (Matthew 25:37–38, 40).
Christ is the perfect example to us all. I am grateful to have many in my life who have shown Christlike attributes and have inspired me to live a little closer to the Savior. Who is the person in your life who has helped you connect with Christ? Have you told them how their example has had an impact on you?