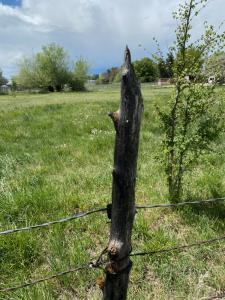 I have a scar on my left hand because of a dumb decision I made when I was young. Let me tell you why that scar connects me with Christ.
My Scars
In sixth grade, I loved my parents. Then I got to middle school and found out it was not cool to love your parents. One boy kept talking about how mean his parents were and a girl complained that hers were strict and old-fashioned.
I figured that if I were going to survive in my new school, I had better start hating my parents. It was hard because I loved them, but a man's gotta do what a man's gotta do!
All that day I hated them. The whole way home on the bus I hated them. When I arrived home, I decided to go to the field behind my house where I could hate them even more.
Between my house and the field was a barbed wire fence, which I had always gone under. That day I decided to go over. I grabbed hold of the sharp wooden post, stepped on the bottom wire with one leg, and threw the other leg over the top wire. At that moment, I thought, "This is about the dumbest thing you have ever done." Sure enough, right then the bottom wire I was balancing on gave out. I landed on the fence and the downward momentum drove the post right through my hand.
I'm not talking about a scrape. I'm talking about in one side and out the other. At that moment, I promise I was not thinking, "I hate my parents!" I was screaming for my mom and dad as loudly as I could.
My dad heard me and rushed to the fence. He pulled my hand off the post, untangled me from the barbed wire, and hurried me to the emergency room. The entire time the doctor stitched my left hand back together, my dad held my right hand, squeezing it over and over.
I will never forget the love he showed me at the very moment I had decided to hate him.
Jesus's Scars
The scar on my left hand reminds me of my Dad's love. It also reminds me of Jesus who said, "I have graven thee upon the palms of my hands" (Isaiah 49:16, see also 1 Nephi 21).
Jesus has a glorified, resurrected, perfected body, yet He chose to retain His scars. Perhaps it is to remind us that because of Him—because of His scars—we can be rid of ours.
When we are resurrected, we will no longer have physical scars or imperfections. Not only that, but Christ can take away our emotional and spiritual scars too and that miracle does not have to wait until some future time. It can start today.
Sometimes we get scars because of our own poor choices. Sometimes they are the consequences of someone else's poor choices. Sometimes they are just part of living in this telestial world where bad things happen. No matter how we receive our scars, we can turn to the Savior and allow Him to heal us.
Some people say, "Time heals all wounds." But it is more accurate to say, "The Savior heals all wounds." For some, it happens quickly. For others, it takes time. Either way, the healing comes from Him.
The scriptures teach of the Savior's healing: "Surely he hath borne our griefs, and carried our sorrows. . . . He was wounded for our transgressions, he was bruised for our iniquities: the chastisement of our peace was upon him; and with his stripes we are healed" (Isaiah 53:4-5, see also Mosiah 14).
Do we trust? Do we believe? As we do, we connect with Christ in a way that allows healing to begin. His healing changes us forever.